After parents, the other people who educate children are teachers. They spend so much time educating all the children so that one day they become intelligent and well-mannered individuals. Society should be intelligent, and for this purpose, it starts from an early age. That's why it is always mandatory to express gratitude to your teachers at the end of the school year. They deserve it. Send them a brief thank you note to let them know that you appreciate them.
Thank You Notes to Teacher for the End of the Year
1. Dear Teacher, in this past year I have gained so much knowledge that I will need for a lifetime. That is why I am writing to thank you for making such an effort to help me upgrade myself. Be blessed!
---
2. Dear teacher, thank you for making me complete my schooling with a high score once again thanks to you. You have given me the ambition to upgrade myself and accumulate knowledge to be more successful in life. Thank you and I would like to wish you a wonderful holiday.
---
3. To the best and coolest teacher, first, I would like to express my gratitude for the wonderful teaching throughout the year. Secondly, I wish you an incredible summer filled with unforgettable moments. I look forward to seeing you again in September.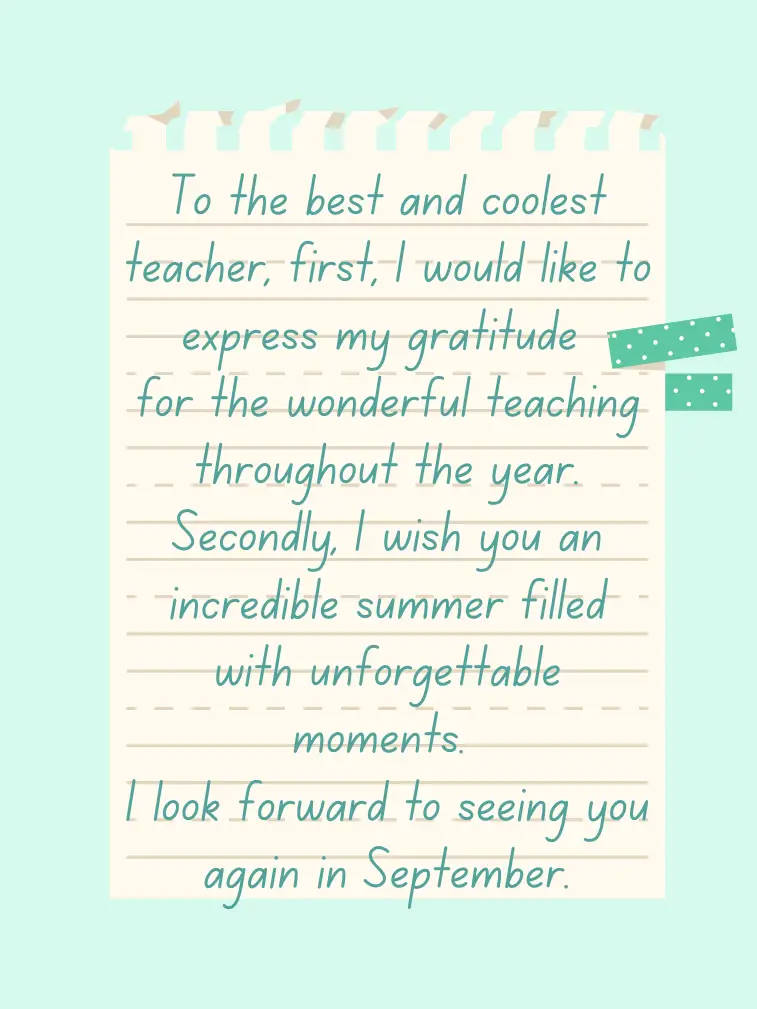 4. Dear teacher, I want to thank you for the dedication with which you perform your job and for helping me achieve such good grades for another year. You have supported, motivated, and encouraged me to accumulate so much knowledge. Thank you!
---
5. Thank you for your attention, care, and love throughout the past year. Thank you for the knowledge, inspiration, patience, and effort, but most of all, thank you for believing in me! I wish you an unforgettable vacation!
---
6. To the best and most dedicated teacher, I wish you a joyful summer and a well-deserved rest because we will be expecting you again in September. Additionally, I want to sincerely thank you for another year in which you gave your all to educate us in the best possible way. Have a wonderful summer!
---
7. Dear teacher, thank you for the dedication you have shown throughout this school year in teaching and guiding us to become better individuals. I appreciate your patience, inspiration, and professionalism. Wishing you a peaceful and relaxing summer!
---
8. Dear teacher, I wanted to take a moment to express my heartfelt gratitude for the unwavering support and care you have shown us throughout this year. Your dedication and commitment have not gone unnoticed, and I am truly thankful for your presence by our side every step of the way. Thank you for everything, and I look forward to seeing you again in the autumn.
---
9. Dear teacher, I wish you a carefree and peaceful summer. May you rest well because you deserve it after this challenging year with us. 😃
---
10. And this year has passed unnoticed as if it were just yesterday when we started with the new textbook. Thank you for this incredible, fruitful, and interesting year. Once again, you gave your all, and we sincerely thank you. We love you, teacher!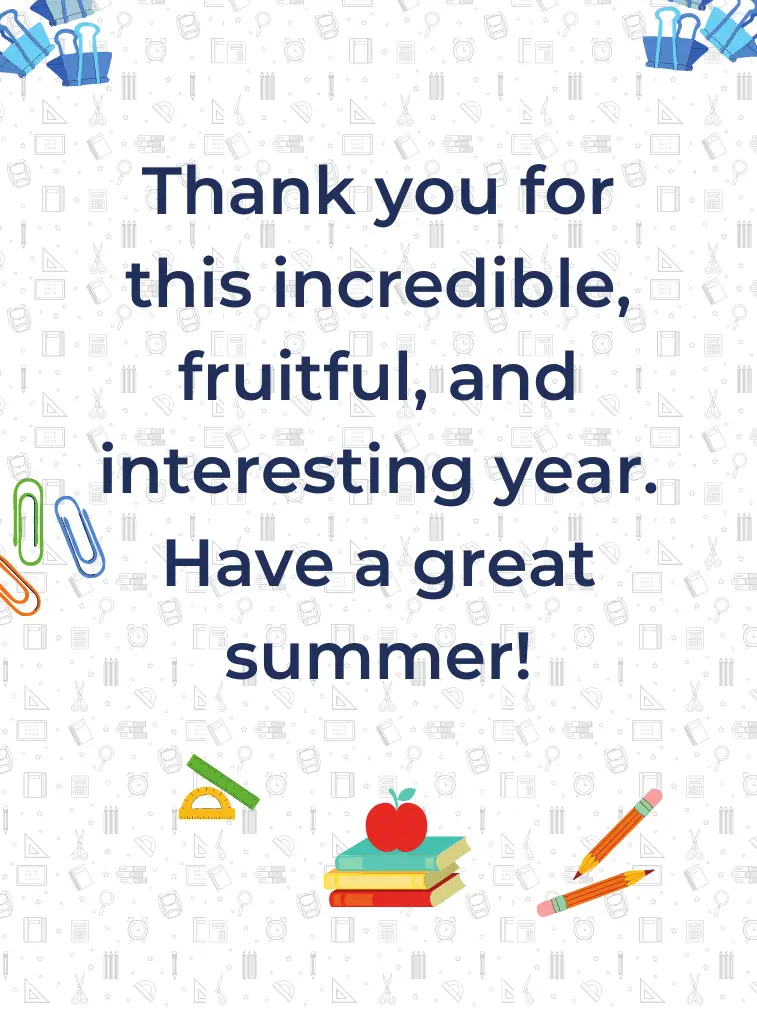 Thank You Notes to Teacher For End of the Schooling
11. The longest thank you message I could write would still not be enough to describe how grateful I am for the efforts you have made to make me a more educated, more responsible, more ambitious, and more valuable person. Thank you from the bottom of my heart!
---
12. Your lessons have opened my mind, dear teacher. You instilled in me values, knowledge, and wisdom that I will carry throughout my life. Your unwavering support and tireless efforts to help me learn and grow were a guiding light. Your contribution to my life goes beyond words. I am grateful for all you have done for me and will remember your guidance throughout my journey.
---
13. Your lessons were not just periods of learning, but windows into a broader understanding of life and the world. You did more than teach, you inspired, motivated, and guided me to become an educated and well-rounded person. Your noble efforts will never be forgotten and I deeply admire you. I wish you abundant health and happiness and once again thank you for your unwavering dedication.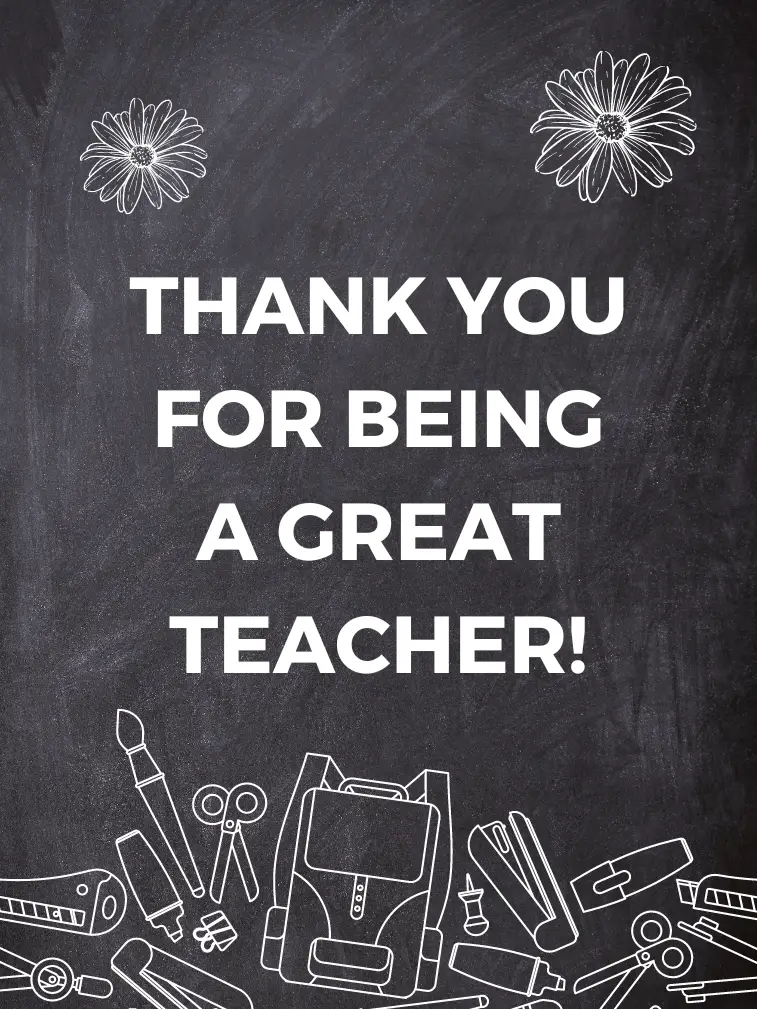 14. The opportunity to be your disciple is a blessing I will treasure forever. You have instilled in me not only knowledge but also a sense of culture and humanity by showing me the path to righteousness. Your teachings will always be a ray of light to guide me to the right path. My gratitude to you is immeasurable. May you continue to enlighten life and enjoy every moment that life brings you.
---
15. Dear teacher, thank you for being there! You and other teachers are making this world a more cultured and civilized place. Besides what we learn from you, we also become wiser and more educated young people. Be blessed, and know that we appreciate your efforts. Keep making the world a better place!
---
16. Dear teacher, you are the person I spent most of my day with and whom I will never forget. People like you should be remembered and thanked for a lifetime. Thank you for being so dedicated to your profession and carrying it out with great enthusiasm. Your desire to educate us and help us become better individuals is truly appreciated. Thank you!
---
17. My dear teacher, be well! I wish it to you from the bottom of my heart! You taught me so many things, giving your all to help me become a better person. I will be grateful to you all my life!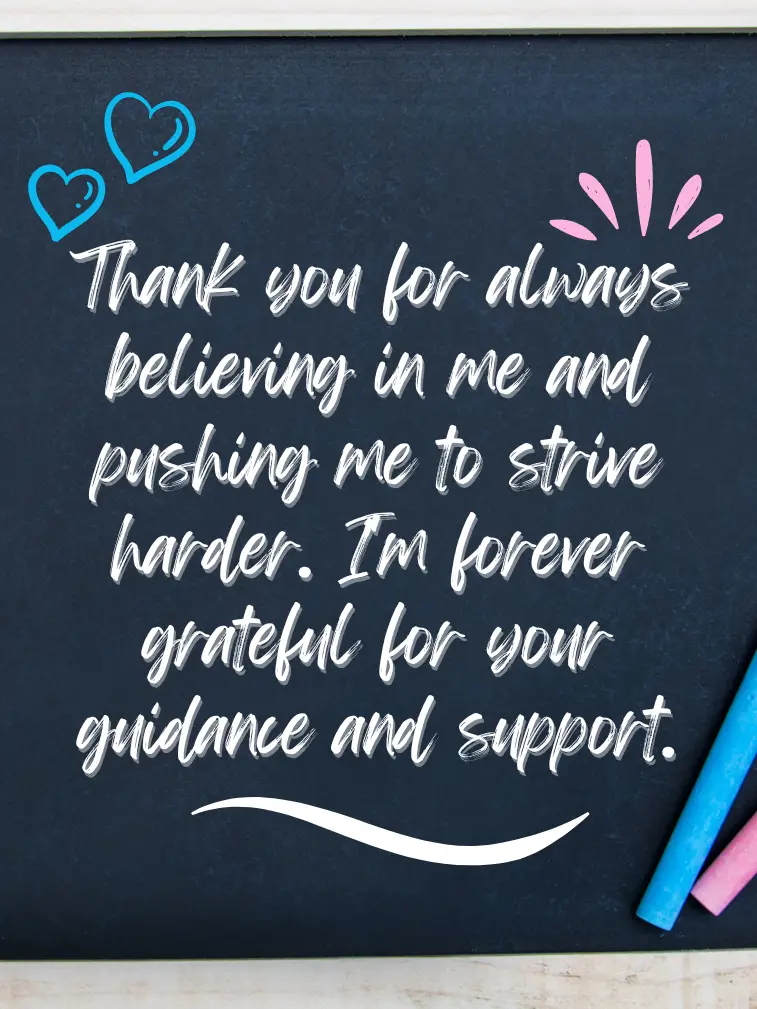 18. I am writing to thank you for all these years you have taught me and tried not only to gain knowledge but also to be an educated person. I admire you very much; thank you once again, and I wish you good health and happiness!
---
19. I wish every young student а teacher like you. You have not only given me knowledge but enriched my general culture and showed me the right path in life. I cannot describe how grateful I am to you. Take care and enjoy life!
---
20. Thank you, teacher, for giving us wings with which to fly. Without your help, the road from here on out would be much more difficult. Thanks to you, many paths have opened up for us. We now have a foundation on which to build and grow. You have been an important part of our lives, and we thank you most sincerely for everything!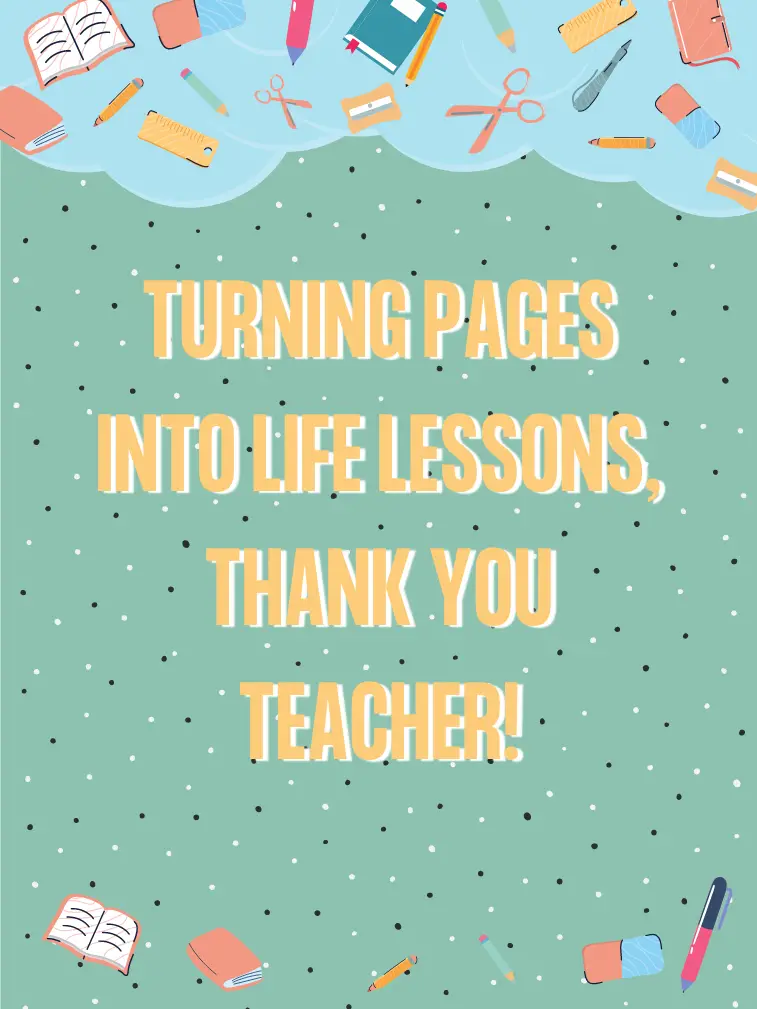 Thank You Notes From a Parent to a Teacher
21. I would like to express my sincere gratitude and appreciation to you. Over the past years, you have clearly shown us that being a teacher is not only a profession but also a vocation. From the very first tentative steps our children took when they crossed the school threshold, you took them by the hand and showed them the world of knowledge. Thank you for the inspiration and the "wings" you created for our children to step confidently forward.
---
22. Thanks to your professional and personal qualities, patience, creativity, and demanding nature, our children have received a wonderful role model. I believe that many generations to come will enjoy your love and professionalism.
---
23. Over the past few years, you have shown extraordinary dedication, love, and understanding for our children. You have managed to teach them tolerance, reciprocity, honesty, and support, at a difficult age for them, you have earned their respect. You are a wonderful and dedicated teacher! Thank you so much for everything!
---
24. Thank you for the atmosphere you create and for making my child come to school every morning eager and happy. I would love it if more and more teachers like you are able to find that balance between modern and classical trends to teach and adapt all children to reality.
---
25. I cannot express how grateful I am for all the efforts you have made to see your child now equipped with so much knowledge. I greatly appreciate your willingness to give and to give the best of yourself. In life, everything comes back around, and I know that you teachers will be rewarded greatly. Thank you!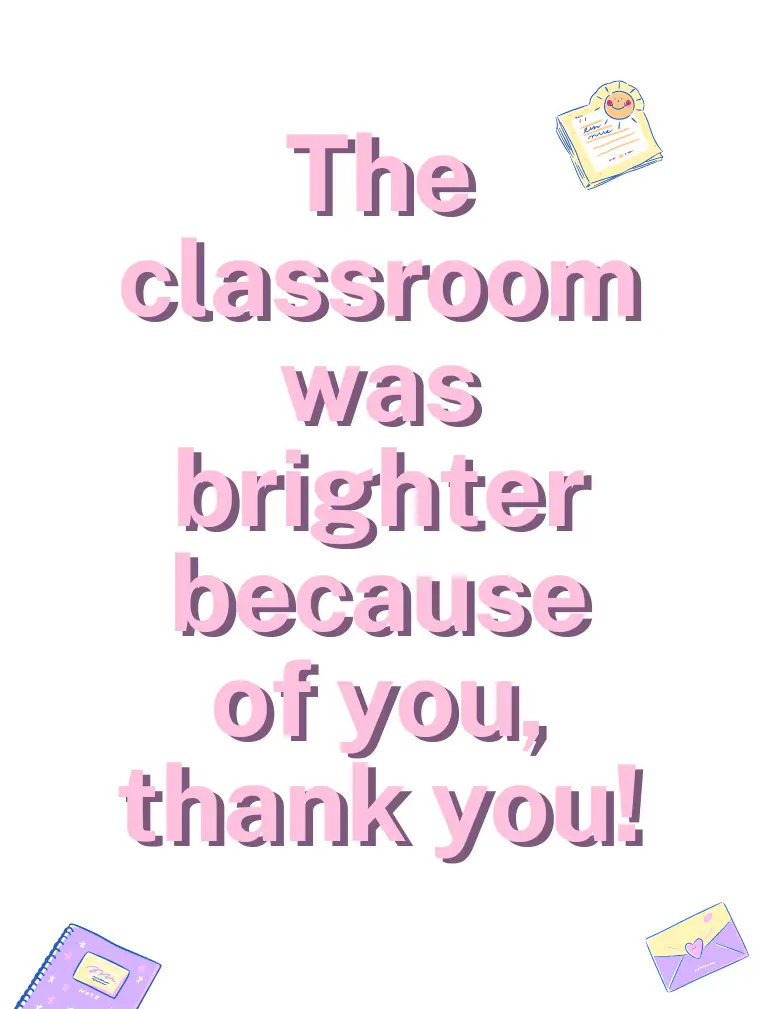 Short Thank You Notes For a Teacher
26. Thank you for turning our lessons into joy and our education into happiness.
27. You've changed my world, and I'm eternally grateful for your guidance.
28. You've taken my hand, opened my mind, and touched my heart. Thank you, teacher!
29. With your guidance, I felt prepared not just for the tests but for life. Thank you!
30. You have turned an ordinary classroom into a place of wisdom and inspiration. Thank you.
31. Thank you for igniting my imagination and making learning fun!
32. You've turned chalk and talk into wisdom and life skills. Thank you for being an amazing teacher!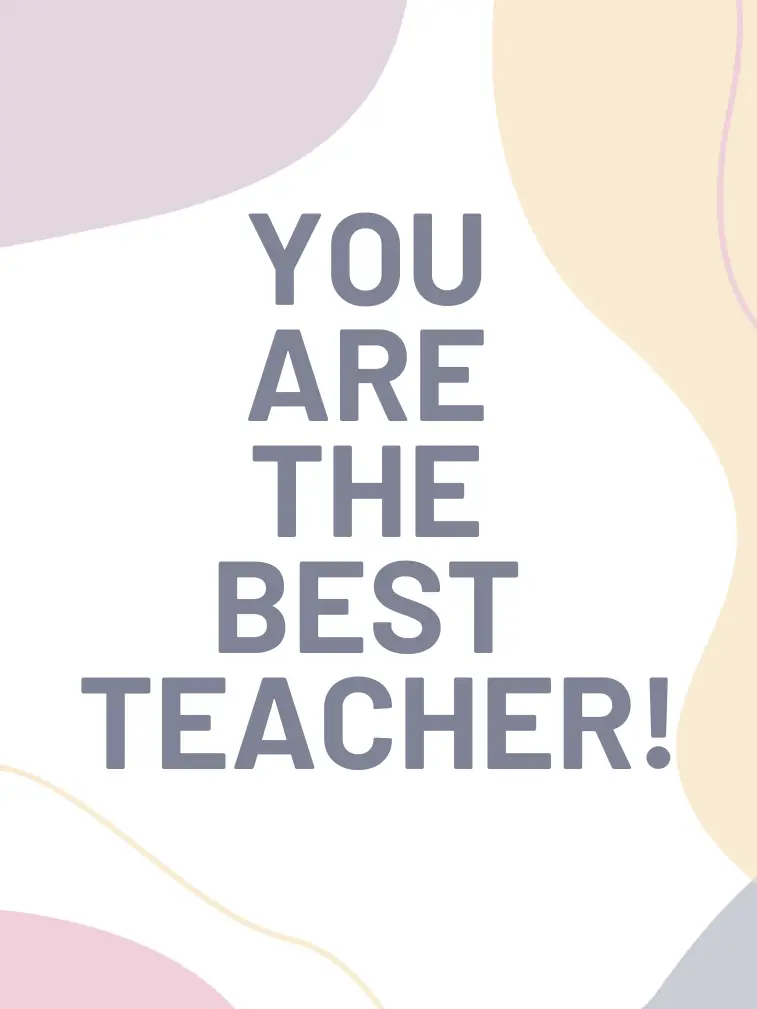 33. You are the guide who has lit my path with knowledge and wisdom. Thank you for being a remarkable teacher!
34. Behind every successful student is a fantastic teacher. Thank you for being mine!
35. Not all superheroes wear capes. Some stand in front of a blackboard and inspire the future. Thank you, teacher!
36. You've been not only a teacher but also a mentor and guide. Thank you for everything you have done for me.
37. Thank you, teacher, for always greeting us with, 'Hey, Kids!' and always treating us as your own.
38. A great teacher is not just known for their lessons, but for the wisdom they impart. Thank you for being such an inspiring figure in my life!
39. Thank you for being our candle in the dark, lighting our path to knowledge and wisdom.
40. You've sparked my thirst for learning, inspired me at every step, and encouraged me to be the best version of myself. Thank you, dear teacher!