Say "Happy Birthday, Adventurous Soul!" to that travel-loving girl. Write thrilling birthday messages for her with these unique and funny birthday quotes and wishes.
Is the globe-trotting lady in your life celebrating her birthday soon? It could be your wife, girlfriend, sister, niece, mother, daughter, or friend. You want this adventurous spirit to realize how cherished she is on her special day and you aim to compose her an unforgettable message.
Crafting an exciting birthday wish doesn't have to be a tough climb. Write from the heart, and you can usually find the right sentiment. Or you could employ a funny birthday quote to deliver your wishes.
If you're lost for ideas on what to inscribe in a birthday card for her, consider yourself found. There's a treasure map of quirky, unique, and amusing birthday quotes for that special woman.
Whether it's for a birthday card, a birthday caption, a text message, or face-to-face, you can express your celebratory sentiment with that adventurous girl in various ways. Navigate through this list of unique birthday messages to share. Each one is a passport to a memorable birthday wish.
Happy Birthday Travel Girl
1. Happy birthday to the most fearless girl who is not afraid to embark on new paths, seek the unknown, and explore the beauty of our surrounding world. Continue to inspire everyone with your adventurous spirit. I love you!
---
2. Happy birthday! I hope that the coming year brings you exciting adventures and memorable experiences. May your passport be filled with stamps from new places you explore, and may your phone be filled with captivating pictures that serve as lasting memories.
---
3. Happy birthday to my dear friend! I hope that each and every dream destination you have in mind becomes a reality. May your journey be filled with amazing people and may you find your true love along the way.
---
4. Happy birthday! I wish you the joy of discovering new cultures, cuisines, and landscapes every single day!
---
5. I wish you a suitcase full of dreams and a heart full of love. Happy birthday!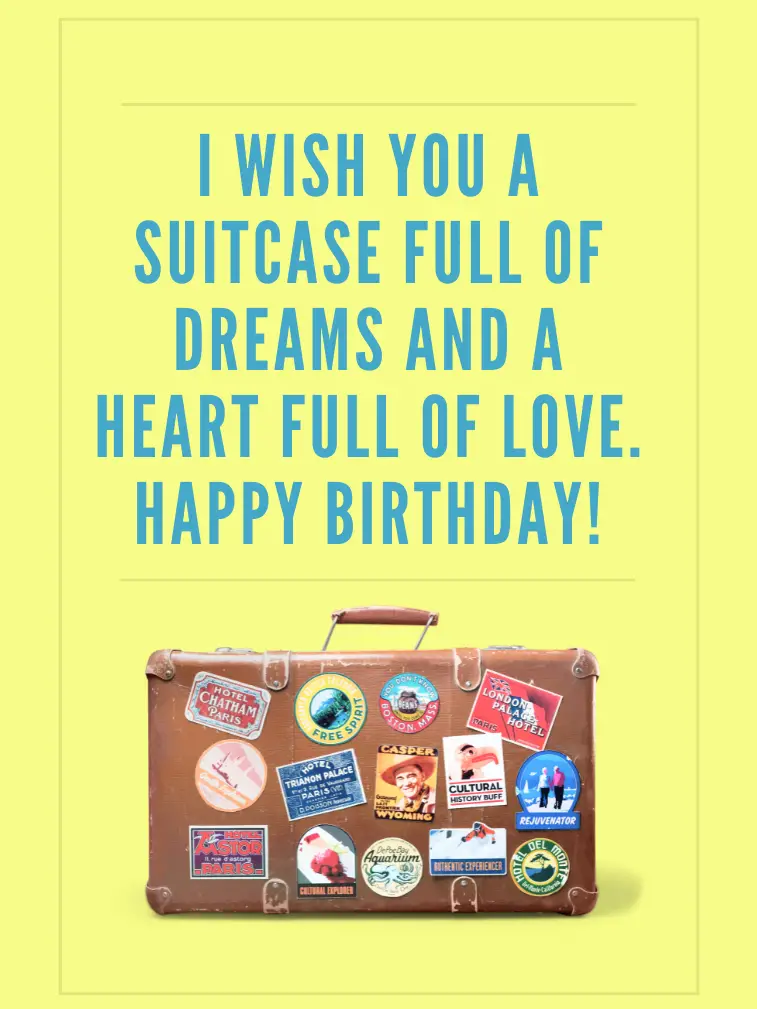 6. I wish for you to visit thousands of new places, have fun with friends, try new cuisines, and most importantly, be happy every moment along the way. Happy birthday!
---
7. With you, every day feels like a new stamp in the passport of love. Thank you for every minute spent together in some amazing place. I love you!
---
8. I hope your eyes are blessed with captivating views of vast seas, towering mountains, and beautiful cities. May there be no corner of this world that you haven't seen! Happy birthday!
---
9. Life is one, and you know very well how to live it. Stay adventurous, cool, and eager to create new experiences. Happy birthday!
10. Happy birthday to the girl with the most adventurous spirit! Thanks to you, I have been able to see so many new places. Let's rediscover the world together again this year!
---
11. Every journey with you turns into an incredibly adventurous film. I wish you never stop the production of new movies. Happy birthday!
---
12. Happy birthday to the girl with a free spirit, a wild heart, and travel love. Besides wishing you the most important things in life such as health, happiness, and love, I also wish you many more unforgettable journeys around the world.
Short Birthday Messages for Travel Girl
13. Happy Birthday! Can't wait for another year of eating foods we can't pronounce in places we've never been.
14. Another year, another wrinkle, another stamp in your passport!
15. Happy Birthday! Don't think of it as getting older, think of it as having more time to travel.
16. Happy Birthday! May your year be filled with fewer tourist traps and more hidden gems.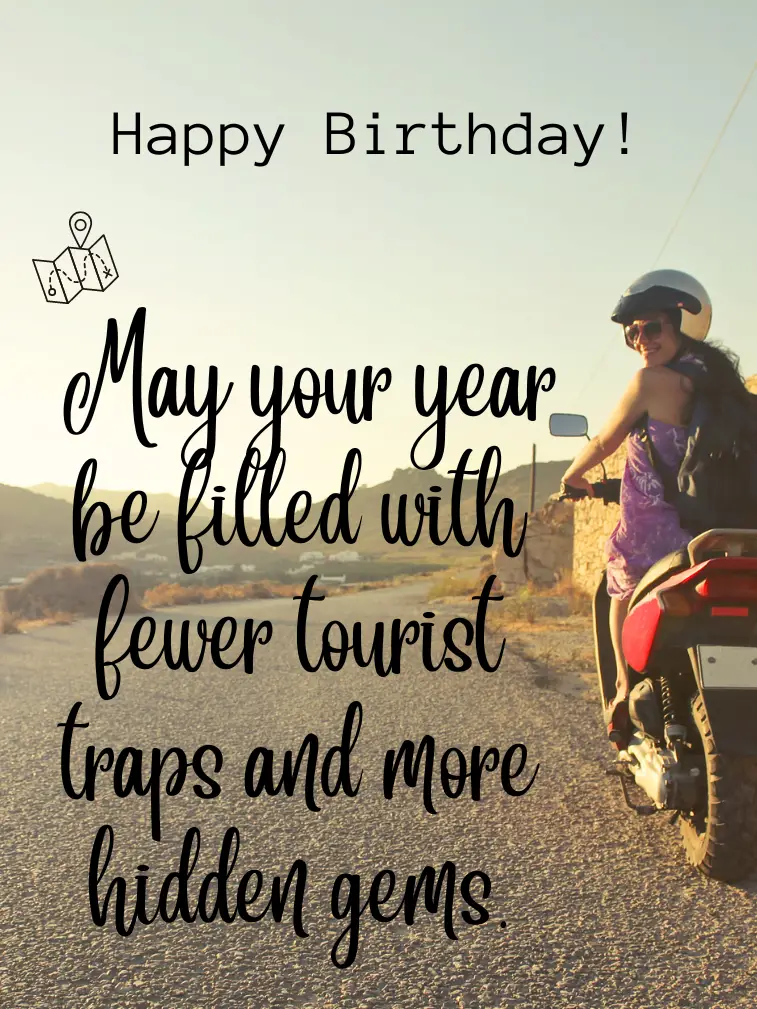 17. To you, my globetrotting friend, may you wander more than you are lost. Happy Birthday!
18. Happy Birthday to the only person I'd share a 17-hour flight and a hostel room with!
19. Another year older, another country checked off the list! Happy Birthday!
20. To the girl who's been to more places than she's been years old, Happy Birthday!
21. Happy Birthday to my favorite travel buddy! Let's get lost somewhere again soon.
22. Here's to another year of you being the only person I'd ever want as my co-adventurer. Happy Birthday!
Funny Birthday Wishes for Travel Girl
23. Happy Birthday! May your suitcase come out first on the conveyor belt!
24. Hope your birthday is as exciting as finding free Wi-Fi in a foreign land.
25. Happy Birthday! You're one step closer to getting the senior citizens' travel discounts!
26. Happy Birthday to the girl who's been more times around the sun than around the globe.
27. Age is just a number… but so is your flight boarding time! Happy Birthday!
28. Wishing you a birthday as stress-free as a vacation… minus the lost luggage.
29. Congratulations on surviving another year without getting lost in a foreign city. Happy Birthday!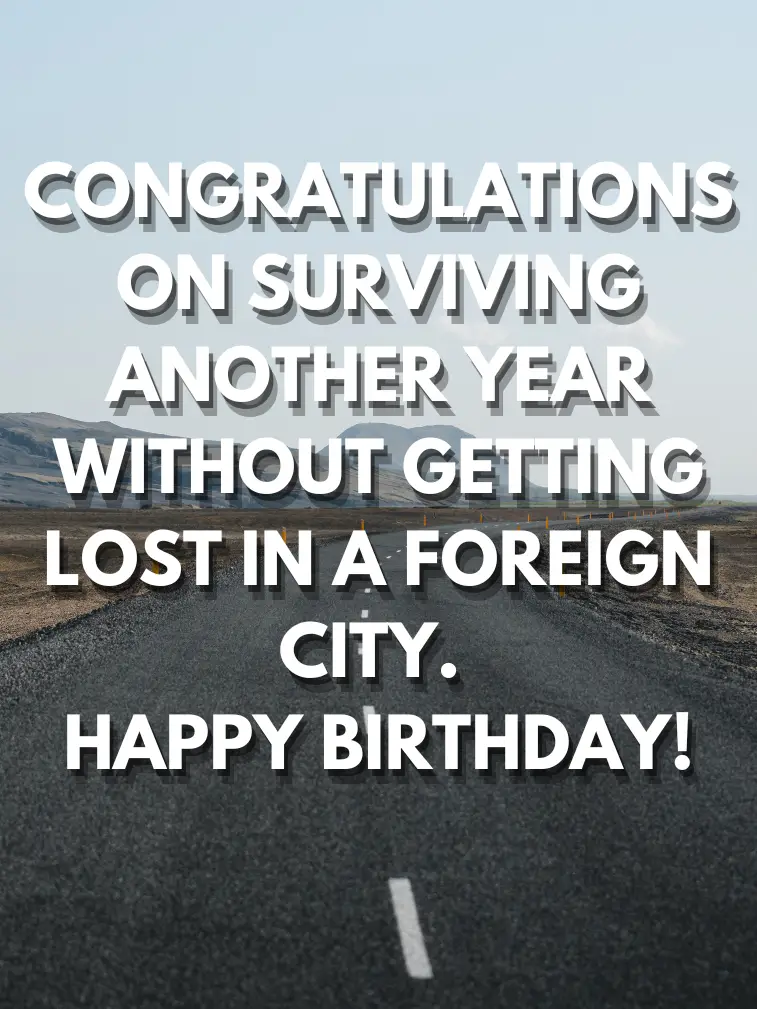 30. May your birthday be filled with less turbulence than your last flight!
31. Aging is like being stuck at an airport. You don't have a choice. Happy Birthday!
32. Don't think of it as getting older, think of it as collecting souvenirs from the journey of life!
33. Happy Birthday to someone who understands that the best souvenirs are memories.
34. You've traveled far, but clearly not far enough to escape another birthday.
35. May your birthday be as satisfying as finding an open Wi-Fi network in the middle of nowhere!
36. For your birthday, I got you a map. You know, so you can find your way around the new age bracket.
37. Happy Birthday! I got you a globe so you can plan where you're going next to escape your age!