Is anyone close to you turning 16? How exciting! This wonderful age should be celebrated properly. But you should also properly congratulate the person who turns 16. At this age, some of the best memories remain and we remember them for a lifetime. From here the first tremors in the adult world begin. Well, without further ado, take a look at our 56 birthday wishes for your friend, daughter, son, cousin, or boyfriend/girlfriend who is turning sweet 16.
Happy Sweet 16 Birthday Wishes
1. Happy 16th birthday! I wish you days filled with joy and smiles. May you learn something new every day, discover new places, and experience thrilling emotions.
---
2. Happy Sweet 16th! Wishing you a very sweet day and an even sweeter year with lots of parties, success at school, and boyfriends for movie nights.
---
3. I wish you fun-filled daytime hours and lively evenings. Happy 16th birthday!
---
4. Happy Birthday! I wish from now on your life will be one big party, with lots of music, laughter, and dancing!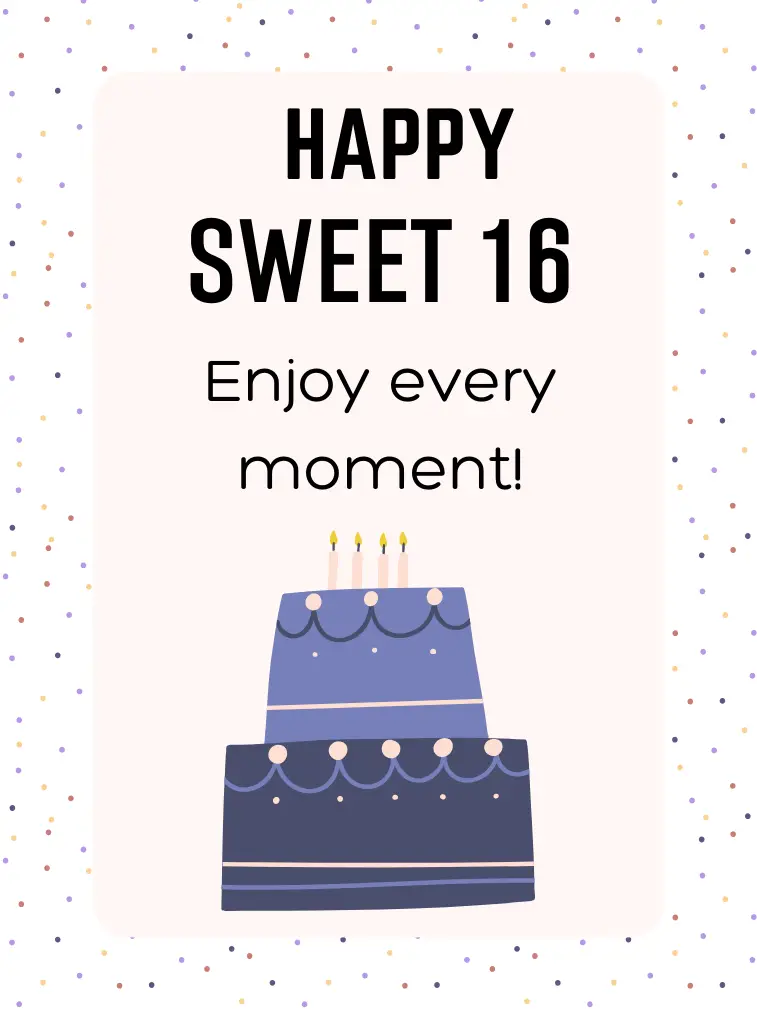 5. Wishing you a very happy 16th birthday, where fun is every day, learning is every other day, and travel is every other week.
---
6. May this 16th birthday bring you many nice gifts, positive emotions, and the most beautiful wishes. Let's not forget a new boyfriend to share these happy emotions with!
---
7. Happy Sweet 16! I wish you a magical 16th birthday with lots of presents, great wishes, and most of all fun. May the smile never leave your face today and all year.
---
8. Happy 16th birthday! Embrace this wonderful age with a great desire for new adventures, new opportunities, and above all, happiness.
---
9. To an incredible young person on their Sweet 16, may you always keep the childlike spirit within you. May each day be filled with a smile on your face and lots of fun with cool friends. Happy birthday!
---
10. Happy Sweet 16! When you blow out the candles on your cake make 16 wishes and from the bottom of my heart, I wish you all to come true. Happy Birthday!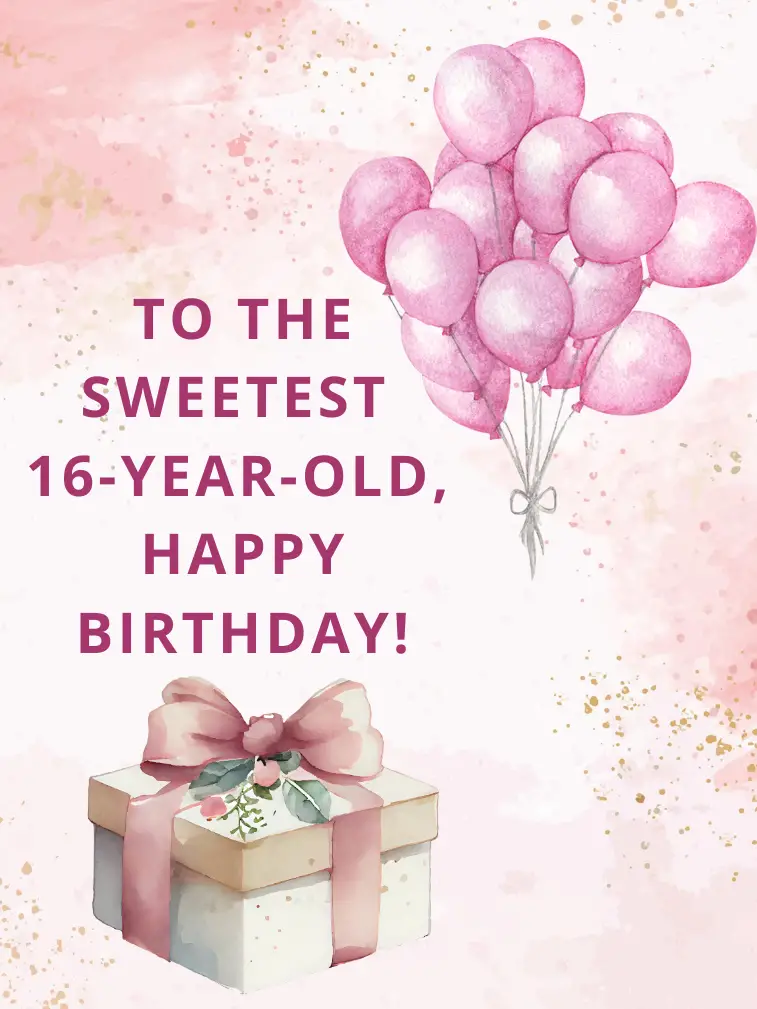 11. Happy birthday to a remarkable young soul who is turning 16 today. I wish you to be surrounded by good friends, to have a lot of success in school, and for the boys to chase after you.
---
12. On your Sweet 16, I wish you a life filled with boundless happiness, love, and success. May every day of yours be like prom night – dazzling, with all the spotlights on you, and your beauty shining bright, captivating everyone.
Happy Sweet 16 Birthday Greetings From a Friend
13. Wishing a very happy Sweet 16 to my best friend! You are an amazing friend and that is why you deserve all the best things in life. May the excitement, laughter, and countless adventures be by your side for a lifetime.
---
14. Happy Sweet 16 to my amazing friend! I am the luckiest girl to have such a cool friend like you! I wish you to be very happy, and loved and I wish that after so many more years we will still be so close.
---
15. Happy Sweet 16 to my sister from another mother! You're more than a friend to me and I'm glad you still tolerate me despite all my quirks. May your birthday be as awesome as you are, and may all your dreams come true.
---
16. Dear friend, on your Sweet 16, I want to wish you to always remain cool, fun, and charming. Let our fun times together continue in the same spirit, and may we never tire of having a good time.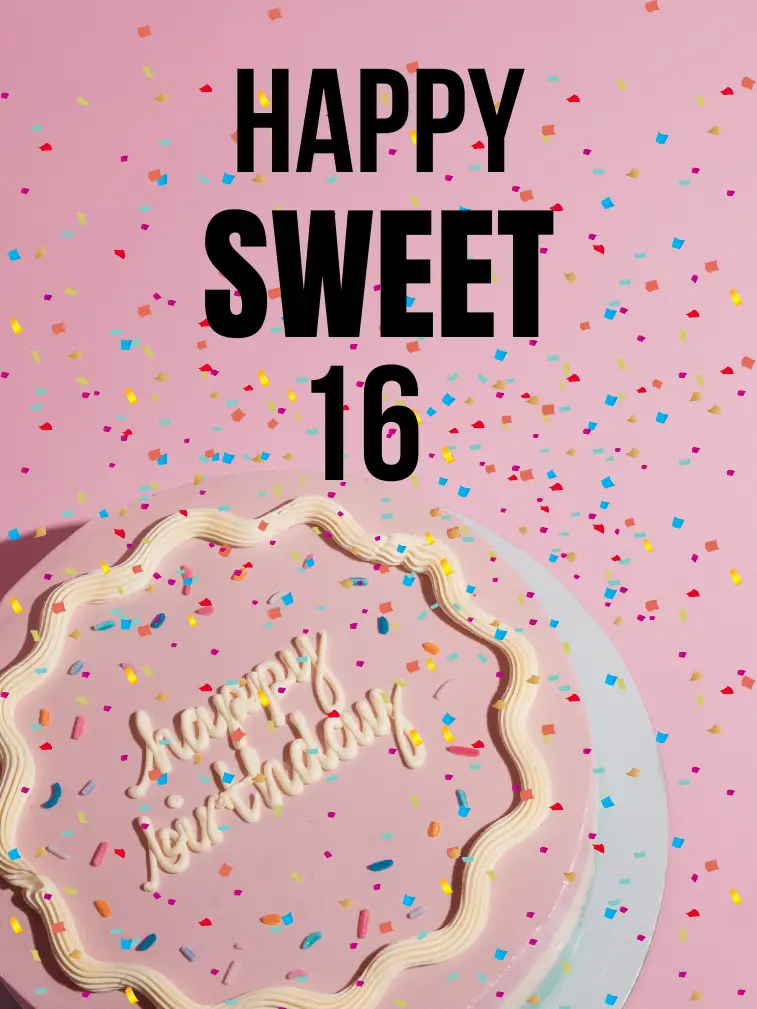 17. Happy 16th birthday to the person who never turns down an invitation to a party. Let's hope that never changes and our teenage years go by in nothing but fun. I love you and hug you.
---
18. To my coolest friend, Happy Sweet 16! Thank you for the amazing memories together, and for making every moment together fun. You are unique, and I wish you a birthday as unique as you.
---
19. Happy Sweet 16 to my forever friend! In addition to all the times you made me laugh, thank you for all the times you supported me in difficult moments. From the bottom of my heart, I wish you much success, happiness, and love!
---
20. Happy birthday to my sweet and fabulous friend who is turning 16! May only amazing things happen to you at this wonderful age.
---
21. Happy Sweet 16 to my amazing friend! Thank you for always being there for me, supporting me, and making every moment unforgettable. May your day be as extraordinary as you are!
---
22. May this birthday be the best ever, and may happiness overflow into your life. Happy 16th birthday!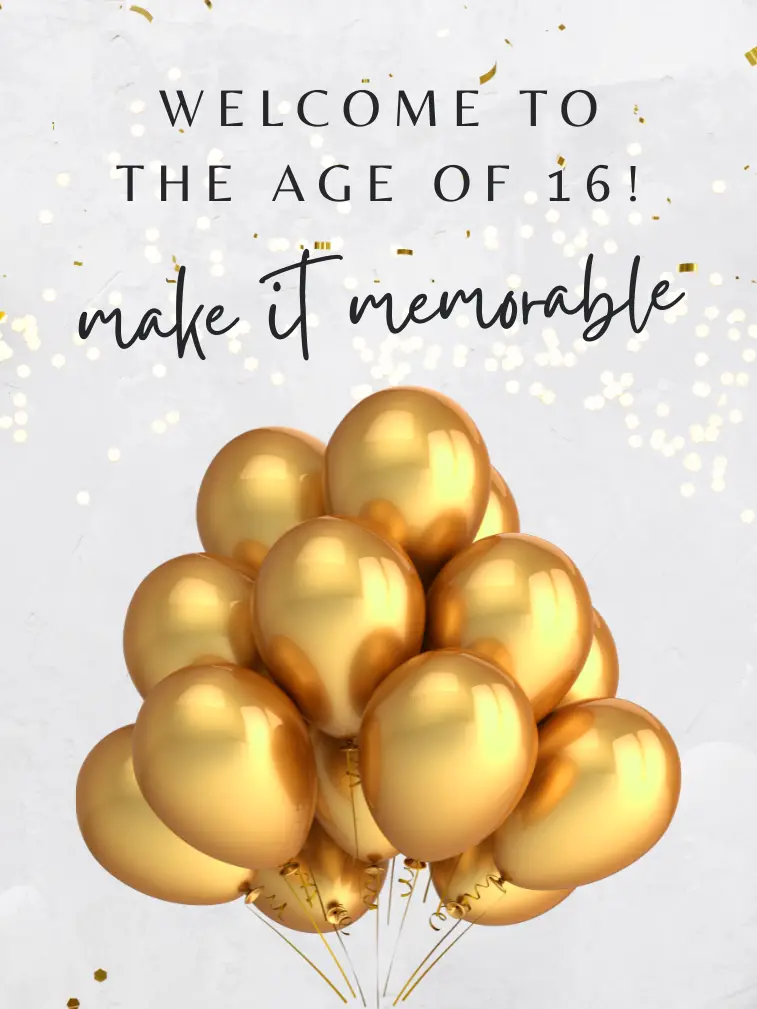 Happy Sweet 16 Birthday Greetings From Parents
23. Happy Sweet 16, our precious child! You are our pride and we have no words to describe how much we love you. We wish you at this wonderful age to enjoy every moment, explore the world around you, and be surrounded by good friends. We love you!
---
24. To our amazing son/daughter, Happy 16th birthday! Watching you sprinkle happiness fills our souls with joy. We are delighted to see you becoming a truly valuable person. We wish for you to grow wiser, more rational, and determined, and above all, to have wonderful experiences.
---
25. Happy Sweet 16 to our shining star! Today all the spotlights are shining for you. Wishing you an amazing, memorable birthday and a year filled with happiness, success, new opportunities, and cherished memories.
---
26. To our lovely child, Happy 16th birthday! Our lives gain meaning with every moment when we see the person you are becoming. You are our pride and we cannot describe how happy we are to have you. I wish you lots of luck in life and success in everything you undertake.
---
27. To our beloved child, Happy sweet 16th birthday! May you have a sweet day and may you always feel this way about life in the future!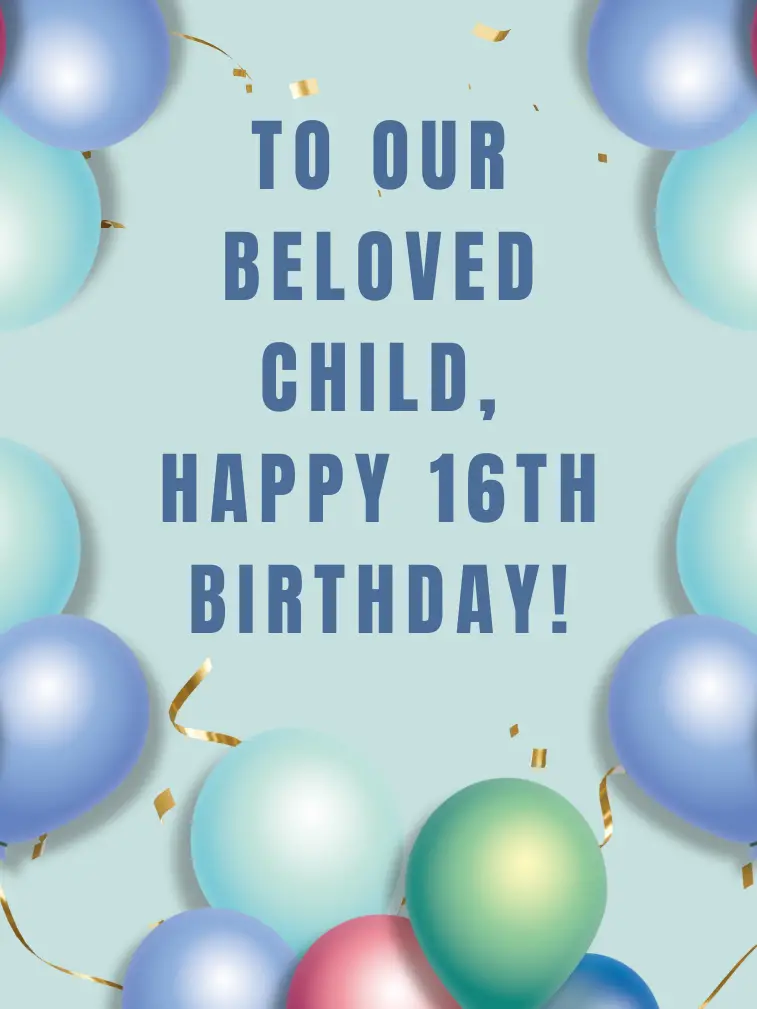 28. Happy birthday to our treasure (and sometimes a little monster). We love you very much and know that we will always support you and be by your side. We want to wish you lots of happiness, and fun, and also encourage you to study hard so that one day you can achieve everything you've dreamed of.
---
29. Happy Sweet 16! Your journey from childhood to teenagehood is nothing short of amazing. As you enter this new chapter, may you embrace life's adventures, learn from every experience, and always stay true to yourself. We love you unconditionally.
---
30. I wish you our child to have many adventures and each of them to be a wonderful tale with a nice ending and lots and lots of fun. Happy birthday!
---
31. We wish you to be a winner in life and to always get high marks, not only for knowledge but also for good behavior and diligence. Happy birthday!
---
32. You are the most well-behaved child, my dear! We are very proud of you, and we wish you to continue being as studious and hardworking. Love you!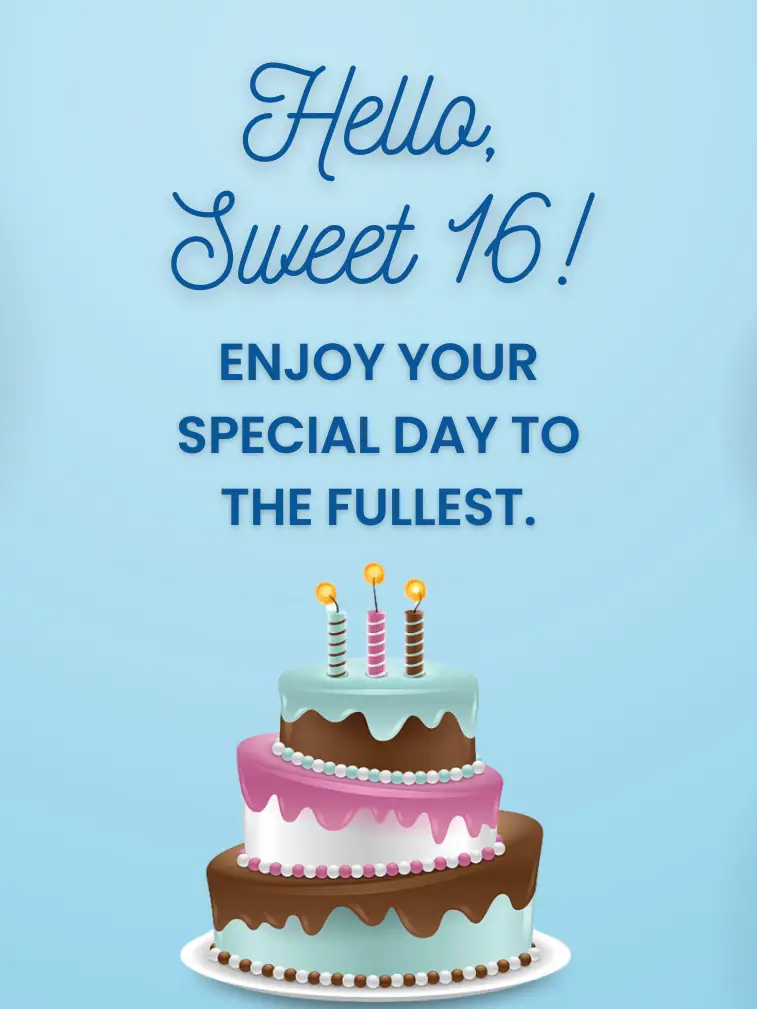 Funny Sweet 16th Birthday Messages
33. Sweet 16? More like Sweet $16… if you think this means I'm giving you gas money.
34. Congrats on turning 16! If I remember correctly, that's old enough to start paying taxes.
35. On your 16th, remember: age is just a number. Unfortunately for you, so is your curfew.
36. Sweet 16? Sweet tooth! Enjoy your birthday cake while your metabolism still works!
37. Happy 16th! Don't worry, you still have 4 more years before you can be tried as an adult.
38. Happy Sweet 16! It's all downhill from here… into adulthood!
39. Happy Sweet 16! Now you can officially drive us all crazy.
40. 16 is when you really start to blossom. But watch out for the bees!
41. Happy Sweet 16! Remember, you're only young once, but you can be immature forever.
42. Turning 16? Now that's a real 'license' to thrill! Enjoy the ride!
43. Cheers to 16 years of causing mischief and giving your parents gray hairs.
44. Just turned 16 and think you're cool? Wait until you start paying bills. Happy Birthday!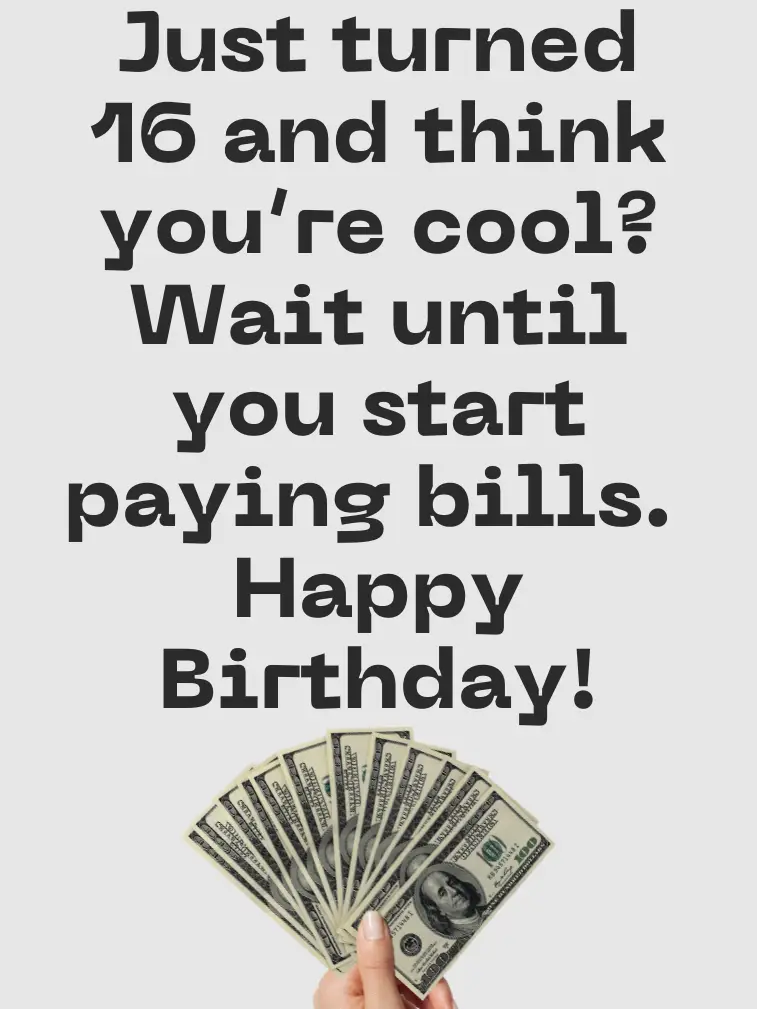 Happy 16th Birthday Captions
45. Sweet 16: officially old enough to babysit!
46. 16: The age when parents get nervous!
47. 16 and unstoppable… until curfew!
48. Sweet 16? More like Sweet $16 in gas money.
49. Welcome to 16, enjoy the ride!
50. 16 candles but who's counting?
51. Buckle up, 16's the start of a wild ride!
52. Brace yourself. The sweet 16 selfies are coming.
53. Sweet 16: I'd say go wild, but please don't.
54. 16 and oh so keen!
55. Sixteen – when every parent's brakes fail!
56. Watch out world! I'm now 16.