You hardly ever imagined you'd be looking for birthday wishes for your ex-husband. But in life, sometimes these things happen. For better or worse, it doesn't matter anymore, he's stuck in your past. Now the question is whether to send him a birthday wish. We say why not? Show him that you're over things and that you're over the breakup. You've moved on in life and now you want to wish him all the best. In this post, you will find 42 special wishes for your ex-husband as well as some adorable cards.
Happy Birthday to My Ex-Husband From Whom I Recently Separated
1. Happy Birthday! Despite the recent unpleasant moments together, I want to wish you to be healthy, happy and hope to keep a good relationship.
---
2. I wish only good things happen to you in life, even though the last few months have not been the most pleasant. Happy birthday!
---
3. We still had some good times, so I thought I'd wish you a happy birthday. May it be a happy and special day for you!
---
4. I moved on, I'm sure you did too! Let's forget the bad thoughts. I wish you a very happy birthday and lots of success in life.
---
5. I believe that in life you should not harbor bad thoughts about someone, so as much as it pained me the last few days, I think we should move on as friends. Wishing you a great birthday and may your path ahead be filled with nothing but success.
---
6. Happy birthday, my dear ex-husband! Although our journey together may not have ended as we had hoped, I chose to cherish the beautiful memories we shared, and they certainly weren't a few. So, I thank you for these happy moments and wish you only wonderful things in life.
---
7. Dear ex-husband, even though we broke up, I want you to know that I have no bad thoughts toward you and wish you nothing but success in life!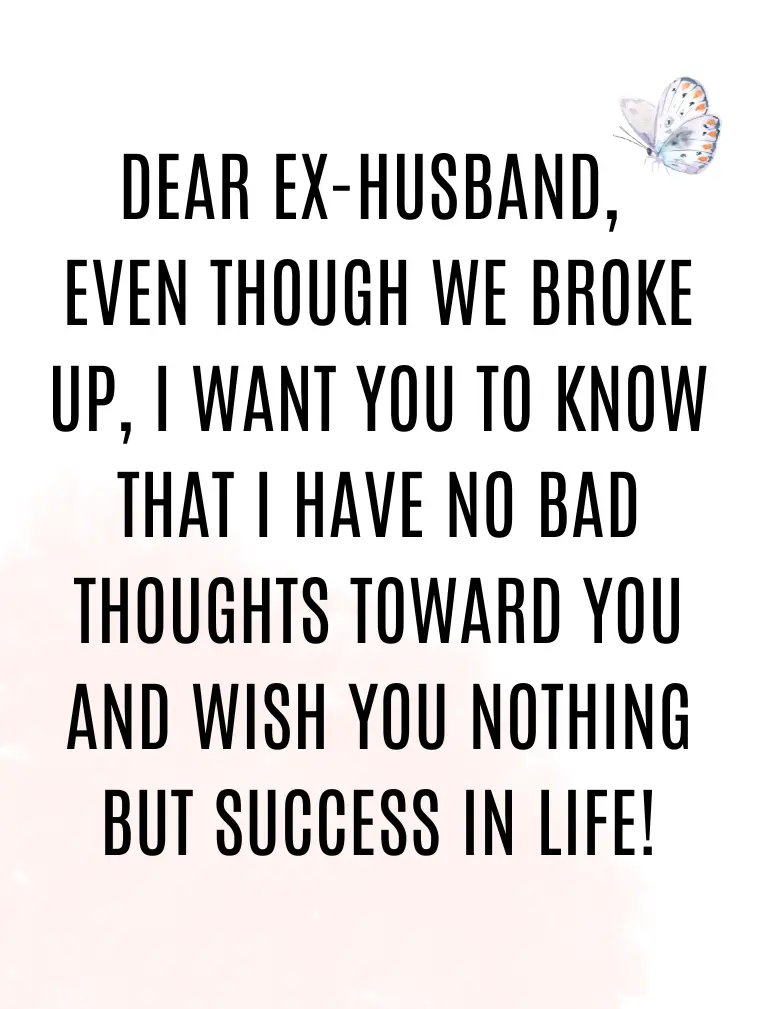 8. I wish my dear ex-husband many more years of health, prosperity, success, and many happy moments. Despite all our arguments, we have had many good times, so let's keep up the good relationship.
---
9. I never thought I wouldn't be able to wish you a happy birthday in person, but alas such was our fate. Happy birthday! May your every wish, be my wish for you!
---
10. Be calm, today I won't bother you. I just wanted to wish you a happy birthday and hope you have a proper celebration.
---
11. We may have been two ships sailing in opposite directions, but the ocean of life is vast and abundant. Wishing you a world of happiness and success on your birthday, ex-husband. May your journey ahead be as amazing as the person you are.
---
12. Happy Birthday! I hope there is joy in your life and I hope this year is more successful than the last. I really wish it for you! Despite any setbacks between us, let's maintain our good relationship.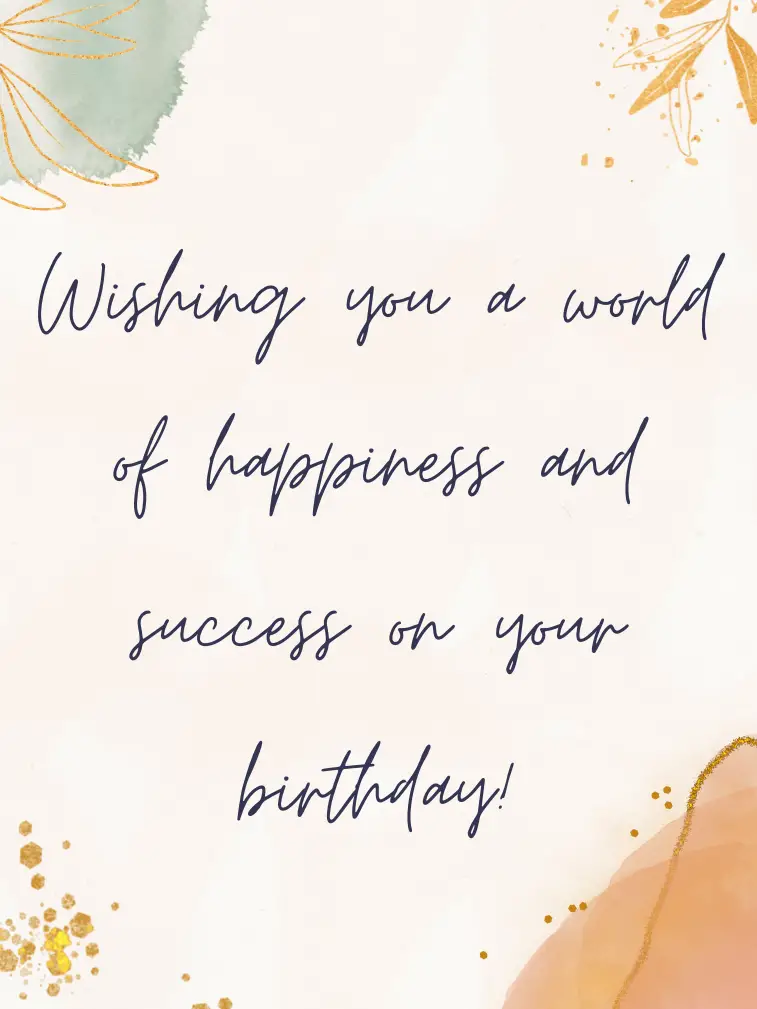 Happy Birthday to My Ex-Husband From Whom I Separated A Long Time Ago
13. Happy birthday to my ex-husband who once held a special place in my life. May this day bring you joy, peace, and all the happiness you deserve. Here's to new beginnings and a future filled with love and laughter.
---
14. On your birthday, I want to extend my warmest wishes to you. May this day be a celebration of the wonderful person you are and a reminder of the positive impact you've had in my life. Happy birthday!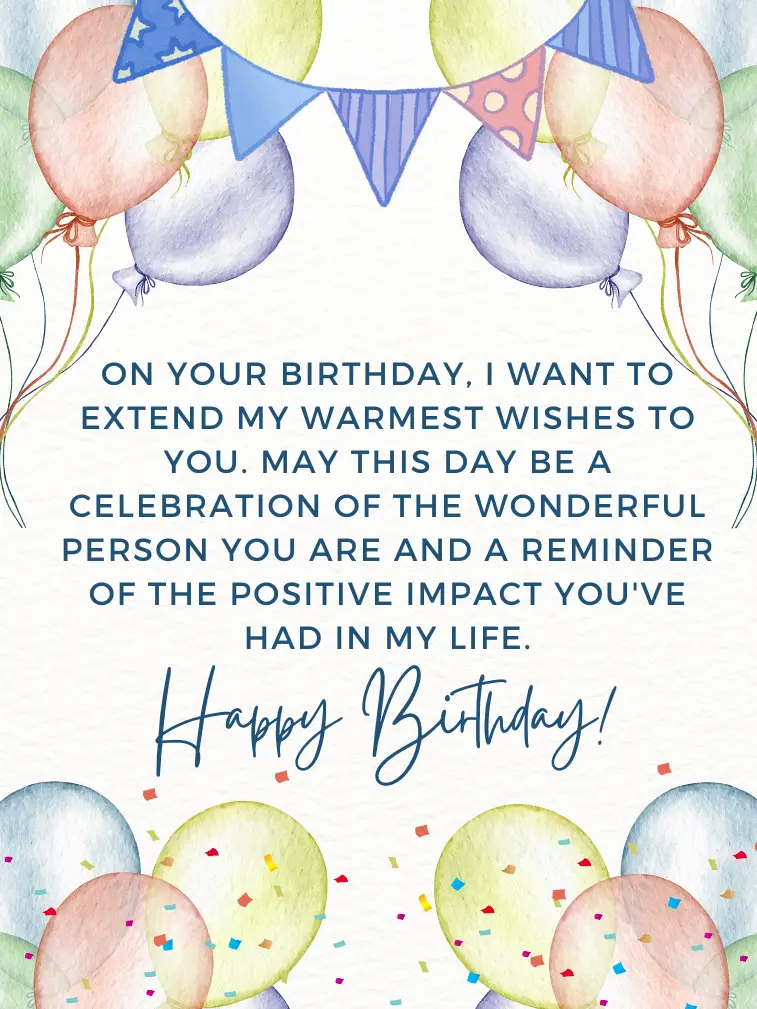 15. Happy birthday to the man with whom I once shared both good and bad times, but despite everything, I will never forget. I wish you nothing but happy moments from here on out and may life bring you success in all your endeavors.
---
16. Happy birthday to the man who, despite all, we've been through together, I will remember only the happy moments. May your day be unforgettable and filled with happiness and love.
---
17. Happy Birthday! You're a wonderful person, it's just fate that decided we're not for each other. But despite everything, on this day, I want us to forget about that and wish you nothing but happiness and fulfillment.
---
18. Happy birthday to the person I once shared a beautiful journey with. May this day mark the beginning of a new chapter in your life, filled with endless possibilities and fulfillment.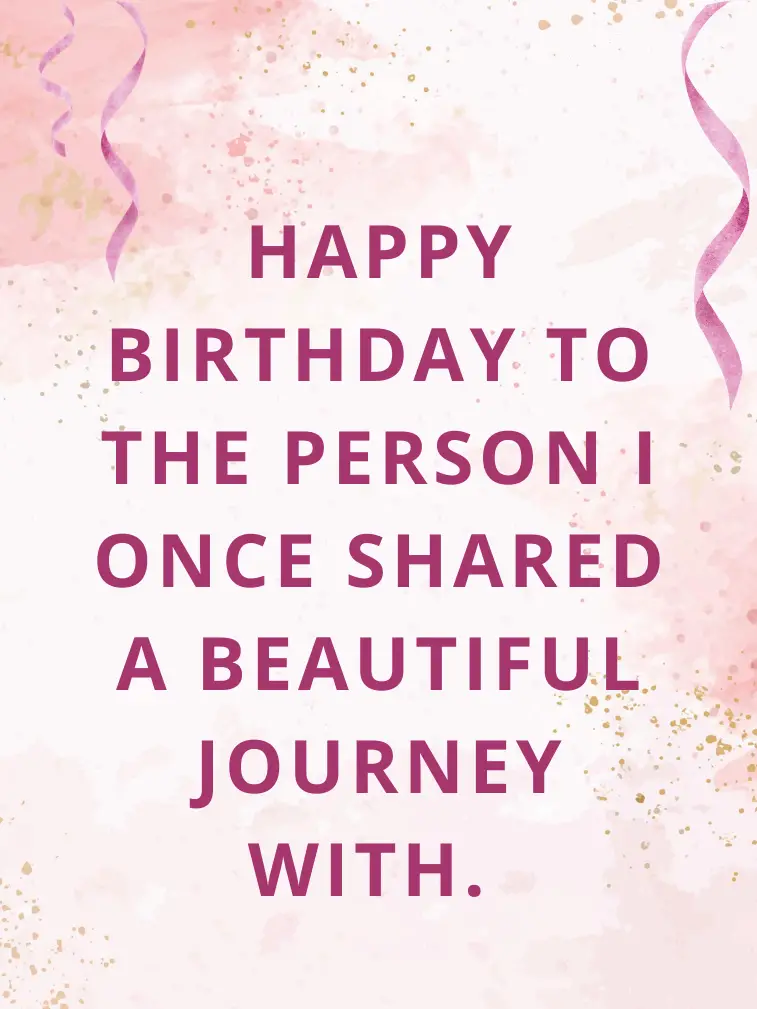 19. Let this birthday start a new chapter in your life. I wish you new and wonderful experiences and may our relationship become smoother and better towards each other.
20. In life, you never know what will happen to you. Even though I believed we would live out our old age together, life had something else in store for us. I hope everything is for the better and hopefully, we both find our happiness. Be blessed and I truly wish you all the best.
---
21. You still remain my greatest love and I will always love you no matter what happens to us. May life bring you happiness, and success, and don't forget to call from time to time.
---
22. Whatever happened between us remains in the past. Let us look at things positively, especially on this day. I wish you a happy time on this special day.
---
23. Our divorce may have separated us in writing, but it is up to us to decide whether our friendship will remain. So now I wish you a happy birthday and may the good relationship between us last forever.
---
24. Although the love that was supposed to bind us forever has failed, I do not harbor bitterness in my heart. Wishing you a year full of happiness, health, and new adventures on your special day. Have an unforgettable birthday, my ex-husband.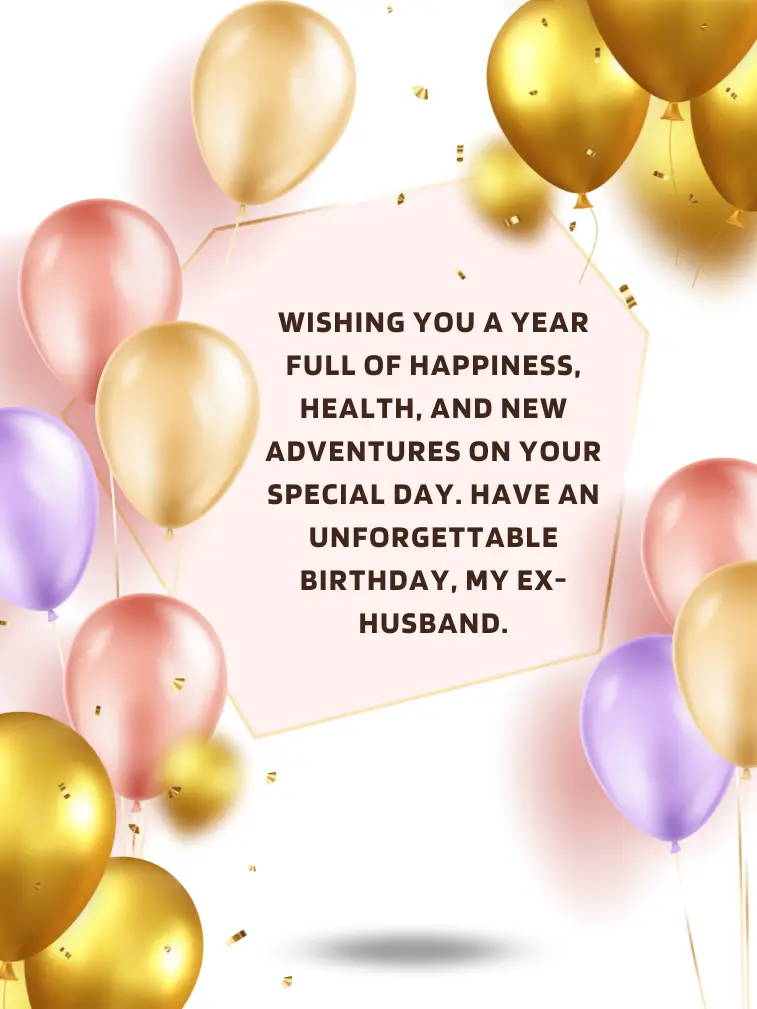 Short Birthday Wishes to My Ex-Husband
25. A toast to my once-upon-a-time, wishing you a truly happy birthday.
26. We might have been on two divergent paths in a forest, but today, let's just be two friends wishing each other well. Happy Birthday!
27. To the man who still occupies a friendly corner of my past, Happy Birthday.
28. The script of our love story may have ended, but the fond memories persist. Happy Birthday, ex-husband.
29. Cheers to the man who was once my forever, here's wishing you a birthday filled with laughter and happiness.
30. On this day, a gentleman was born. Here's to you and your special day. Happy Birthday, my ex-husband.
31. We may have untied the knot, but the echo of good times still resonates. Happy Birthday!
32. Our love story didn't have a happy ending, but the protagonist was unforgettable. Happy Birthday, ex-husband.
33. To the man who once shared my dreams, Happy Birthday! May your days ahead be full of joy.
34. Even if our forever was shorter than expected, the wishes for your happiness are eternal. Happy Birthday, ex-husband!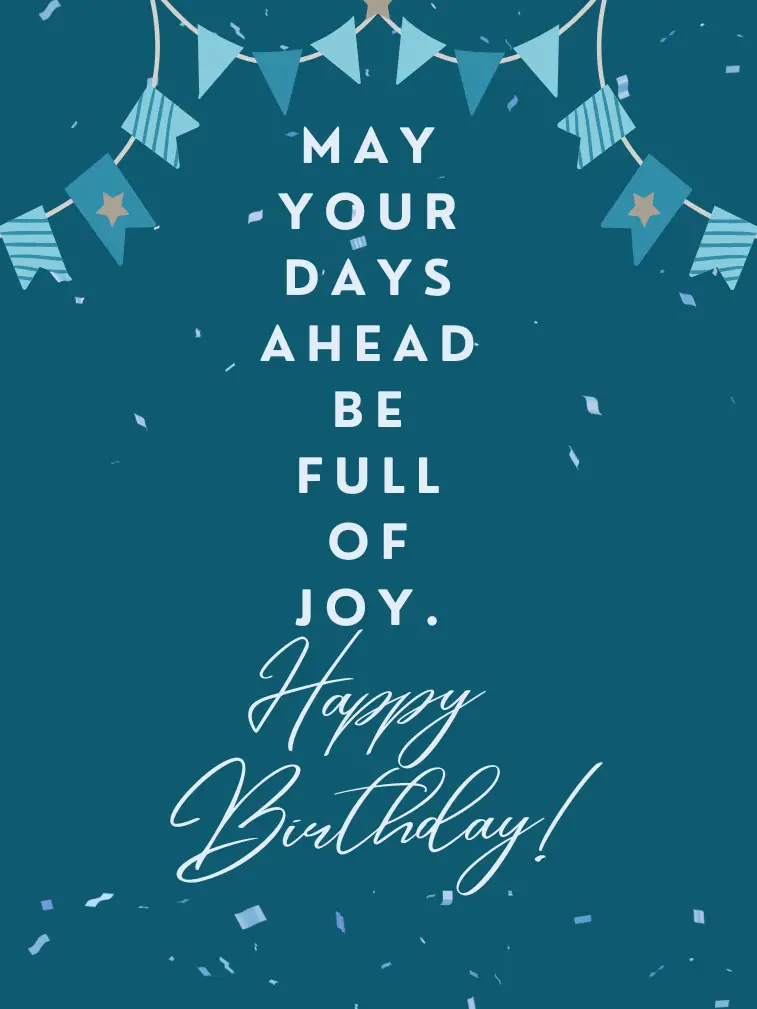 Funny Birthday Messages to My Ex-Husband
35. Happy Birthday to my favorite ex-husband. At least you're number one at something!
36. Just so you know, I only remembered your birthday because Facebook reminded me. Have a good one, ex-hubby!
37. To my favorite ex-husband, Happy birthday! May your new girlfriend spoil you as much as I didn't.
38. Sending you a big high-five on your birthday, ex-hubby, because a hug would just be weird!
39. Wishing a Happy Birthday to my favorite ex. Hope it's filled with as much joy as you brought into our divorce proceedings!
40. Happy Birthday, ex-husband. Remember when we thought 'forever' was a good idea?
41. Happy Birthday! If age is just a state of mind, then in your mind, you're still 25, right?
42. Happy Birthday to my former better half. Now, you're someone else's headache!