Greet your friend, son, daughter, or boyfriend/girlfriend with a special wish for their 19th birthday. Be a part of it by sending him the coolest wish or the most awesome card. For this purpose, you don't have to wonder much or waste time making special cards. We have taken care of that in this post. Here you will find the best 19th birthday wishes for your loved one and also 6 beautiful cards.
Birthday Wishes for 19th Birthday
1. Happy Birthday! May your 19th birthday be just the beginning of many years of happiness, fun, and success.
---
2. I wish this 19th birthday to be the beginning of many new trips abroad, exploring new cultures and meeting interesting people.
---
3. I wish you each new day to be more successful and exciting than the last. Happy birthday!
---
4. May your 19th birthday as well as every next one be filled with joy, amazing moments, and love.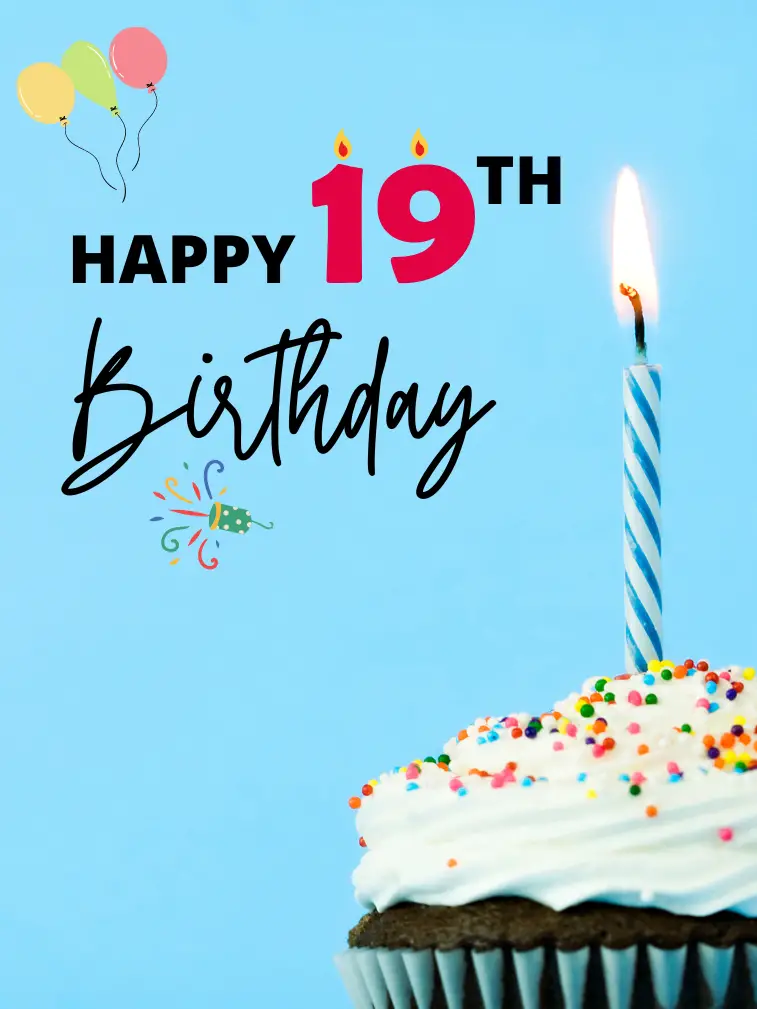 5. I wish you health, success, and lots of smiles on your 19th birthday and beyond.
---
6. Happy 19th birthday! May this year be the beginning of the most exciting and successful period of your life.
---
7. I wish you continue to grow and develop both personally and professionally in your 19th year.
---
8. Happy birthday! May every day bring you smiles and wonderful experiences.
---
9. Happy 19th birthday! I wish you all the best to happen to you at this fine age. May your year pass with a lot of fun and happy moments!
---
10. Happy birthday, sunshine! May all your dreams be fulfilled and may the smile never leave your face on this day!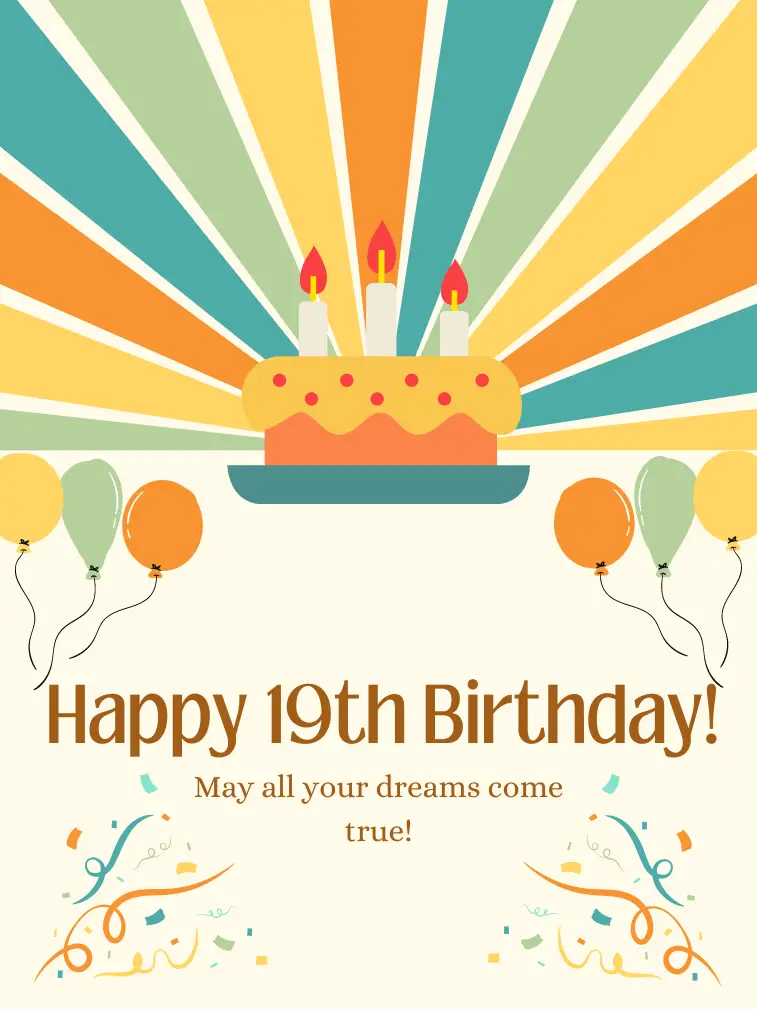 Happy 19th Birthday From Friends
11. My dear friend, may the greatest happiness befall you on your 19th birthday, and may we have a fun and memorable time together all year long. Happy birthday!
---
12. Happy birthday! Keep creating your unique and exciting story full of great chapters.
---
13. I wish you good health and lots of energy for all the adventures that await you! Happy 19th birthday!
---
14. Happy Birthday! Wishing you lots of smiles, laughter, and fun with your friends and family.
---
15. Happy Birthday! I wish you to be very courageous in your every endeavor, and to have the drive and courage to pursue your every dream.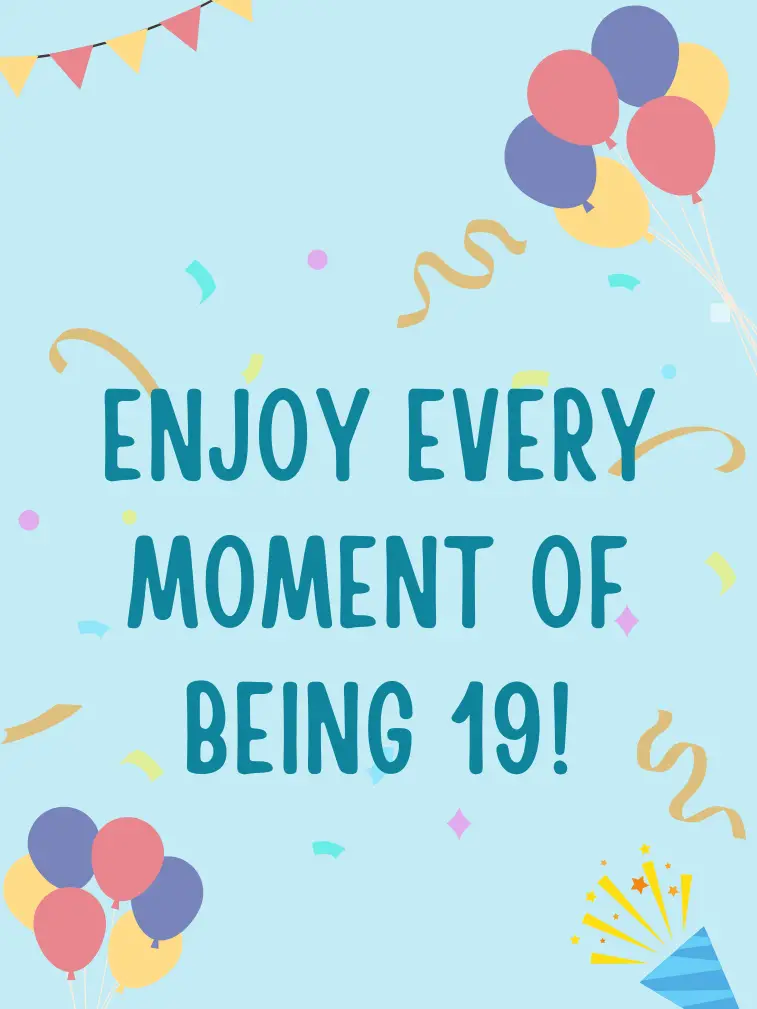 16. May your heart always be filled with the flame of love, development, and adventure. Happy birthday!
---
17. I wish you, simply and succinctly, to do the things that make you happiest! Happy birthday, my friend!
---
18. I hope you get to open Airbnb, Google Maps, and TripAdvisor often. Live life to the max. Happy birthday!
---
19. I wish you luck today, tomorrow, and every day after. I love you and send you lots of kisses.
---
20. Happy 19th birthday, my dear friend! May this year be filled with exciting adventures, personal growth, and the joy of pursuing your dreams. Cheers to another amazing year ahead!
Happy 19th Birthday From Relatives
21. Happy birthday, dear boy/girl! Keep making your parents proud of your successes and at the same time don't forget to have fun. We love you very much and wish you the happiest of birthdays.
---
22. May each passing year bring new and exciting adventures to your life and may you be accompanied by the people dearest to you.
---
23. I wish that your smile never leaves your face and that you always find beauty and positivity in this busy life. Happy 19th birthday!
---
24. Never stop dreaming, and always have the ambition to conquer new heights. Happy birthday!
---
25. I wish you to develop as a person, to be always ambitious, and to enjoy life.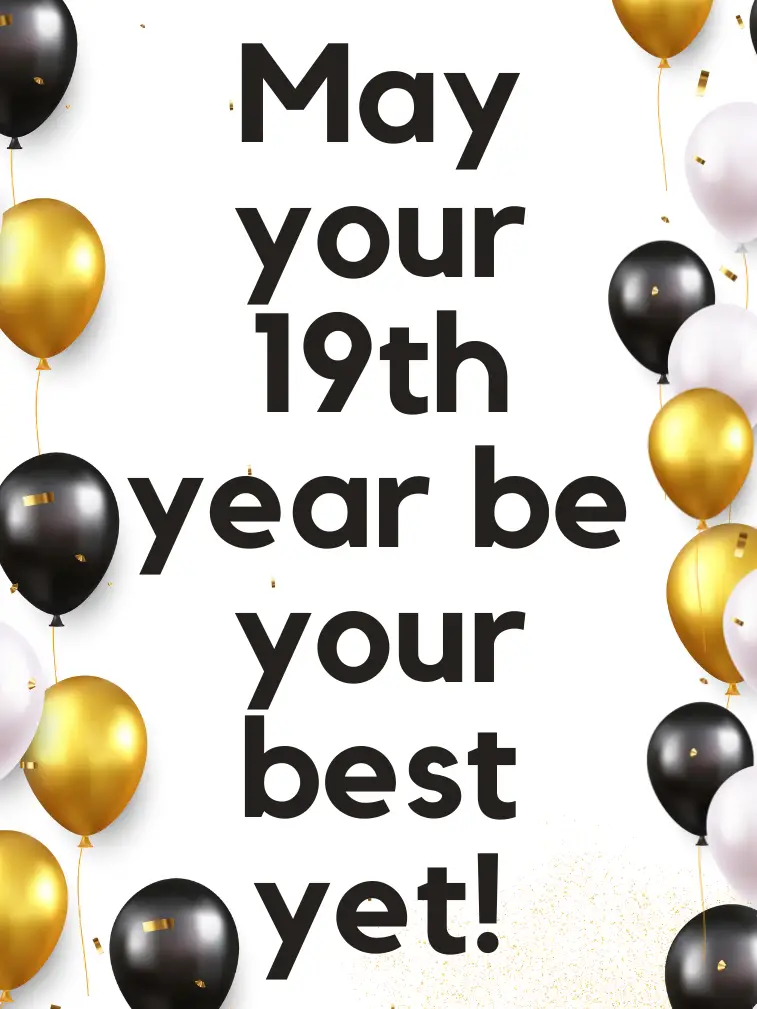 26. For your 19th birthday, I wish you to find your calling and follow it all your life. There is nothing better than doing something you love!
---
27. I wish you to always have time for the most important people for you and also to have great moments together. Happy birthday!
---
28. I wish you to be surrounded by good friends, and have great experiences together because friendship lasts a lifetime!
---
29. Happy 19th birthday! You're officially one year away from your twenties. Embrace this time with enthusiasm and make the most of every opportunity that comes your way.
---
30. Happy 19th birthday, cuz! As we navigate this crazy journey called life, know that I'm always here for you. May this year bring you all the happiness and success you can imagine.
Happy 19th Birthday From Parents
31. Happy 19th birthday! It was just yesterday when you were trying to walk. You have become an intelligent young man and I want you to know that we are very proud of you!
---
32. As your parents, we will pray and hope that you will always be well. You are the most important thing in our lives and we want you to know that we love you very much. Happy Birthday!
---
33. I'm glad we raised someone like you. You are amazing and we wish you to keep making us so happy. We love you!
---
34. Don't hesitate to pursue even your wildest dreams. Always remember that no matter what happens we will be there for you and support you. Happy 19th birthday!
---
35. Live your teenage years with all the joys and challenges it offers. Happy birthday!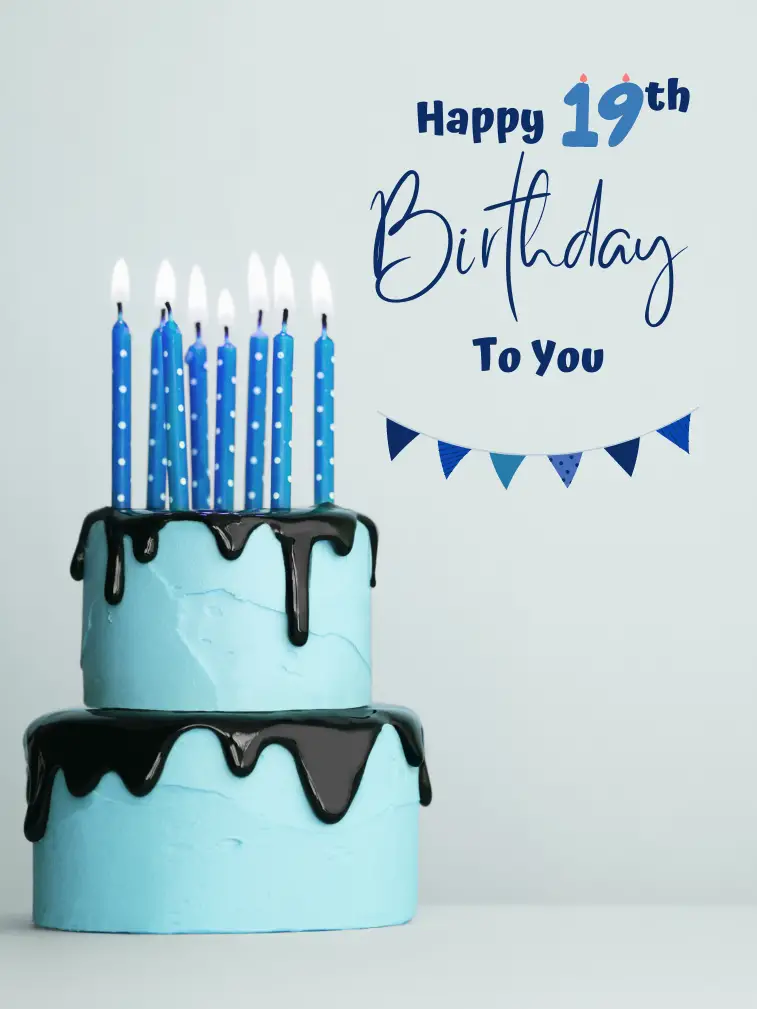 36. May you keep the good in you all your life and not let the bad environment take away your positive outlook on life. I wish you only happiness my sunshine!
---
37. It is a joy to watch how you are becoming more independent every day, how you are managing life, and how you are becoming more confident. Keep it up, but know that we will always be there for you when you need us.
---
38. Life is short, so live it with passion and courage. May your 19th birthday be unforgettable and have a great time.
---
39. Let your 19th birthday be the start of new adventures and exciting experiences. Be very happy walking the road. Happy birthday from Mom and Dad!
---
40. Our dear child we wish you successful academic and professional achievements and most importantly personal growth. We love you and are very proud of you!
Happy 19th Birthday From Boyfriend/Girlfriend
41. Happy birthday to the one who captured my heart. May this year be filled with love, success, and the greatest happiness in the world.
---
42. Happy 19th birthday! May this year of yours be filled with lots of love, countless joyful moments, and successes to brag about.
---
43. Happy birthday, my love! May this day be as special as you are to me.
---
44. May the love between us give you warmth and make your days more beautiful. I love you!
---
45. Even though you are getting a year older, you remain forever the same naive, kind, and youthful girl for me. Happy birthday!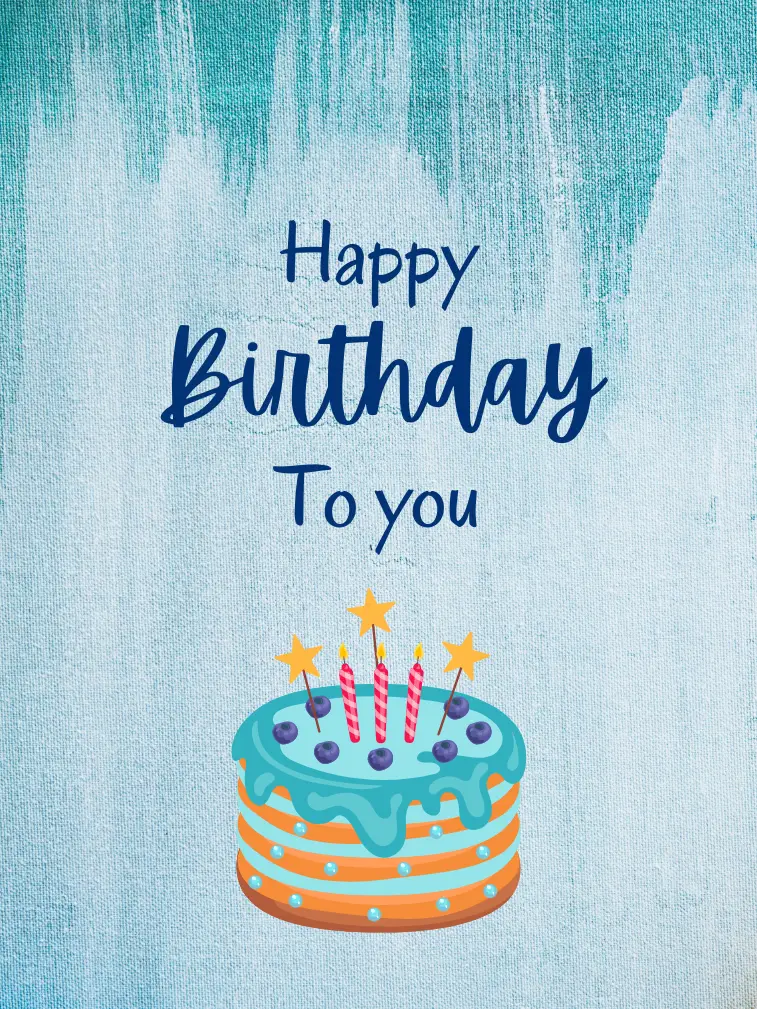 46. I wish you many dreams come true and endless happiness, and may our love affair never end. Happy 19th birthday!
---
47. Happy birthday my sunshine! You make every day of mine better, for which I thank you very much. Be blessed!
---
48. Thank you for all the positive emotions you give me every day. May your 19th year be the best one yet.
---
49. Happy birthday my love. Know that you can always count on me and I will be by your side every step of the way. I wish you an unforgettable birthday!
---
50. I hope you never stop dreaming, never stop believing in your possibilities, and never stop being the wonderful person you are. Happy birthday, dear!