Say "I love you" to that special someone. Write heartfelt love paragraphs for him with these romantic quotes and messages.
Does that special person in your life long for your warm words? It could be your boyfriend, husband, brother, uncle, father, son, or friend. You want this wonderful person to know how precious he is every day and you want to write him a heartfelt message.
Writing a love paragraph doesn't have to be complicated. Write from the heart and you can usually find the right words. Or you can use a romantic quote to express your feelings.
If you're stumped for ideas on what to write in a note, text message, or just tell him in person, you're in luck. There's a collection of sweet, unique, and heartfelt love paragraphs for that special man.
Whether it's in a note, text message, or in person, you can share your love feelings with this wonderful man in a variety of ways. Check out this list of heartfelt love paragraphs to share.
Love Paragraphs for Him
1. My love for you is indescribable, which is why I have chosen to show it to you through actions rather than words. I love you, my love, and I want to spend my entire life with you!
---
2. My dear, I fell in love with you from the first moment I saw you. Something inside me whispered that you are my person. I am so happy that fate brought us together, and I can't wait to see what other exciting moments it has in store for us.
---
3. My love, I want to express to you that you embody love, happiness, support, and friendship in my life. I am truly grateful for everything you do for me, and I want you to always remember and never forget it!
---
4. Our love story is my favorite book. Each chapter is filled with adventure, laughter, and passion. After each page, you tremble with anticipation of what exciting thing will happen next. Ah, I am the luckiest person in the world!
---
5. Love, you have filled the missing part in me and made me realize that life with another person is not only possible but truly fulfilling. I never believed that I would find someone with whom I could communicate endlessly without getting tired or someone whose daily actions wouldn't annoy me. Thank you for being yourself, and please never change!
---
6. Our love may not always be perfect, not like in fairy tales, but it is magical in its own way. I am grateful to have you by my side and I hope that our own dramatic film never ends. I love you!
---
7. Every day I look at you, and it's as if I see myself. We complement each other so well that if there's anything I'm unsure about, I know you'll be by my side to give me the best advice. My love, I don't even want to imagine life without you…
---
8. You are in my thoughts day and night. When I think of you, a smile appears on my face. I wish these tremors never stop.
---
9. Being in love with you feels like a beautiful melody that plays in my heart. You are the rhythm that keeps my world alive and thriving.
---
10. You are the reason why mornings are brighter, days are happier, and nights are filled with passion. I am endlessly grateful for your love.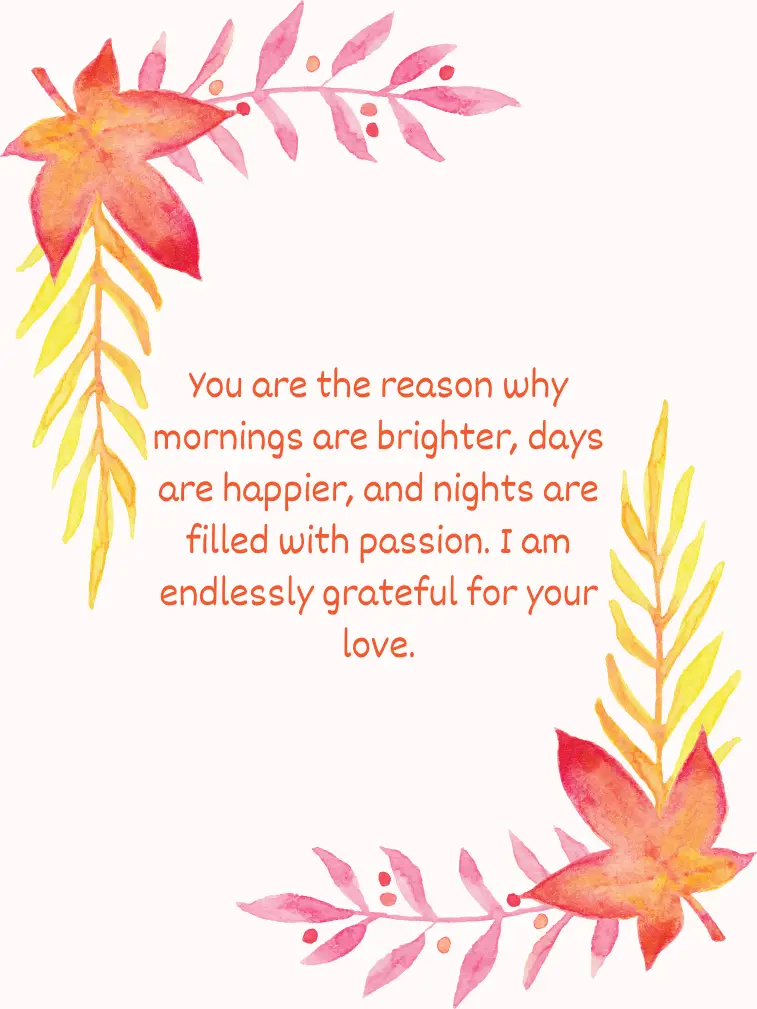 Apology Paragraphs for Him
11. I'm so sorry, I know love is not about owning you. I'm just hoping, but apparently, I'm going crazy, for which I have no excuse.
---
12. Every day I realize how wrong I was. I want to turn back time and change everything. But unfortunately, reality is not like that, that's why every day I hope you forgive me… at least hope is something real.
---
13. Forgive me for hurting you, for losing your trust, and for making you sad. I'm human, and humans make mistakes all the time. I hope one day you find the strength to forgive me….
---
14. People change every day and things we did years ago we wouldn't do now. I already realized the huge mistake I made and I wouldn't even think of doing it again. All I want is just forgiveness.
---
15. You seem fine without me, but together will always be better! Forgive me! Our love is stronger than anything and I know it's special and there will never be another like it. Just trust me.
---
16. I'm talking to you and you're gone, left me alone because I'm stupid for two. We all make mistakes, and from a young, we make mistake after mistake, the important thing is to realize them, and I realized mine very well and I only want one thing from you, to forgive me!
---
17. Without you I feel lost, I don't know where to go. Your love used to give me wings, now I'm curled up in my shell and the only thing that sustains me is that one day we'll wake up next to each other again.
---
18. I'm jealous of the bed when it touches you instead of me, jealous of the air for touching your lips instead of me, jealous of everything because when I don't have you, jealousy clings to me.
---
19. Without love, we cannot live, and love is for two. Swallow your ego and come back to me. The only thing I want is for us to make coffee together every morning again.
---
20. I can feel you in the air, I can feel you in every corner of the room, I can feel you want to be by my side again. Just do it…come back to me.
---
21. I feel lost without you, the days go by aimlessly with no desire for anything. I hope and tremble waiting for you to call, but again the phone doesn't light up… You decide whether to forgive me or not, but know that there is certainly no other love like ours and there never will be.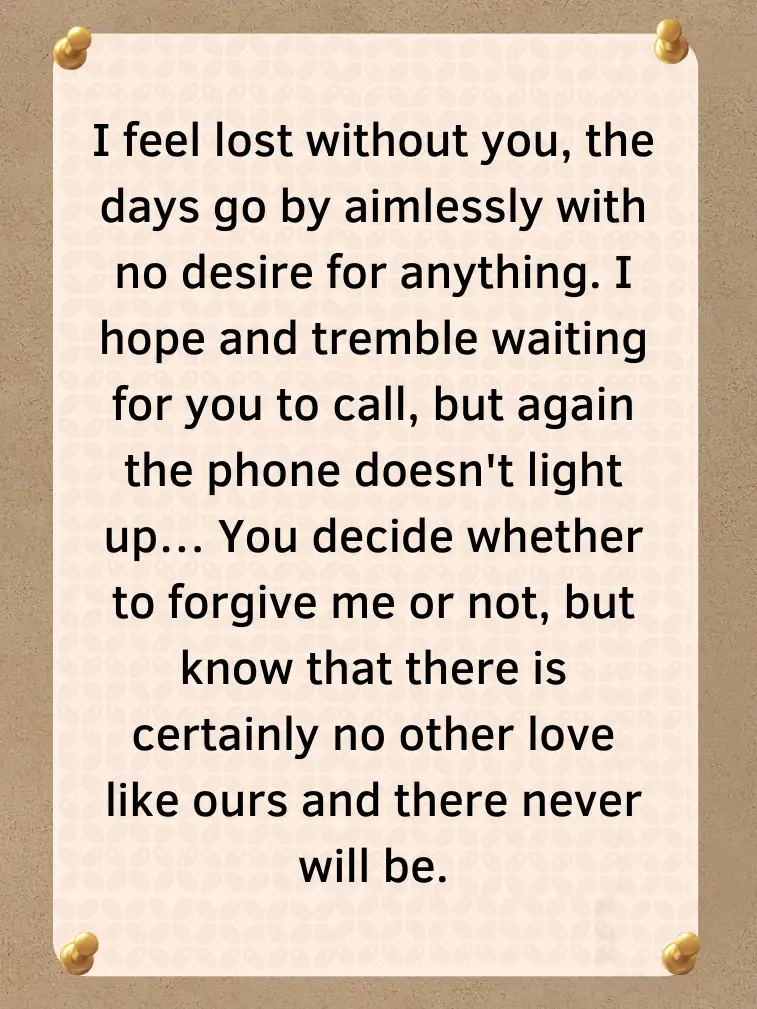 Encouraging Paragraphs for Him
22. If there's anyone I have the most faith in to do well at anything, it's you! I've seen you tackle any obstacle before, and I have no doubt that you will do it again. My love, know that whatever happens, I will be by your side!
---
23. You can do it and you have proven it more than once – believe in yourself to succeed! And whatever you decide, know that I will support you and be there for you.
---
24. You're brave, you're smart, you can get out of any bad situation, and you've proved it more than once, so don't doubt your abilities!
---
25. You are truly exceptional, and I believe in you wholeheartedly. Your ability to overcome challenges is inspiring, and I have complete confidence that you will succeed once more.
---
26. You continue to defy expectations and have proven your abilities time and time again. Believe in yourself wholeheartedly, for success is within your reach. Remember that no matter what you choose, I will offer unwavering support and be there by your side every step of the way.
---
27. You possess admirable courage and intelligence. Your ability to navigate challenging circumstances is unquestionable, as you have repeatedly demonstrated in the past. Never doubt your capabilities!
---
28. Challenges are just stepping stones to your success. Keep climbing, I'm with you every step of the way. You got this, babe!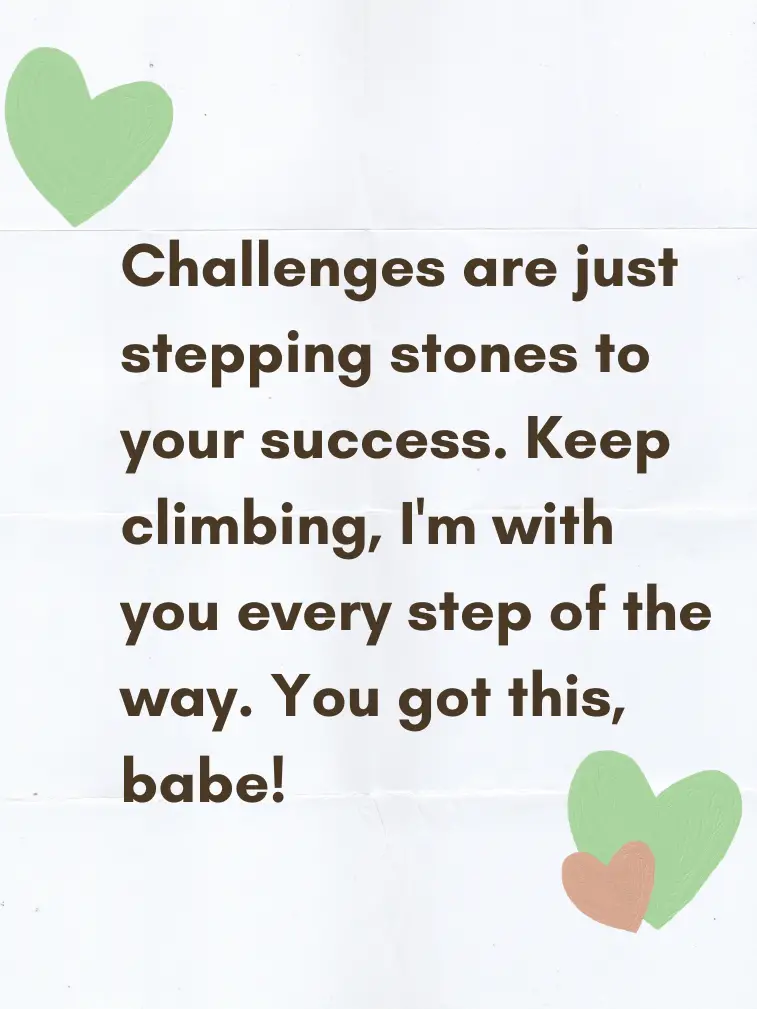 Gratitude Paragraphs for Him
29. I never thought such love could ever exist. From the first time I laid eyes on you I felt I had known you all my life, I had woken up next to you every time, and I had made pancakes with you every time. I thank fate for meeting us in time because every moment with you is a true gift.
---
30. Thank you for making me smile every day, life with you is a song, and I can't stop dancing. Thank you, God, thank you every thing in the universe that brought us together… my love, my everything…
---
31. I can't believe how well we get along, how you support me in everything, and how I can count on you in all moments. I'm a real lucky girl and I may not tell you this often, but I'm so glad that fate brought me together with you!
---
32. I am writing these words and I feel tremendous excitement. I want you to know that I rarely mention it, but I am so grateful for the smallest thing you do for me – like when you remember to wrap me up when I'm cold. You're an amazing man, and I'm the luckiest woman to have you.
---
33. I see all kinds of men every day, but one thought always pops into my mind – no one will ever be like you! You are the most caring, funniest, most supportive man in the world. I am grateful for all you do for me every day. I appreciate it so much!
---
34. This day will pass, and once again I will not have thanked you for being by my side. That's why I gathered the courage to do it now. Know that I appreciate everything you do for me. You are the best man, the most genuine, the most loving, the most caring, the most beautiful man in the world. You are the "best" at everything and so of course you have the most amazing wife lol.
---
35. I know sometimes we have hard times and fight, but I want you to know that living with you is the most wonderful thing that has ever happened to me! I believe that you are my soulmate and that we have thousands more amazing days together. Thank you for being there!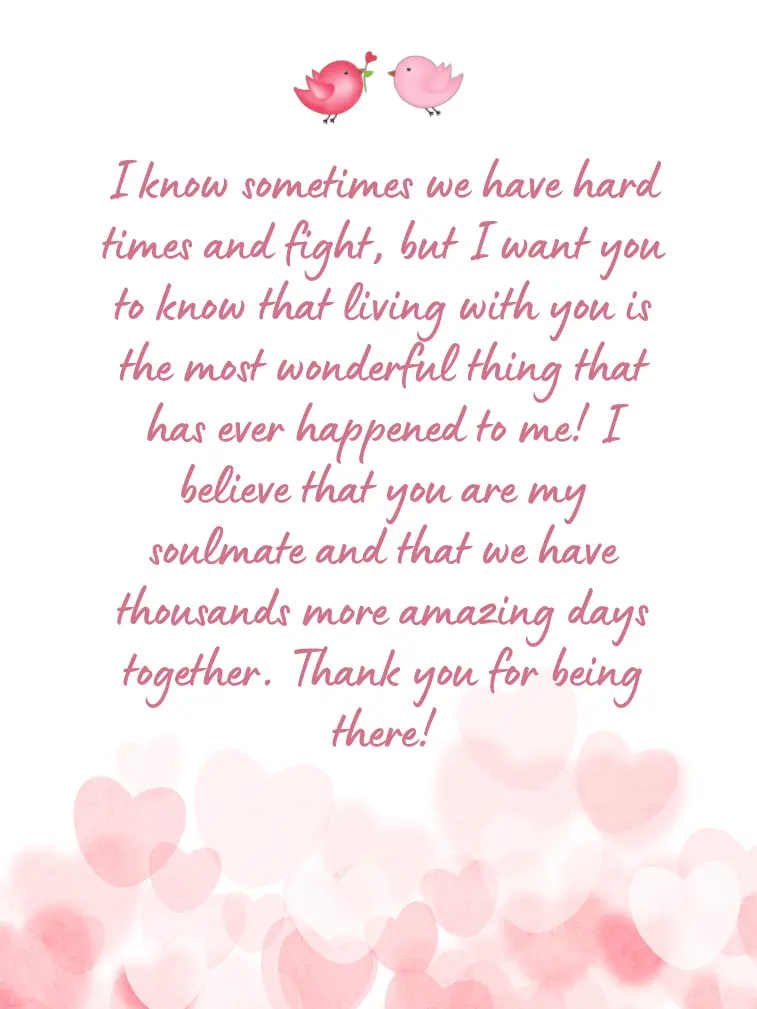 Anniversary Paragraphs for Him
36. The time spent with you is unreal, unforgettable, and seems to pass by in the blink of an eye. It's amazing how quickly the days go by, and here we are, already a year in. My phone is filled with incredible memories that I will cherish for a lifetime. Another year together, another year of happiness.
---
37. Every second I've spent with you has been amazing. Here I am, one year into cherishing countless moments with you, the love of my life. You are my sunshine, and I am so grateful for your presence and how you brighten my day, every single day. Thank you!
---
38. Another year in which I've rediscovered you, see you in different lights and you know what – I realize even more what a lucky girl I am to have met you. Happy Anniversary dear may these amazing moments never stop!
---
39. Happy anniversary my love! Another year where your love brightens my morning and evening. I wish this fairy tale never ends!
---
40. It's only been one year, but it feels like several. Time is truly amazing with you, as I can't even feel the days passing by. You've taken me by the hand and day after day you immerse me in your amazing world!
---
41. My love, here I am all these years later, still remembering when our anniversary is. And despite the many years, I want you to know that I still love you as I did from the first moment and I still tremble in anticipation every time you come home from work. I love you!
---
42. Wishing a heartfelt anniversary to the person I feel like I've known my whole life! My love, I wish you many more years of happiness and love together. I have nothing else to say except that I love you very much!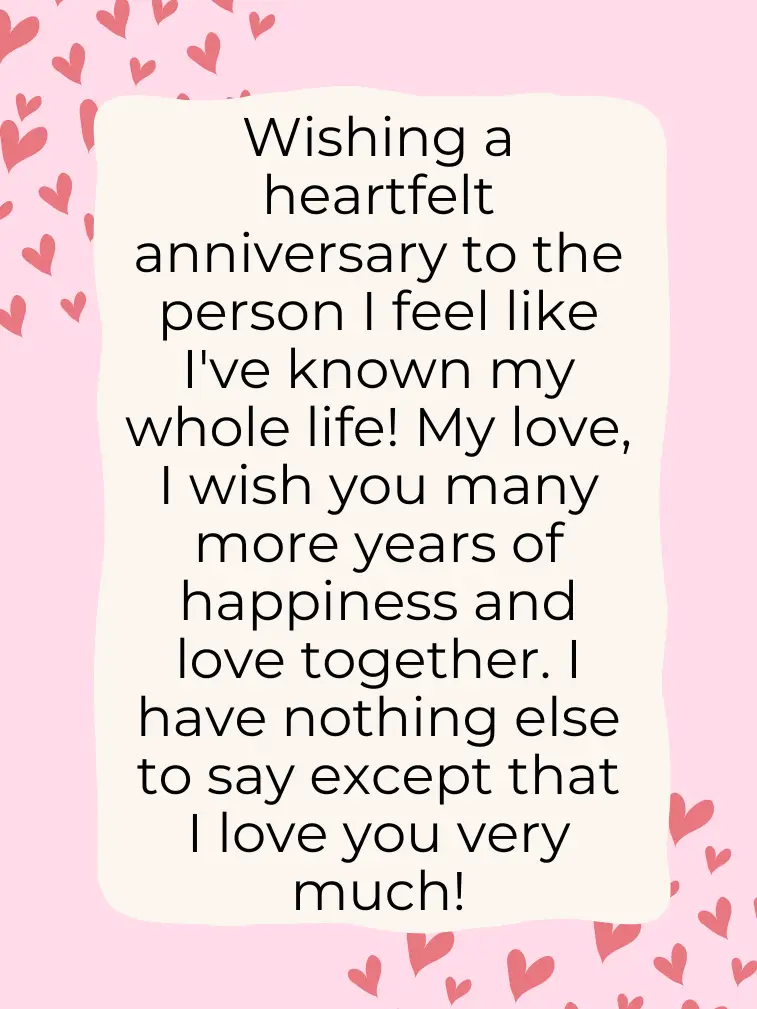 Miss You Paragraphs for Him
43. Day after day the days pass and you are gone. I want to fall asleep, but I can't because you're not by my side. I'm counting the days when you'll be by my side again, and until then I'll look at our photos together.
---
44. I miss the mornings together, my love. My days are empty when I don't feel you near me.
---
45. I miss you more and more with every passing second. Every time it gets quiet I hear your name. I can't wait to have you by my side again!
---
46. Every time we text I just want to mention the words "I miss you".
---
47. Missing you is like walking in the rain. The sky may weep with me, but it doesn't lessen the ache of your absence.
---
48. Our memories are a journey I traverse when I miss you, a trip down memory lane that leaves me longing for you even more.
---
49. Every sunbeam holds your warmth, every moonbeam your tender touch. Yet, I miss you beyond these ephemeral comforts.
---
50. You are a thousand miles away, but you are still closer to my heart than anybody else. Missing you.
---
51. The world feels a little bit emptier without you. I miss your laughter, your warmth, your presence.
---
52. When I miss you, I read our old conversations, smile like an idiot, listen to songs that remind me of you, and miss you even more.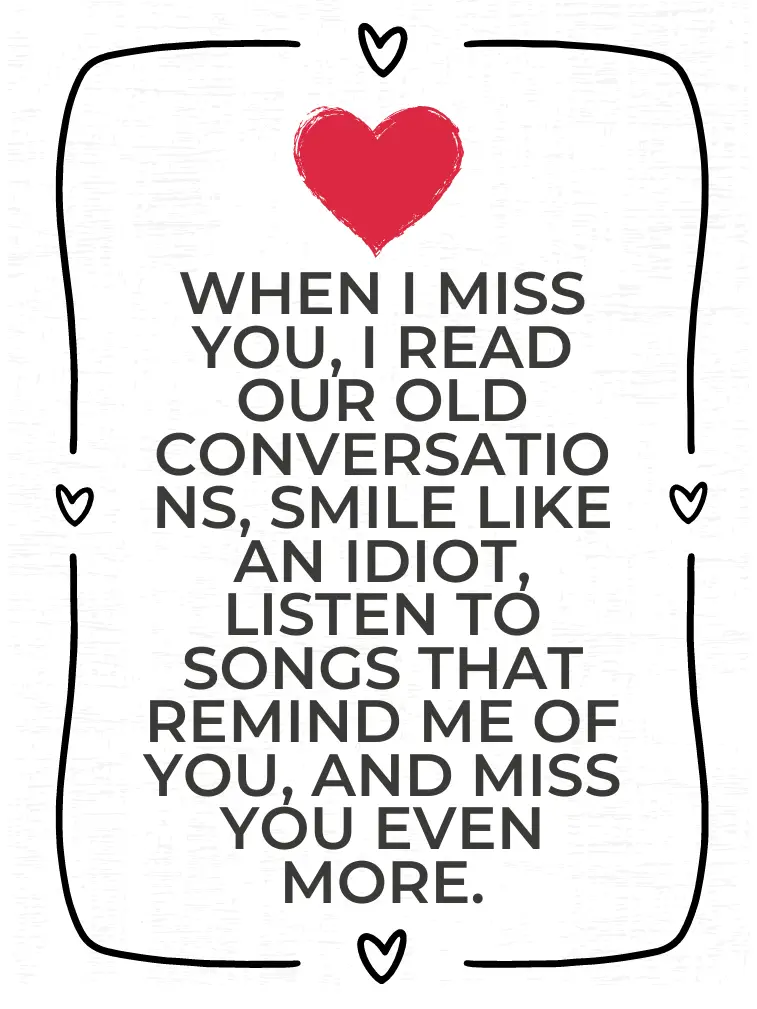 If your boyfriend or spouse has a birthday coming up, you can see these romantic birthday wishes for him.