Don't feel like writing romantically but still want to express how much you appreciate your girlfriend? If that's the case, you've come to the right place. Here, you will find romantic birthday wishes for your girlfriend that will melt her heart. You can be sure that you will make her day very special and she will not stop smiling all day long.
Romantic Birthday Wishes for Girlfriend
1. Wishing a very special Happy Birthday to the loveliest girl! I'm extremely lucky to have you in my life and I'm sure our bond will only get stronger. May every day of your life bring new excitement and joy, as your smile is always so mesmerizing.
---
2. I hope your days are always healthy, happy, and enjoyable. I'll be there for you to help and support you on all your life journeys. My love for you will never waver.
---
3. Sending lots of love and best wishes for your birthday! Our friendship has been truly amazing and I'm so lucky to have you in my life. You amaze me every day with your kindness and strength. May this special day bring you joy, happiness, and plenty of blessings!
---
4. Despite our occasional arguments, I'm certain you're the one for me and we belong together. Wishing you an unforgettable birthday full of love and joy! Sending lots of hugs and kisses your way.
---
5. Our journey has been far from easy yet, here we are – still standing and stronger than ever; surely a testament to the power of true love. On this special day, I'm wishing my beautiful girl all the health and happiness in the world. From the bottom of my heart, I love you!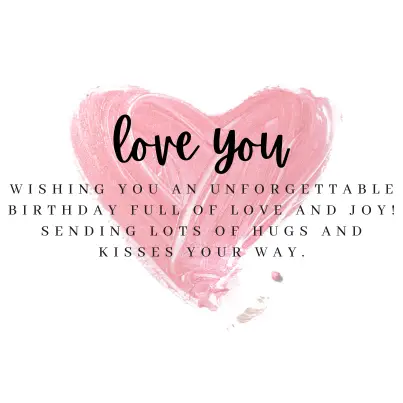 6. You are the most precious thing in my life! I don't care about luxury and material goods; it's enough to know that you support me through thick and thin. I sincerely wish you joy, fulfillment of all your aspirations, and a lot of laughter on the way there.
---
7. On this special day, I want to remind you to stay young and follow your dreams. I promise to always be by your side for any adventure you choose to pursue. Wishing you the happiest of birthdays, my dearest!
---
8. Today is a special day and I'm so happy to spend it with you. Wishing you all the best on your birthday and lots of love! Our future together will be filled with amazing adventures, cherished memories, and plenty of love.
---
9. As I celebrate another year of your life, my love for you continues to grow. Today, I want to wish you the happiest of birthdays and thank you for being such an incredible part of my life. Happy birthday, my girlfriend!
---
10. You are my rock and the light in my life, and I could not ask for a better partner. May this special day bring you untold joy and happiness! Love you!
---
11. Happy Birthday to the most amazing girlfriend ever! I would like to express my deepest love and appreciation for you. You have been a constant source of joy and happiness in my life, and I couldn't be more grateful. Wishing you all the best!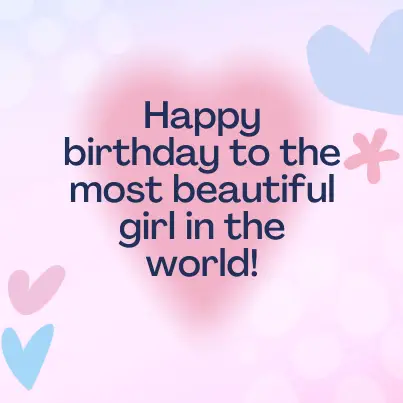 12. Happy birthday to the most beautiful girl in the world! I'm so glad to have met you, and I hope that our love and understanding for each other only grow stronger. I wish for only exciting things to come your way and for your smile to never fade.
---
13. May you be healthy, and happy, and never stop having fun and enjoying life. I will always be by your side and support you in every endeavor. I love you!
---
14. Happy birthday to my best friend and wonderful girlfriend! In the years I have had the pleasure of getting to know you, you have proven to be an incredible person and continue to show that every day. May you be blessed and know that I love you immensely!
---
15. Even though we fight sometimes, I know you are my girl and we are meant to be together. Wishing you a wonderful and unforgettable birthday! I kiss and hug you.
---
16. We've been through a lot together and we're still together despite it all; this is true love. On her birthday, I wish my girl health and happiness above all else. I adore you, my love!
---
17. As I write this, I'm filled with so much love and joy for my beautiful girlfriend. Today marks one more year of our beautiful relationship, and I can't help but feel blessed to have her in my life. On your special day, I want you to know how much you mean to me and that I will always do my best to make sure you are happy. Happy birthday!
18. You are the dearest thing to me! I don't need expensive cars or houses; the important thing is to know that you are there for me. I wish you to be very happy, to achieve all your goals, and to have a lot of fun in the meantime.
---
19. I wish you to always keep the childlike spirit within you, to always be cool and adventurous. I will always be by your side and support you in everything. Happy birthday, my love!
---
20. As I look back on all the wonderful moments we have shared together, I can't help but feel so lucky to be in a relationship with you. On this special day, I want to take a moment to thank you for always being there for me and making my life so much brighter. Happy Birthday to my amazing girlfriend!
---
21. I'm so grateful for all that you have done for me and am so excited to be able to share this special day with you. I want to wish you a lifetime of joy, love, and laughter. May you always find happiness in every moment of every day. Happy Birthday!
---
22. Happy birthday, my beautiful girlfriend! May you experience many treasured moments with me. Our journey together will be a fantastic one, full of love and exploration across the globe.
---
23. Today, I want to take a moment to express my love for my special someone and wish her a very happy birthday. You are the light of my life and I am blessed to have you in it. I hope this day brings you all the joy and love that you deserves and more. Here's to many more birthdays together!