Your boyfriend's birthday is approaching and you still can't figure out what to wish him. Do you want to be romantic and make him feel special? No need to wonder any longer! We have prepared the best romantic birthday wishes for your boyfriend, which will make him feel truly special.
Romantic Birthday Wishes for Boyfriend
1. Wishing the best boyfriend ever a very happy birthday! You're the person I want to be around forever and I can't imagine my life without you. You are absolutely perfect in my eyes and I love you so much. Here's to an amazing year ahead!
---
2. Wishing you a happy birthday, my amazing sunshine! I hope that you remain in good health and stay as happy as ever. I love you deeply and wish for us to continue exploring the world together, having lots of fun along the way. ❤️
---
3. Wishing an extraordinary birthday to my wonderful baby! Your presence in my life has made every day so special and joyful. You are one in a million and are truly amazing. Hope this day brings you happiness and even more love. Have a splendid birthday full of joy!
---
4. Adoration is the only thing that can correctly express how I feel about you. May you stay devoted, understanding, and kind-hearted. Every moment we share together is special to me. You are truly loved by me!
---
5. Sending all my love and warmest wishes to the most amazing boy in the world on his birthday. You can always count on me for anything, my love for you is infinite, and I'm grateful every day to have you. Wishing you a wonderful birthday and an unforgettable year ahead!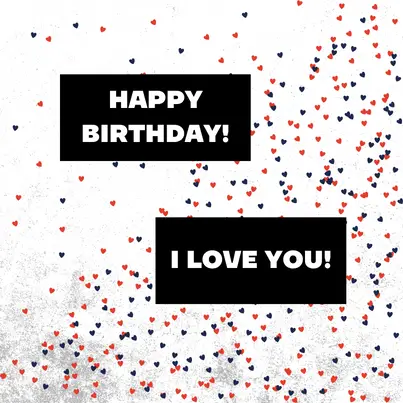 6. On this special day, I want to wish the most important boy in my life a very happy birthday. May you have good health, success, and of course lots of love! Let's keep exploring new places together and share more lighthearted moments like we've been doing. Here's wishing for ever more joy in our days ahead!
---
7. Today is a special day for both of us – your birthday. I want to take this opportunity to express my deep love and appreciation for you, my boyfriend. With this one happy birthday wish, I want you to know that no matter what life throws at us, I will be there by your side through it all. Let's make today and every day a celebration of our love!
---
8. Everyone has a special person in their life that is worth celebrating on their birthdays. For me, it's my boyfriend and I want to wish him the happiest of birthdays! ❤️
---
9. As your special day approaches, I'm filled with joy and excitement for all the memories we have shared and all the years still to come. For your birthday, I want to express my love and appreciation for all that you do for me and tell you just how much you mean to me.
---
10. Today marks a special day in my life, the day my amazing boyfriend was born. You are the light of my life and I am so grateful to have you in it. Happy birthday, my love!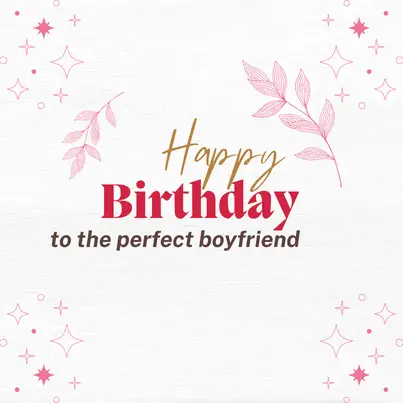 11. You are such a great friend and partner, always making sure I'm taken care of and supported in whatever I do. Today, I want to thank you for your endless love and support by sending you the warmest of happy birthday wishes!
---
12. On this special birthday, I want to wish you all the best and let you know how much I love you. May all your wishes come true and may you have a lifetime of happiness and joy! ❤️
---
13. Happy birthday my wonderful boyfriend! I want to express my deep love and appreciation to you. May you have the best year ever and experience joy, success, and all of life's blessings.
---
14. To the most caring boyfriend in the world, I wish you an amazing birthday! You are the person I want to wake up to and fall asleep with every day. To me, you are the perfect boyfriend. I love you!
---
15. My amazing sunshine! Be healthy, be very happy, and know that I love you deeply. I wish for us to stay this happy, having fun and exploring the world together. Happy birthday!
---
16. Happy birthday, my amazing baby! You are the perfect man and I am so happy to have met you. You make each and every day more beautiful and happier. I wish you a special and memorable birthday. ❤️
---
17. Love is the best word to describe you. I wish you to always be dedicated, caring, and loving. Every minute I spend with you is an amazing experience. I love you!
18. Happy birthday to my amazing boy! I want you to know that you can always count on me for anything. My love for you is immense, and I'm so glad to have you! I wish you the most wonderful birthday and that every day to come will be just as wonderful.
---
19. Today is the birthday of the most special boy to me. I wish you good health, success, and love! May our days together be ever so fun and happy, and may we visit many more unseen destinations.
---
20. Today's your special day and I'm so glad to have you by my side. As my happiness and boyfriend, you're getting an extra special surprise. Don't try guessing what it is, wait until tonight and you'll find out! Have a wonderful birthday full of love and joy!
---
21. You bring so much joy into my life and I'm thankful for the amazing relationship we share. Happy Birthday, my love! ❤️
---
22. Sending my one true love, my boyfriend, the happiest of birthdays! I can't express how blessed I am to have you in my life. Wishing you the best day ever on your special day!
---
23. I want to send you my warmest wishes and assure you that our bond will last forever. My heart is filled with all love and joy, and I am wishing you a truly happy birthday!