It's rare to find people with an adventurous spirit, but when you do you'll rediscover the world with them. Their spirit and thoughts are different and you will know it from the first conversations you have with them. Some of their experiences may seem ridiculous to you, but they genuinely enjoy them. That's why you will make an adventurous friend very happy if on his birthday you send him a wish related to his greatest passion – travel. To save time and avoid the struggle of figuring out what to write to your adventurous friend, simply take a look at these 51 wishes.
Birthday Wishes for Adventurous Friend
1. You are like a compass, always pointing me to adventures. Happy Birthday!
2. Happy Birthday to the friend who says yes to every adventure and no to routine. Cheers to another year of thrills!
3. Happy Birthday! May you have wild, crazy, unforgettable adventures on your special day and every day of the new year.
4. Cheers to another trip around the sun and countless adventures around the world!
5. To a friend who's made for wild adventures, not wild parties – Happy Birthday!
6. For every mountain you've climbed, may you conquer a hundred more. Happy Birthday!
7. Your age is measured not by years but by the number of adventures we've shared. Happy B-day, buddy!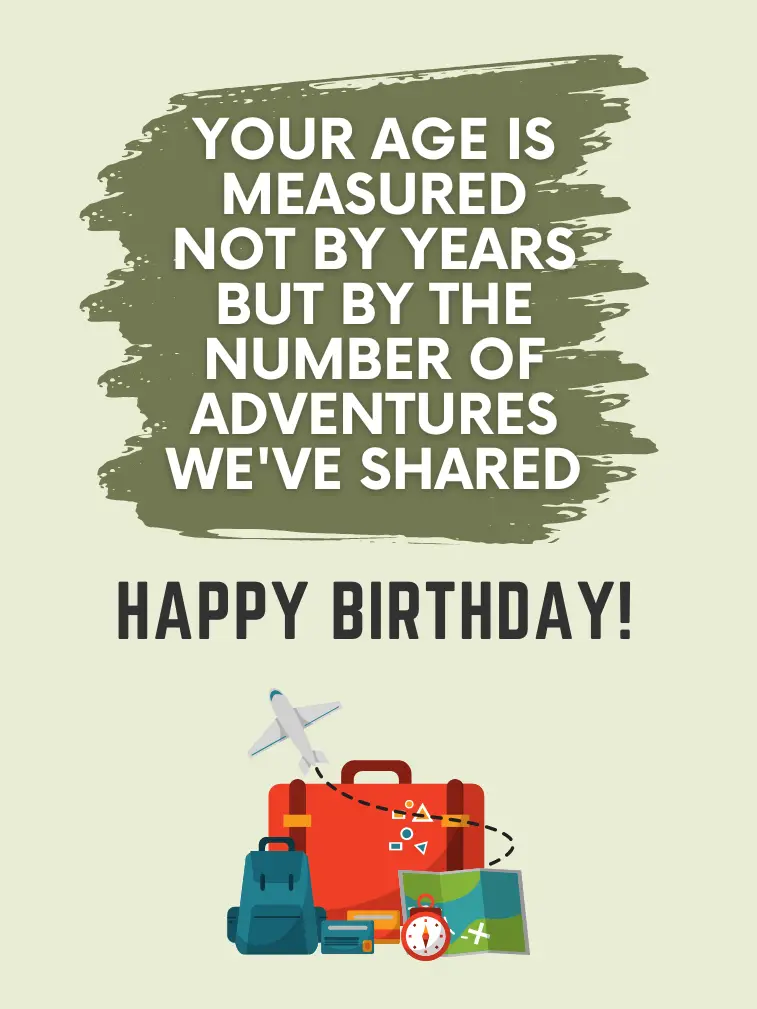 8. For someone who lives life like a daring adventure, Happy Birthday!
9. Happy Birthday to the one who taught me that adventure is out there, we just need to find it.
10. Happy Birthday! You're not old; you're just a limited edition with extra years of adventure!
11. Happy Birthday! May you always be older than Google Maps' estimated hiking times.
12. Cheers to another year of refusing to act your age! Keep the adventures rolling!
13. Happy Birthday! May your new age bring as many wrinkles as your adventurous escapades!
14. Don't worry about your age. You're still younger than the world's oldest turtle!
15. On your birthday, may you be as lost as we always get on our hikes.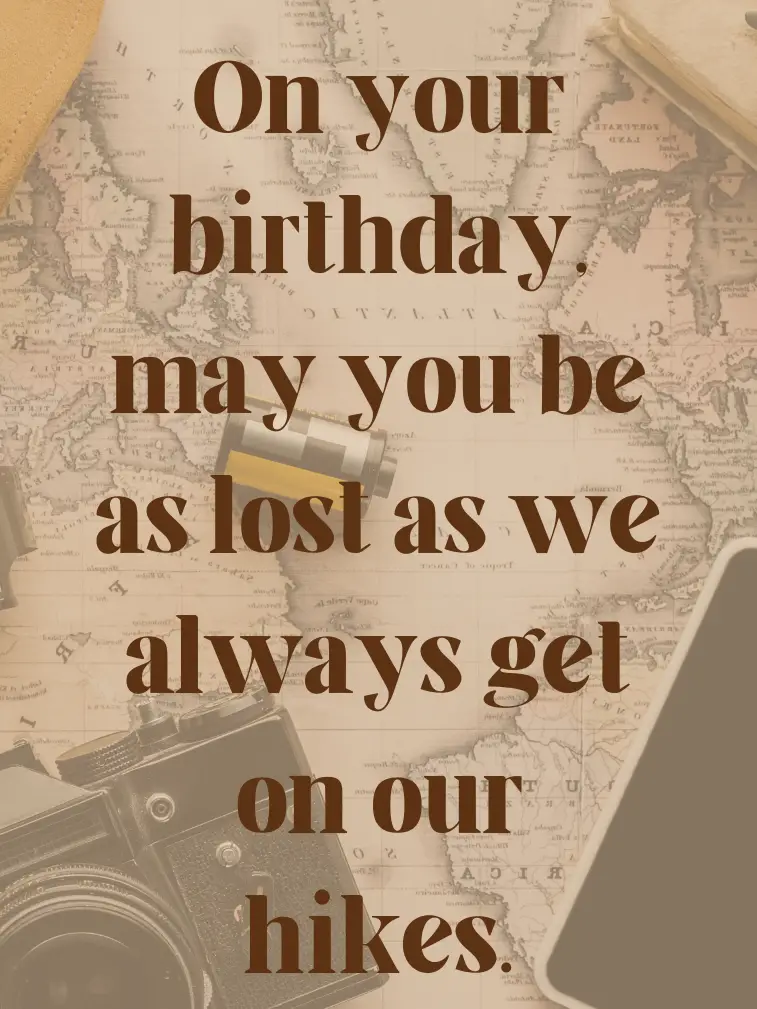 Birthday Messages for Your Adventurous Friend

16. If I had a dollar for every time you've gotten us lost, we could afford GPS! Happy Birthday!
17. Cheers to the person who embraces life with the spirit of a never-ending adventure, always seeking new thrills and joys along the way. Happy Birthday to you!
18. Embrace your age, because you're not old, you're a classic! Just like timeless pieces, classics get to experience exciting adventures too!
19. Don't let age hold you back… until you have to conquer that uphill hike! Wishing you a very happy birthday and may this year bring you the strength and endurance to tackle any challenge that comes your way!
20. Happy Birthday! You know you're getting old when your candles cost more than the cake!
21. Happy Birthday! You're like a fine wine, ready for the next adventurous spill!
22. You are the only person I know who falls on a flat surface! Can't wait for more adventurous trips. Happy Birthday!
23. Growing older, but not up! Keep the adventures coming, birthday buddy!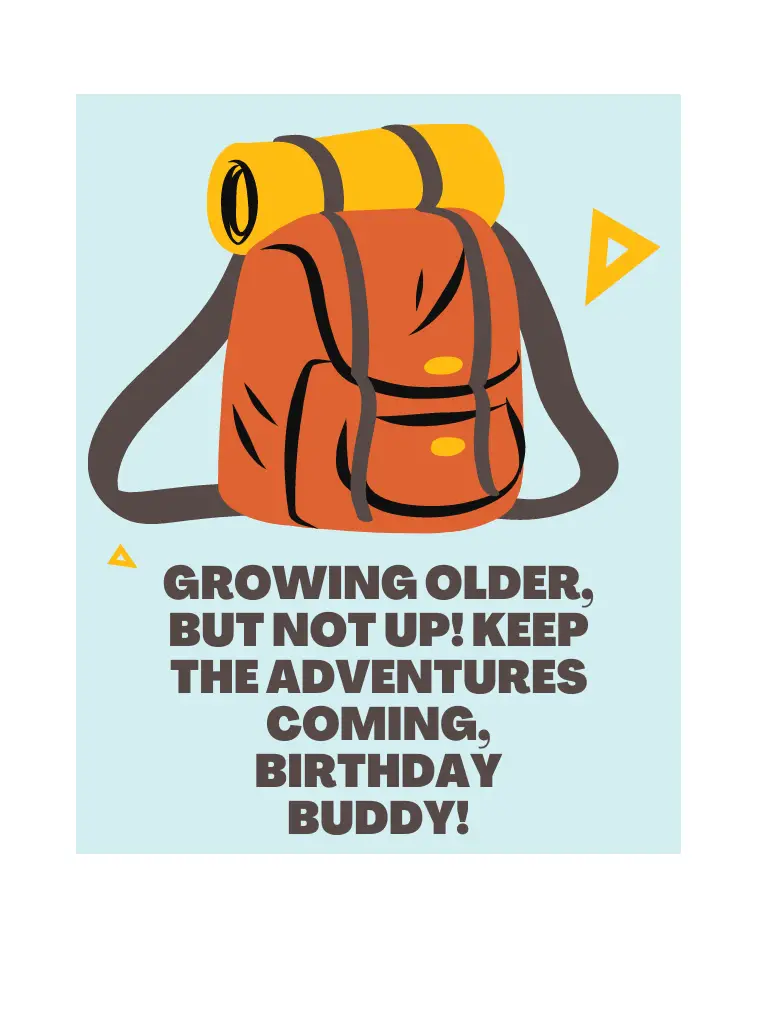 24. To the friend who is the main reason why we never ask 'What could go wrong?' – Happy Birthday!
25. May your birthday be as unforgettable as the time we forgot our compass on our hike!
26. Happy Birthday! I'd wish for you to be as ageless as a vampire, but then you couldn't enjoy the sunlight on your adventures!
27. It's your birthday? Hold my map, and let's take the wrong turn together!
28. Happy Birthday! With you, every day feels like an episode of 'Survivor'.
29. You age like a fine wine. But remember, fine wines don't do cliff diving!
30. For the friend who's survived this many misadventures, here's to another year of laughing at danger!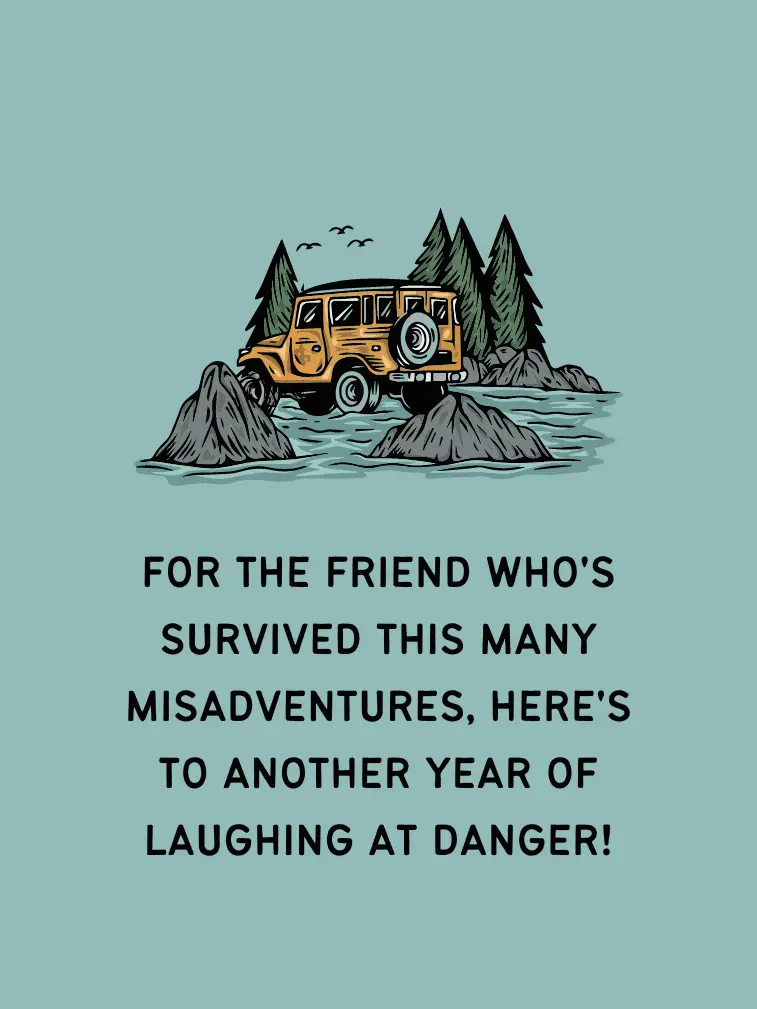 Happy Birthday My Adventurous Friend
31. Happy Birthday! Thanks for being the reason we always have a wild story to tell!
32. Congratulations! You've survived another year despite your adventurous lifestyle!
33. Happy Birthday! May you continue to age as gracefully as our camping skills!
34. Happy Birthday! The older you get, the crazier your adventures should be!
35. Happy Birthday! Remember, age doesn't limit adventure; it just means you've had more!
36. Happy Birthday to the only friend I have who is brave enough to get lost in the wilderness with me!
37. On your birthday, remember that age is just a number… just like the miles we've hiked together.
38. You're not old; you've just been young for a very long time! Happy Birthday, Adventurer!
39. Happy Birthday! The only thing getting 'old' is our hiking gear!
40. Happy Birthday! I hope your special day is as unpredictable as our camping trips!
41. May you be as 'wild' at 80 as you were at 18! Happy Birthday!
42. Happy Birthday! Just a friendly reminder that age is a case of mind over matter. If you don't mind, it doesn't matter!
43. Happy Birthday! You are living proof that 'growing old is mandatory, but growing up is optional.'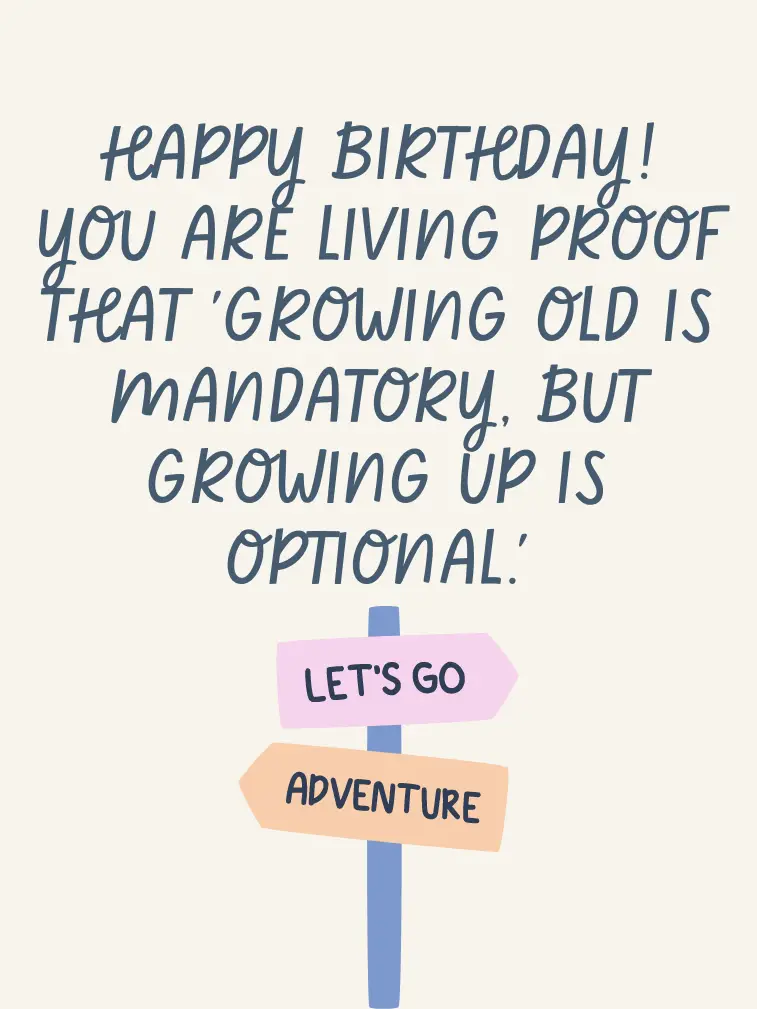 44. Happy Birthday! You're only as old as your most recent adventure!
45. Remember, growing old is like going on a hike. It's tough, but the view is worth it. Happy Birthday!
46. Happy Birthday! With age comes new skills… like acting your age.
47. Happy Birthday to the best adventure buddy! Your gift is me not telling everyone about that time you got lost in the forest.
48. Just remember, your age is only a number… a rapidly increasing one! Happy Birthday, Adventurer!
49. Here's to you being old enough to know better, but still young enough to do it anyway!
50. Happy Birthday! As an adventurer, you appreciate a good climb… including over the hill!
51. Happy Birthday! You're one year closer to being that crazy old person who tells everyone about their wild adventures!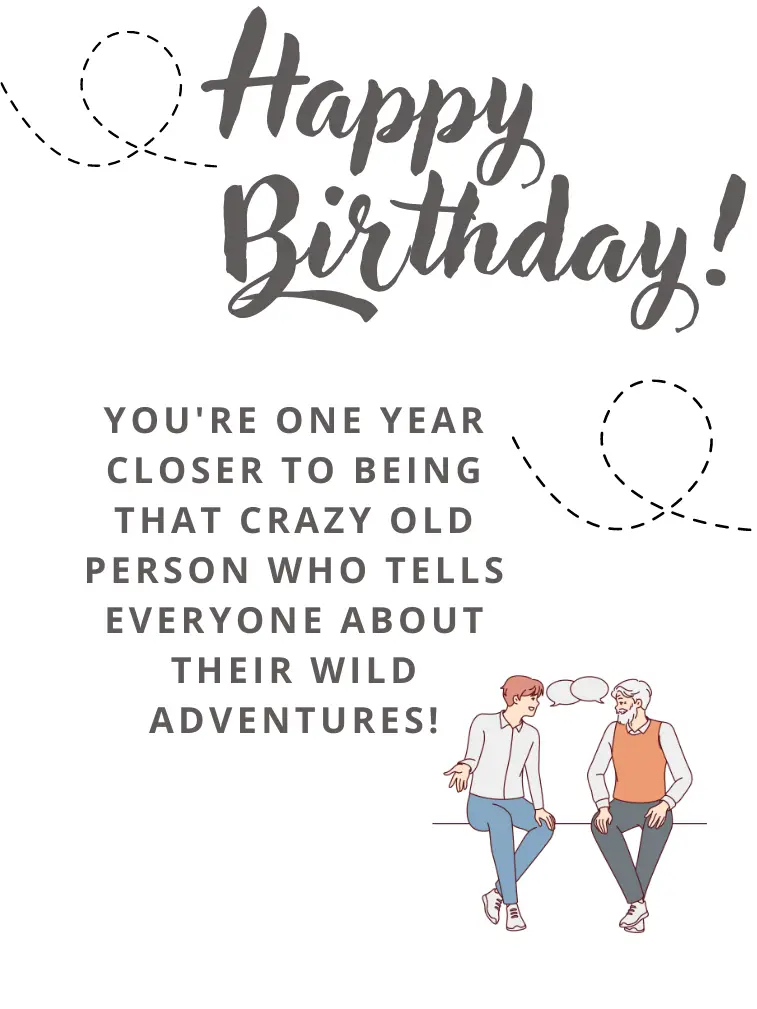 If you didn't find the perfect wish for your adventurous friend here, you can check out these 50 birthday wishes for a friend.