Your birthday may be forgotten by your colleagues, but that of your supervisor – never. It's a time when everyone strives to make a good impression and stand out with their heartfelt wishes. However, not everyone manages to deliver the best birthday wishes. That's why in this post, we have written 43 great birthday wishes to make it easy for you, so you don't have to spend a long time wondering.
Birthday Wishes for Supervisor
1. To our amazing supervisor, Happy birthday! Thank you for creating a positive work environment and for always being there to lend a helping hand. Have a wonderful celebration!
---
2. Happy birthday to the supervisor who leads with compassion, understanding, and fairness. Your management style is truly admirable. Have a fantastic celebration!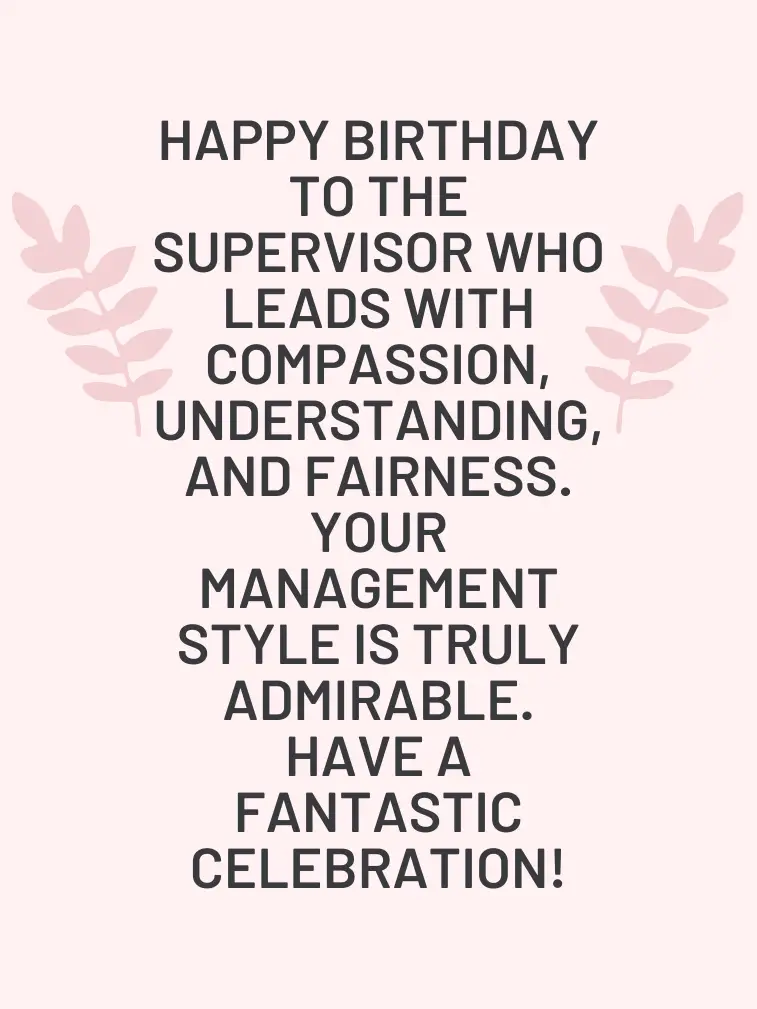 3. Happy birthday to the best supervisor anyone could ask for! Your leadership and support have made a huge difference in my career. Enjoy your special day!
---
4. Happy Birthday! First and foremost, I would like to express my gratitude for all the efforts you have made to educate and support me. Secondly, I would like to wish you abundant happiness and success, both in your professional endeavors and in your personal life with your family.
---
5. You are a true leader! As such, you deserve nothing but success. I sincerely wish you all the success from the bottom of my heart.
---
6. I wish you not only success at work but also a lot of fun outside of it! Happy Birthday!
---
7. I hope you encounter fewer problems and more opportunities. Happy Birthday, boss!
---
8. May your days be filled with less busyness and more success. Keep rocking! You know exactly how to make it happen!
---
9. Happy Birthday to the best supervisor! I wish that everyone could have a boss like you – someone so valuable and kind. Thank you for all the times you have helped me. May you be healthy and incredibly happy.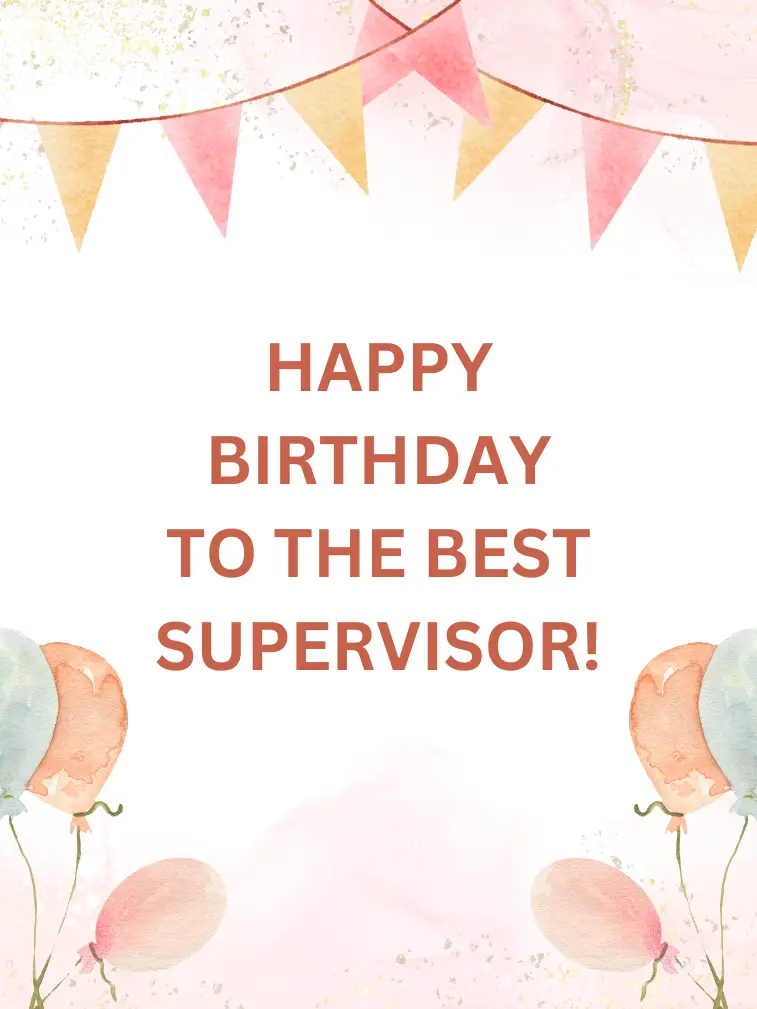 10. Happy Birthday to my boss and friend! You make work so much more enjoyable and inspire me to give my all. I wish you a day filled with happiness and smiles!
---
11. Happy Birthday! I wish you abundant happiness, success, and a reduced amount of tension! While work will always be there, it's important to take breaks more frequently. From the bottom of my heart, I wish you the opportunity to enjoy those breaks. May you be blessed and have an absolutely fantastic birthday!
Birthday Wishes for Supervisor From the Entire Team
12. Wishing a very happy birthday to our exceptional supervisor. You make the workplace an inspiring and enjoyable environment. Have a wonderful celebration!
---
13. Happy Birthday to our amazing supervisor, who always has a solution to every problem and a word of encouragement for each of us. Enjoy your special day, and may it be as wonderful as you are!
---
14. To our incredible supervisor, Happy Birthday! Thank you for being a mentor, a role model, and a friend. Here's to another year of success and growth under your guidance.
---
15. Happy Birthday to our supervisor, who knows how to keep the team motivated and striving for excellence. Your leadership is truly inspiring!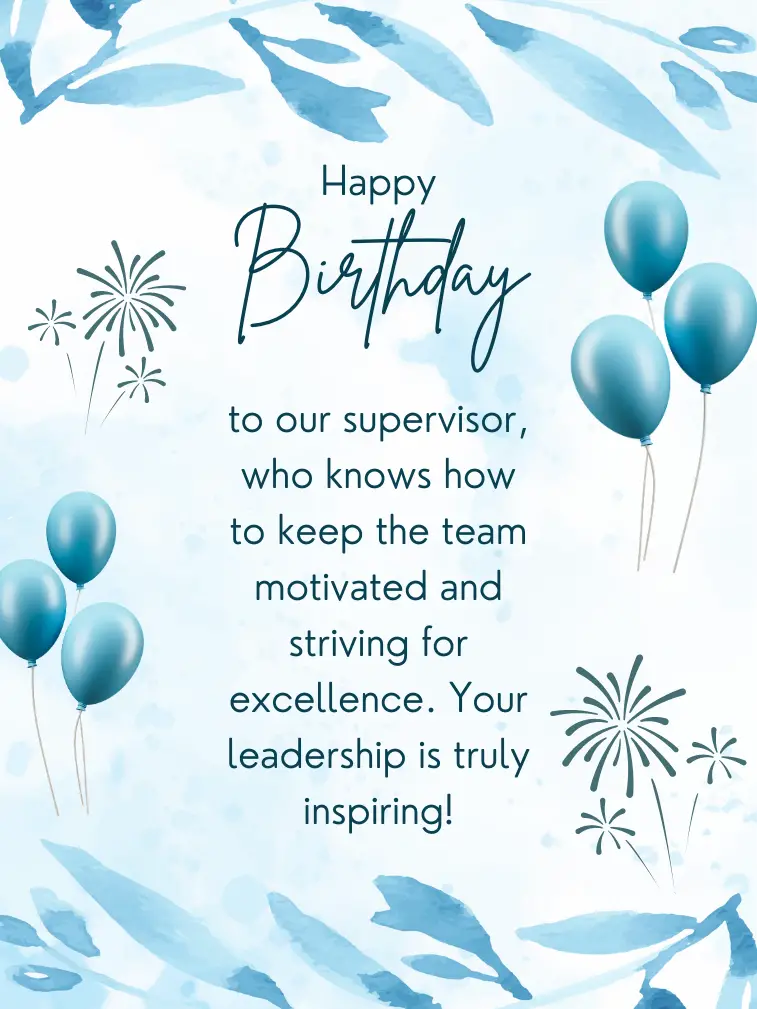 16. Happy Birthday to the supervisor who never stops inspiring! You're the caffeine in our office coffee. Cheers to another year of leading with grace and patience.
---
17. Happy Birthday, boss! We hope you have a really successful year (but we have no doubt it will be one with the team you've built).
---
18. Happy Birthday to the coolest supervisor who created a family in a cozy atmosphere rather than an office with an oppressive atmosphere.
---
19. Happy Birthday! To the coolest supervisor, we wish you a holiday away from all your troubles!
---
20. We may not show it very often, but we really appreciate all your efforts and the help you give us at work! The whole team wishes you an amazing birthday and a very successful year.
---
21. Happy Birthday! You are one of the few bosses that can lead with a complete balance of professionalism and kindness. May your day be filled with joy and appreciation!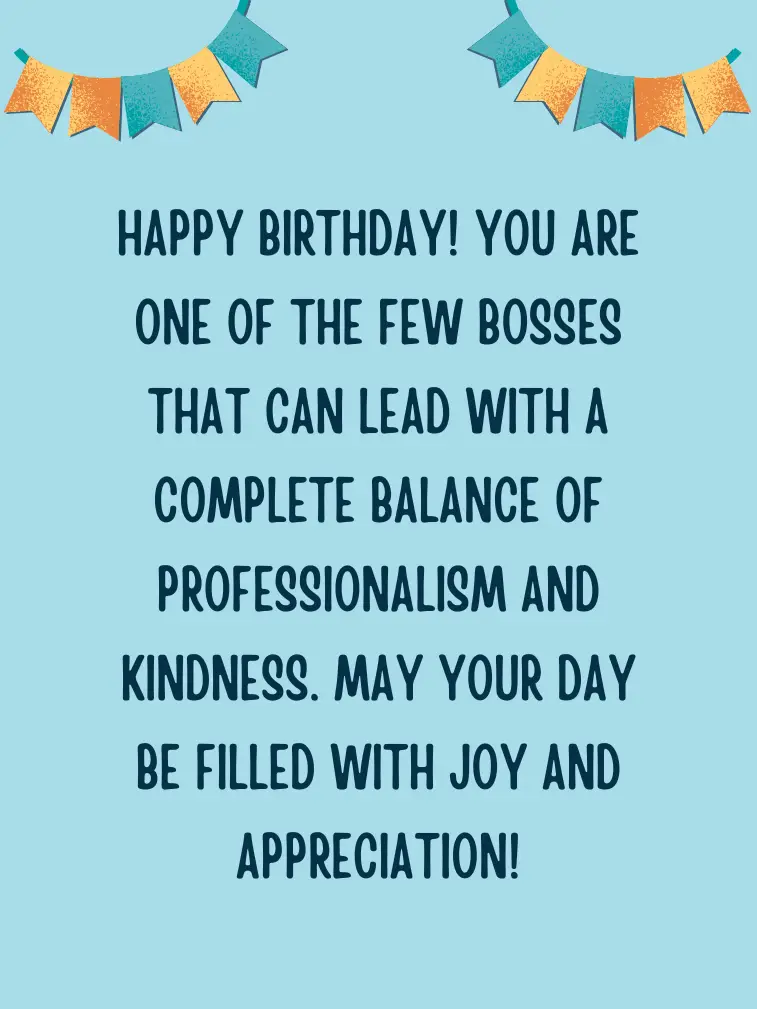 22. Happy Birthday to the coolest supervisor. You teach us, give us invaluable advice, and always support us despite the mistakes we make from time to time. Thank you for everything, and we wish you more peaceful days and happy clients!
Happy Birthday From an Employee Who Recently Joined the Team
23. Thank you for making me feel like part of the team from day one. Sending you warm birthday wishes for a great year!
---
24. Thank you for your patience and for turning my learning curve into a joyful ride! Enjoy your special day!
---
25. Happy Birthday! Thank you for your guidance and for creating such a welcoming environment. It's highly appreciated! May your special day be as amazing as you are!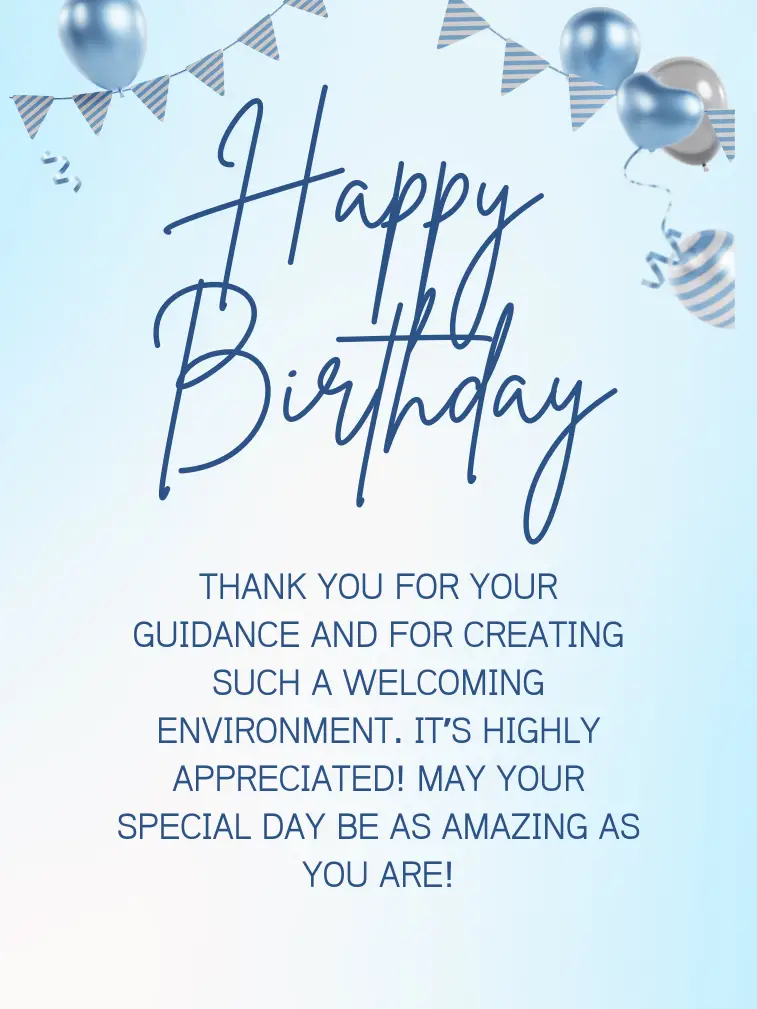 26. Happy Birthday, Boss! In the short time I've been here, you have exemplified great leadership. I am confident that we will have a highly successful year working together.
---
27. I truly appreciate the warm welcome extended to me, and I wholeheartedly wish you abundant success in both your professional and personal endeavors.
---
28. Happy Birthday to the supervisor who's made me feel welcome since day one. I'm looking forward to learning more from you in the coming year.
---
29. Happy Birthday! I'm the new kid on the block, but your leadership already makes me feel like a veteran.
---
30. Still new here, but I know a great boss when I see one. Happy Birthday to the person who makes every workday a lesson worth learning.
---
31. As the newest member of our team, I would like to express my gratitude for the warm welcome I received from the entire team. The friendly atmosphere in our office is a testament to our great bosses. I am thrilled to be joining the company! Wishing you the most amazing birthday!
---
32. Happy birthday! Thank you for making my first day of work less terrifying. Thank you for your kindness and I look forward to working together.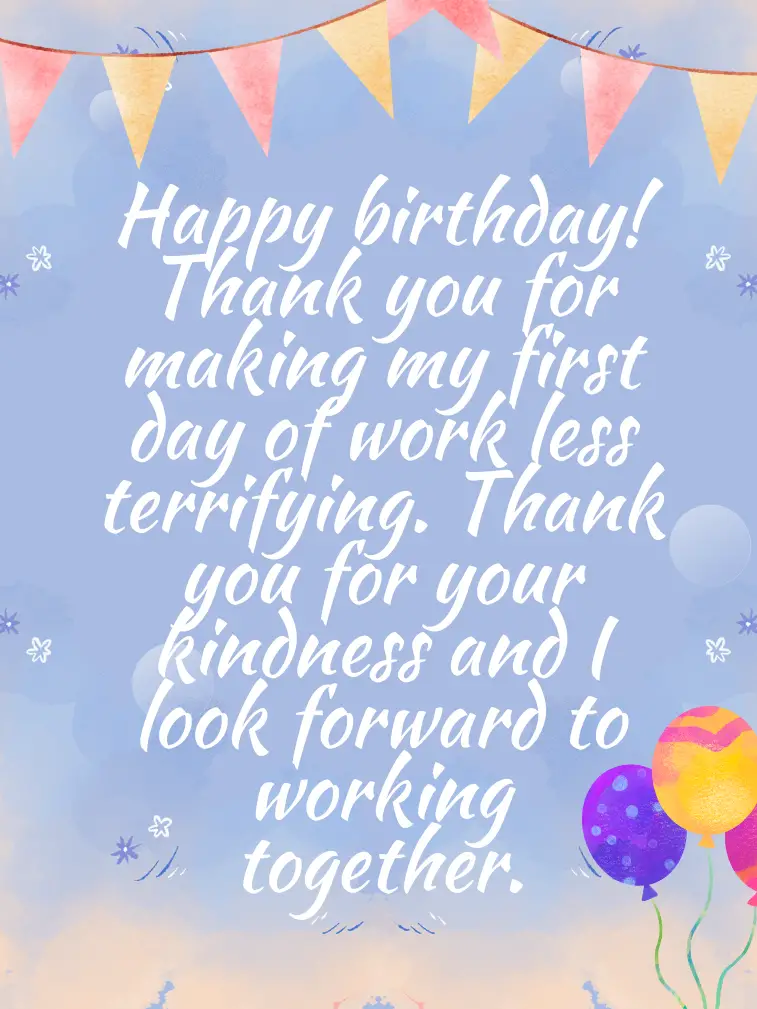 33. Happy to be a part of your dream team! Thank you for the opportunity you gave me, and I will do my best not to disappoint you. May this year be filled with great achievements and happiness.
Funny Messages for a Supervisor
34. Here's to the boss who knows the secret of managing a team: make sure the coffee pot is always full. You're brew-tiful, Boss!
---
35. They say, 'Work smarter, not harder.' Luckily, our supervisor does both… and the second one mainly when trying to fix the printer.
---
36. To the boss who takes 'casual Fridays' seriously, we appreciate your dedication to Hawaiian shirts!
---
37. Who says being a supervisor is stressful? It's basically like being a babysitter but for adults, right?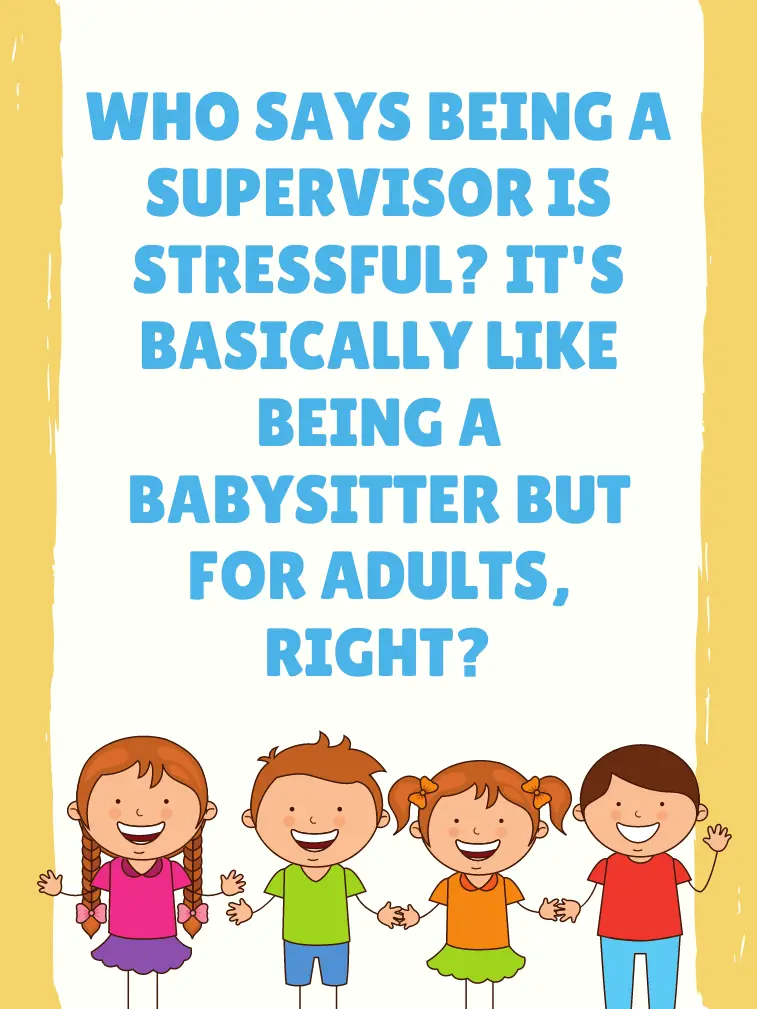 38. Here's to the boss who loves meetings about meetings. We feel you've truly met your calling.
---
39. Supervisor's motto: 'I'm not bossy, I just have better ideas.' Can't argue with that!
---
40. To the boss who always tells us to think outside the box, but never tells us where the box is. We're still looking, Chief!
---
41. We know the supervisor's office isn't a scary place. It's just where fun goes to die. Just kidding, Boss!
---
42. Leadership tip from our supervisor: 'Don't consider them as late arrivals. They're just early for tomorrow.'
---
43. Shoutout to our boss who remains cool and composed even when we accidentally break the coffee machine… again. Your patience is legendary!"
If you still struggling to find the perfect message, you can check 30 more birthday wishes for a manager from this link.