Manchester United is a very popular football club, also known as "the red devils". Well-known players include Cristiano Ronaldo, Wayne Rooney, Ryan Giggs, and many more. The club has more than 200 million fans. If you know one of these millions of fans sends him a different and attractive card on his birthday. Take a look at the 5 wishes and 4 cards for a Manchester fan:
1. I wish you the speed of Marcus Rashford,
I wish you the agility of Harry Maguire,
I wish you the accuracy of Cristiano Ronaldo,
and everything else from the entire Manchester football team.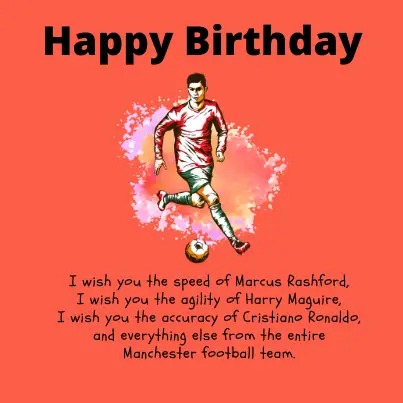 2. Happy birthday to Manchester's biggest fan, I wish you only positive emotions in front of the TV, victories on the pitch and Manchester to be the next World Cup champion.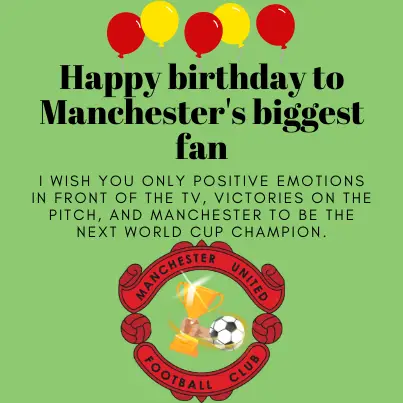 3. With beer and chips in my hand I wish you Manchester is always on top! Happy birthday to their biggest fan.
4. I wish you victory after victory of both to your favorite Manchester team and to you in your family and professional life. Happy birthday!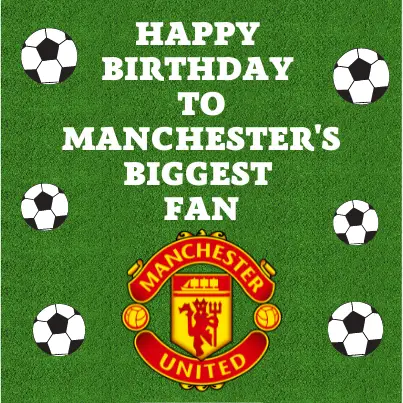 5. I wish you every time you are in front of the screen to feel only positive emotions of your team wins. Manchester forever in our hearts. Happy birthday, my friend!