Tiktok is a platform for sharing short videos, very popular among the younger generation. There are various videos and most often you will see someone dancing, saying their thoughts, showing their home, part of their daily life and etc. Whatever they do, it's hard to stop scrolling through so many humorous and fun videos. Tiktoker is the person who creates these videos and his goal is to have a large number of followers. In this post, we show you 20 wishes that you can send to a Tiktoker on his birthday.
20 Birthday Wishes For A Tiktoker
1. I wish you many happy and crazy moments and may your days be filled only with new interesting experiences to record for your videos. Happy birthday to the funniest Tiktoker!
2. Dear friend on your birthday I wish you to be happy and successful in every moment, and to keep making us happy with your funny videos. Sending you lots of kisses.
3. Happy birthday to the most special person to me! Wishing you good health, happiness and lots of love, no matter that you already have it from your thousands of fans on TikTok.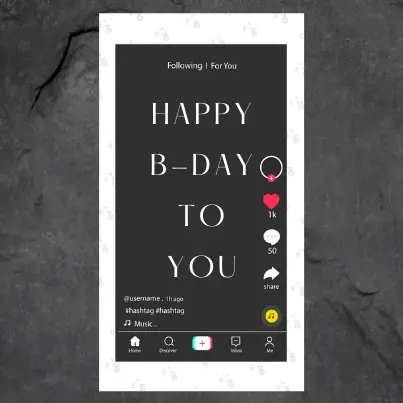 4. Happy birthday to my star! May your day be filled with wonderful emotions and may each day to come be even more wonderful.
5. Today is an awesome day because my best friend has a birthday. I hope you get to achieve all your dreams – record many new funny videos, have countless followers and be the most popular person on Tiktok.
6. Congratulations on your birthday! Congratulations on your new video! Congratulations for everything you do every day! Stay blessed.
7. My dear friend, be healthy, happy, positive and I look forward to you one day being the most successful Tiktok star!
8. Let's celebrate your birthday, but also your fame! Love you, and wishing you all the best.
9. I think the whole Tiktok is happy with the path you have chosen. Keep on being so creative, artistic and crazy. People need more cheerful people like you. Happy birthday!
10. Best wishes from all of your crazy friends! We want to wish you to be more famous Tiktoker than Khaby Lame. You are our real star.
11. Happy birthday to my celebrity! You are beautiful, fun, innovative and most importantly the best dancer and singer I know. Keep making us happy!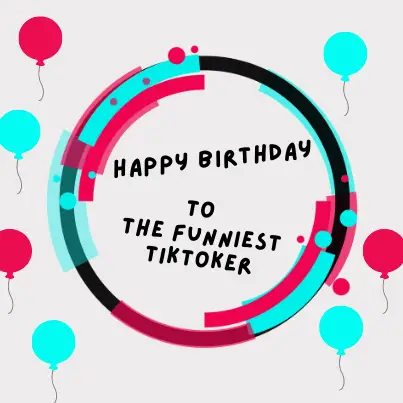 12. May the joy that you spread every day in social media comes back to you on this day. Happy birthday to the most talented and funny person that I know.
13. Hope your special day brings you a lot of joy and wonderful moments with your family and your followers xoxoxo. Happy birthday!
14. I wish your life to be a dance – fun, energetic, full of excitement and joy. Wishing you a wonderful birthday!
15. I hope you always stay blessed and under the spotlight. You are gorgeous, stunning and you will blow up all social networks.
16. Happy birthday to the most awesome person in the world. Enjoy this day with your loved ones and don't forget your online fans. We look forward to your next video. Blessings to you.
17. Happy Birthday to my celebrity! Make this day unforgettable and memorable.
18. Happy birthday to the best dancer in the entire world. I hope your day is filled with happiness, joy, love, and everything that a celebrity deserves.
19. Sending the most heartfelt wishes to the most famous Tiktoker. Hope you have a great birthday!
20. Wishing a happy birthday to my stunning Tiktok creator. Stay creative, innovative, and fun. I wish you all your dreams come true.
Closing Thoughts
Being a successful Tiktoker is difficult and requires a lot of time and effort. Appreciate this hard work by sending a special wish to your Tiktok lover friend on his most special day – his birthday.