As the saying goes – you know what the day will be like from the morning. In this line of thought, we should make sure that our mornings start with a positive mood. In order to create this mood, sometimes we need to read something positive because otherwise, it is hard to get inspired especially when getting up is difficult.
Without further explanation, take a look at these inspirational good morning wishes and quotes concerning Wednesdays. Besides these, you will also find motivational images.
Inspirational Good Morning Happy Wednesday Wishes
1. Good morning! I wish you lots of smiles this day.
2. Happy Wednesday! May your day be filled with positive emotions and may your work go smoothly.
3. Open your eyes and imagine you are in some special and sunny place, dreams are free, dream on! You don't know if they will become a reality. 🙂
4. Everybody always wants to be happy, and that is up to us. So don't wonder, don't think about it, and just be happy.
5. Life is what we make every day. So may when you look back in a few years, you remember only happy moments.
6. Don't look back, even at this moment you will want to have it again someday, so just enjoy life and don't dwell on it.
7. Happy Wednesday! Remember there will always be work, so find time for yourself – to rest and take care of yourself.
8. Good morning and happy Wednesday! May this day bring you peace and more time for you.
9. I wish you a carefree Wednesday!
10. Enjoy today you have a wonderful day ahead of you!
11. The weather is beautiful and I hope birds are singing in your soul.
12. Put the rose-tinted glasses on and enjoy life. There will always be these grumpy people but you just need to ignore them and think positively.
13. Put on your makeup, fix your hair, and show that you are a gorgeous woman.
14. Smile, today is Wednesday. A great day for new adventures.
15. Good morning! May your day be successful and productive!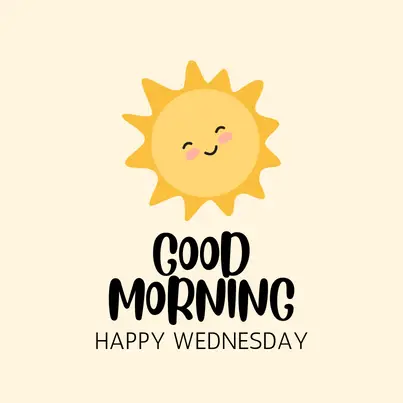 Motivational Quotes to Start Your Wednesday
1. "With the new day comes new strength and new thoughts." —Eleanor Roosevelt
2. "What you do today can improve all your tomorrows." — Ralph Marston
3. "Write it on your heart that every day is the best day in the year." — Ralph Waldo Emerson
4. "An early-morning walk is a blessing for the whole day."— Henry David Thoreau
5. "Each morning we are born again. What we do today is what matters most." — Buddha
6. "Just one small positive thought in the morning can change your whole day." — Dalai Lama
7. "Your future is created by what you do today, not tomorrow." — Robert Kiyosaki
8. "Lose an hour in the morning, and you will spend all day looking for it." – Richard Whately
9. "Every morning a new sun greets us, and our new life begins." — Marty Rubin
10. "When you arise in the morning think of what a privilege it is to be alive, to think, to enjoy, and to love." — Marcus Aurelius
11. "There is too much life to be lived for you to hit the snooze button." — Hal Elrod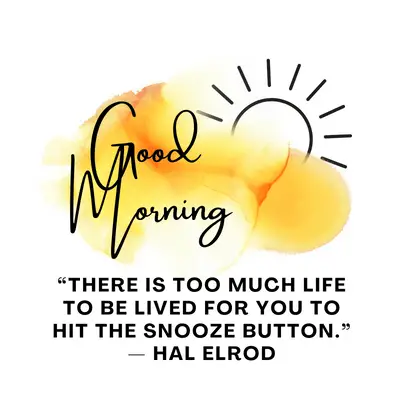 12. "Every morning, I wake up saying, 'I'm still alive, a miracle.' And so I keep on pushing." — Jim Carrey
13. "The only way to have a life is to commit to it like crazy." — Angelina Jolie
14. "Each day comes bearing its gifts. Untie the ribbon." — Ann Ruth Schabacker
15. "If you get up in the morning and think the future is going to be better, it is a bright day. Otherwise, it's not." – Elon Musk
Funny Happy Wednesday Messages
1. Good morning! Today is Wednesday, the day in the middle of our suffering 😃
---
2. As long as we made it this far, we'll survive until Friday.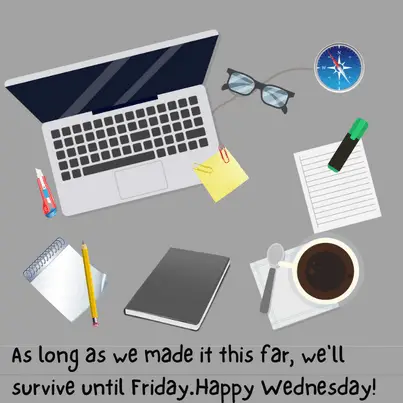 3. Let's start Wednesday with a positive thought, which is to never have to keep track of what day of the week it is.
---
4. Last Wednesday I was thinking about when Friday would come – this Wednesday my thoughts are no different.
---
5. Good Morning and happy Wednesday! For the third day of the week, prepare a triple coffee.
---
6. Good morning! I want to wish you something positive, but how to do it when I woke up with my feet up?
---
7. If you wake up on Wednesday in a good mood, it's probably because it's sunny outside.
---
8. Good morning! Just to remind you it's only been an hour of the workday. 😃
---
9. Enough of looking at trips, you'll need many more Wednesdays to work to afford them.
---
10. Wednesday, like any other day of the week, is great for walking. But now get back to work.