When we see managers or bosses in their capacity of delegating tasks, they might seem like they're very full of themselves. But before you can say anything, all the employees and coworkers will tell you that these are the people that make all the work possible in an organization. So as an acknowledgment of their birthday, we have compiled some happy birthday wishes for a manager on his birthday.
15 Amazing Birthday Wishes for a Manager Sent By You
1. Best wishes for a wonderful birthday! I wish you to be happy, successful, and still an excellent mentor.
---
2. Happy birthday to the best manager. You are a true inspiration to me, keep showing us all how to do successful business.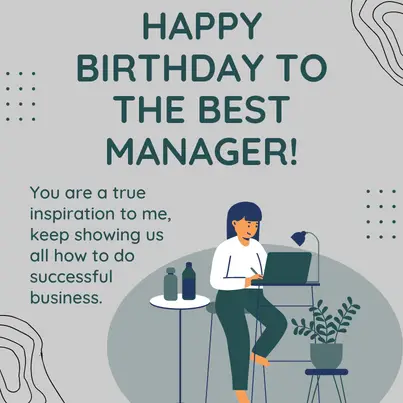 3. Dear manager and friend, I wish you all the best on your birthday and I hope you continue to grow in your career.
---
4. On this special day for you, I will steal a moment to thank you for all your efforts to help me grow. You are an amazing mentor. Happy birthday!
---
5. I know that sometimes, it is not easy to be a leader, so please on this special day make sure to rest but also have fun.
---
6. I wish you the long, happy life that you deserve, and may you have all the success in the world!
---
7. I wish you moments of happiness, peace, and love. Thank you for all the advice and guidance you have given me. I really appreciate it. Happy birthday!
---
8. I wish you less stress and more fun. Happy birthday!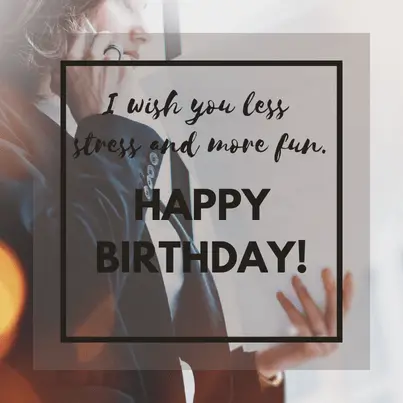 9. I wish you more days that you're free from stress, tension, and worry. Happy birthday!
---
10. I am so blessed to have such an amazing person as a manager! Keep up the good work! Wishing you a happy birthday!
---
11. Happy birthday to the best mentor and my dear friend! Wishing you good health and long life.
---
12. Hoping this day brings all your wishes and dreams into reality. Thank you so much for everything!
---
13. I wish you nothing but success in both your personal and professional life. Happy birthday!
---
14. Happy birthday, boss. Give yourself permission to relax all day and stop thinking about work. You deserve it!
---
15. Happy Birthday! You're worth every moment of celebration – enjoy today because it's yours!
15 Birthday Wishes for a Manager on Behalf of the Employees
1. You're the best manager we've ever had! Thank you for being there for us all these years to help, support, and give us the best advice.
---
2. You're the manager, but you're also one of our greatest friends! May all your dreams come true!
---
3. Thank you for your patience, all the care, the endless training hours, and most of all your friendly attitude. Happy birthday from the coolest team.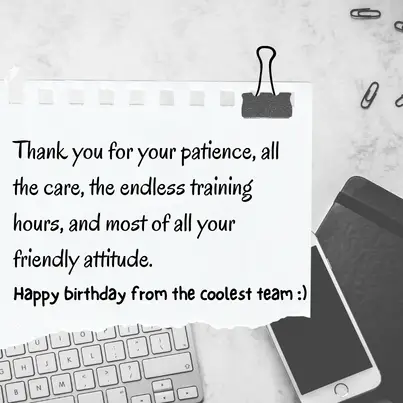 4. You are one in a million! We hope your every workday brings you success and joy. -From your favorite team
---
5. Wishing you a wonderful birthday from the coolest team to the best and manager.
---
6. We love how much you care about us, and we highly appreciate it! Wishing you an amazing birthday!
---
7. We hope that on your birthday, you get all the things you've been wishing for. Happy birthday!
---
8. Let's make this a very happy birthday! May your dreams come true on this very special day for you!
---
9. We are looking forward to celebrating with you on this day and wishing for all of your dreams to come true. Happy birthday to the best boss in the whole world!
---
10. We are so thankful for everything that you do for us every day, and now we are finally getting the chance to tell you how much you mean to us. We hope that your birthday is full of happiness and joy and laughter. Happy birthday!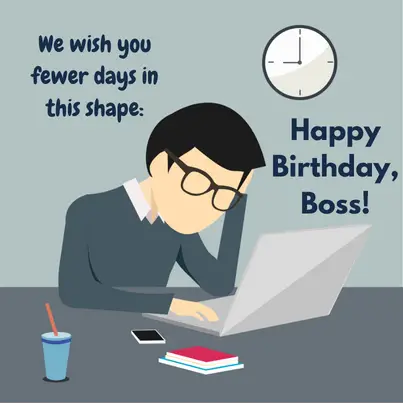 11. Happy Birthday! You are such an inspiration to all of us and we will always remember and appreciate the efforts you put into our professional development.
---
12. Dear Manager,
It's your day! We hope you have a great day and I wish all the best for you in the future. We can't wait to finish work and go out to celebrate!
All the best, Your Favorite Team
---
13. You are one of the most influential people and your passion is inspiring us to be better at our job with each passing day. Happy birthday!
---
14. Happy birthday, Boss! We want to take this opportunity to thank you for guiding us all the time and staying calm through some tough times. We hope that this birthday is as big and bright as you are.
---
15. Thank you from the bottom of our hearts for being such an amazing Manager! We wish you success in every endeavor and much family happiness.
Closing
There are many ways to show appreciation to your manager. But there is no better way than wishing him on their birthday. Above are listed 30 birthday wishes for a manager to give you some inspiration.