When we talk about weekends, we most often think of walking outside, traveling, physical activities, movies, delicious food, naps and so much more. We all look forward to the weekends.
But before that moment arrives, we can wish our friend, colleague, or boss a great weekend, in a more original and interesting way. Replace the phrase "have a great weekend" with a more interesting and inspiring one. There you have it, the alternate list of the phrase.
10 Short Alternatives to Have a Great Weekend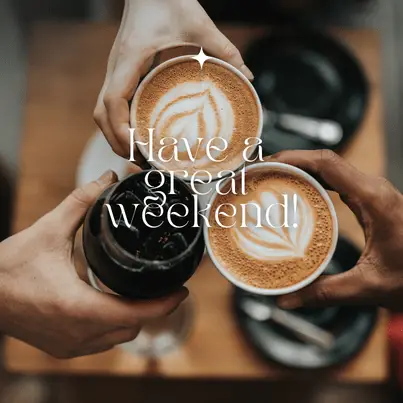 1. Have a wonderful weekend!
2. Hope you have a fun weekend!
3. Hope you have a relaxing weekend!
4. Have a fruitful weekend!
5. Enjoy your weekend!
6. Have a sunny and peaceful weekend!
7. Wishing you a lovely weekend!
8. Stay safe and have an awesome weekend!
9. Have a wonderful time this Saturday and Sunday.
10. Have a good time this upcoming weekend!
10 Amazing Messages to Wish Your Friend a Great Weekend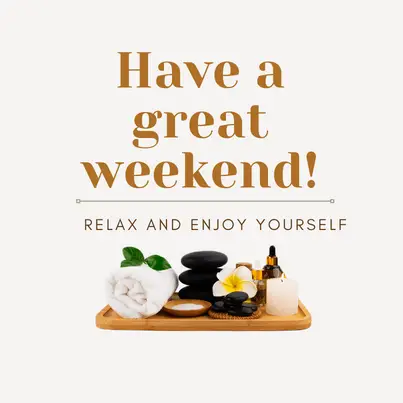 1. Have a great time this weekend and remember to get a good rest.
2. Welcome comfy clothes and naps.
3. Have a creative weekend! I hope you will come up with a great new idea again.
4. Let's celebrate this weekend with a nice drink.
5. Forget about household chores this weekend and pamper yourself in a spa.
6. Have a great weekend and take good care of yourself.
7. Keep your chin up and have fun this weekend.
8. Enjoy the upcoming adventure this weekend!
9. Spend time with your family and friends.
10. Make sure you get enough sleep over the weekend to have an active and exciting week ahead!
10 Have a Great Weekend Wishes to a Colleague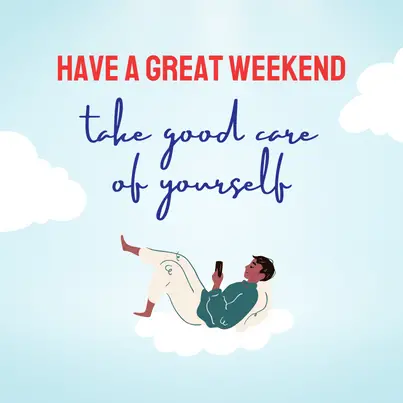 1. Hope you have a weekend filled with moments of happiness and peace.
2. Take a break this weekend – do some physical activity, meditation, or even go out with friends.
3. Have a nice weekend – outdoors, beer, and friends 😊
4. Hope you have a cozy weekend watching some interesting movie with a glass of wine.
5. I hope you have time to indulge this weekend.
6. Looking forward to seeing you again on Monday, have an awesome weekend.
7. Have fun this whole entire long weekend.
8. Say hello to relaxation and good food!
9. Enjoy time with family and friends this weekend!
10. I wish you happy and peaceful days off.
10 Best Ways to Say to Your Boss ''Have a Great Weekend''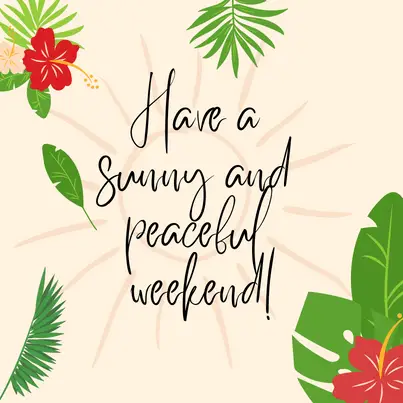 1. I wish you a weekend free from stress and worry.
2. I hope your weekend is as funny as you always make us feel at the office!
3. Hope your weekend is filled with joy and not stress or strife.
4. Have a great weekend with your family.
5. I know it's not easy being a boss, so please take care of yourself this weekend.
6. I hope this weekend you are able to recover from the exhaustion and stress of the past week.
7. Have fun this weekend! Enjoy life outside of work.
8. See you on Monday! Have fun this upcoming weekend.
9. You deserve a break, have a nice time off work over the long weekend.
10. Have a great weekend! Relax and enjoy yourself.
Closing
A weekend is a two-day period of time – Saturday and Sunday. As the name suggests, it is a day of rest in between working days. Most people schedule leisure and work activities for these days.
There are many ways to have fun during weekends. You can engage in hobbies or pastimes like reading, traveling with friends, etc. You can also take up different sports like football or cricket with your friends as they are a great way to have some fun and get some exercise as well. And you can also make weekend travel plans to visit popular destinations around the world and have an enriching experience through travel.

Whatever you decide to do over the weekend, don't forget to greet those closest to you beforehand with one of the wishes above.