So many coworkers in the office and every time you have to come up with a wish for everyone… Luckily you've come to the right place where you'll find a variety of unique birthday messages for your coworker. Depending on whether your coworker is close or not, whether you want a short or funny message, you'll find a little bit of everything here.
Birthday Messages to a Closer Coworker
1. Sending best wishes on your birthday to my amazing colleague! May this special day be filled with joy and the coming year bring you much more success and good luck.
---
2. Your presence brings life and light to our office. Truly appreciate you for being here with us. Wishing you prosperity, joy, and all the success you deserve!
---
3. To my amazing colleague, I'd like to extend my warmest wishes for you to achieve great success in both your professional and personal life. May you be blessed with only abundance and joy!
---
4. Your friendship means a lot to me, and I am wishing you the best at work and more joyful moments every day. A very happy birthday to you!
---
5. You have been more than just a workmate to me, you are like a true friend. I hope you have the best time on this special day. Happy birthday!
---
6. Wishing a very happy birthday to my dearest colleague in the office! I wish you a special day full of surprises, fun, and happiness. And may every next day of the year be as exciting!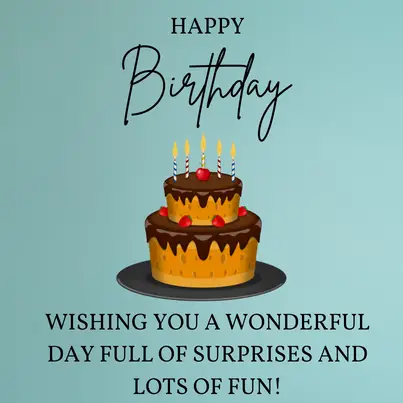 7. I wish you health, happiness, and lots of success! I really appreciate having you around the office, it would be so dull without your presence. Thank you for being here!
---
8. To my cool colleague, I want to wish you a lot of professional and personal success. May good fortune and prosperity always be on your side.
---
9. I wish you less tension at work and more occasions for fun. Be healthy, and happy, and may all your dreams come true. Happy Birthday!
---
10. Happy birthday to my closest person in the office! You are not only my colleague but also a true friend. On this special day, I wish you a great time, and may your whole year be fun and successful.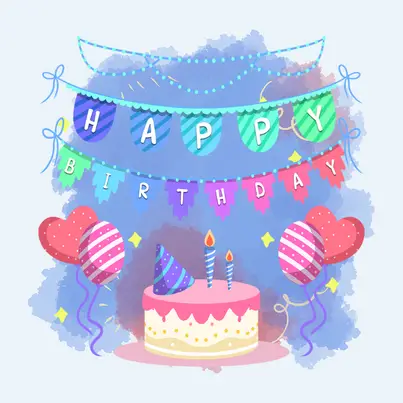 Birthday Wishes to a Not-So-Close Coworker
1. Wishing you a work-life full of enjoyment and creativity. Best Wishes for your Birthday!
---
2. On this special day, I want to wish you success at work and joy in your home. Wishing you a Happy Birthday!
---
3. Wishing you an amazing birthday! May this day be full of wonderful surprises and joy! Have a great celebration!
---
4. I'm sending you lots of good vibes and cheer. May your birthday be filled with happiness and laughter. Happy birthday!
---
5. Happy Birthday! I wish you much success at work, much happiness at home, and more days off.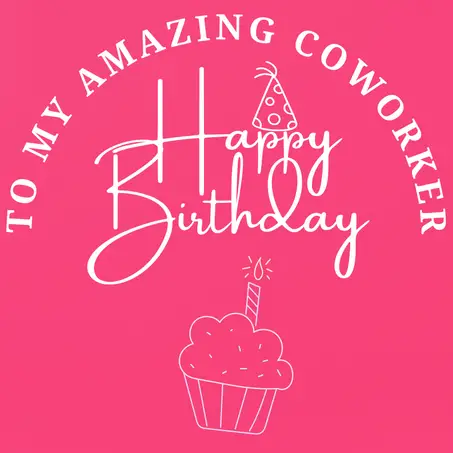 6. I wish you mostly health and love, everything else is achievable! Happy Birthday!
---
7. I wish you to achieve every goal you set, fight to the end, and finally enjoy what you have achieved. Happy Birthday!
---
8. Wishing you a very happy birthday and hoping that you stay healthy and happy. Happy birthday, coworker!
---
9. Today is your special day and I want to wish you all that you have been hoping for. Happy birthday!
---
10. May this year be filled with joy, love, and many happy surprises. Have an amazing birthday!
Short and Professional Birthday Messages for a Coworker
Wishing you a wonderful day full of surprises and lots of fun!
May you be healthy, happy, and fulfilled. Happy birthday!
I am sending you lots of health and love for your birthday. Happy birthday!
I hope you can find success in all your endeavors. Happy birthday!
Wishing you a very special Birthday and many blessings!
I wish you days full of smiles and a good mood. Happy birthday!
Wishing you the happiest of birthdays!
Wishing you a joyous birthday full of laughter and bountiful surprises. Happy B-day!
May your birthday be filled with wonderful memories! Best wishes!
Wishing you a fantastic celebration and best wishes for the year ahead!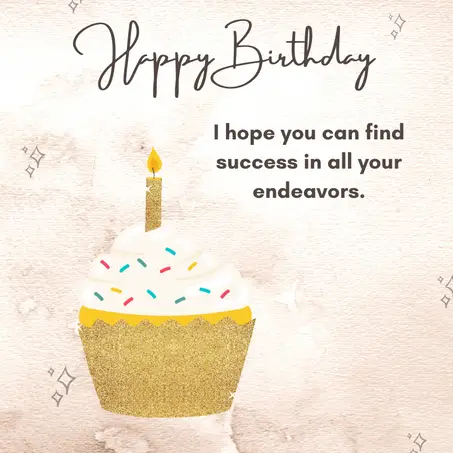 Funny Birthday Greetings to a Coworker
Remember, every time a customer or colleague makes you angry, count to 10. 😃
I wish your internet crashes today and you don't have to work. 😃
I hope each day brings you less work and more salary growth. 😃
Happy birthday! On this special day for you I give you permission to leave 5 minutes early. 😃 (p.s. from your favorite boss)
Wishing you a huge celebration tonight and an even more huge paycheck tomorrow.
I wish our next celebration is your promotion!
If you hadn't been here, I would have left already. You give me the strength to get through the days more easily! Happy birthday!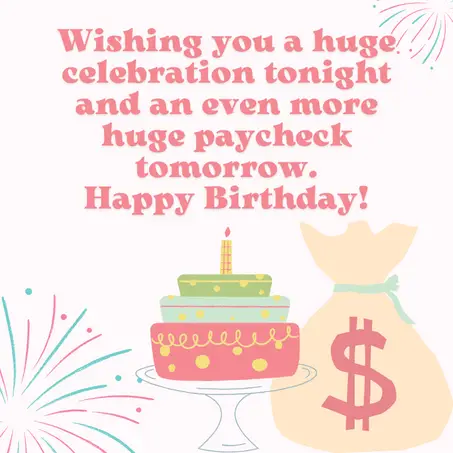 Closing Thoughts
Spending the majority of your day with your coworkers makes them as important as friends. That's why it's a good idea to take the time to show them how much you appreciate their hard work and commitment. Pick from one of the wishes listed above and let them know you care about what they do for you!