Almost everyone knows someone who is very dedicated to his work, works very hard, and gives his best to do everything perfectly. He can work for someone or have his own business.
You have remembered this man for his perseverance, so now you want to greet him in a different way, showing what an impression he has left on you. Show it off with one of all our birthday wishes to a hardworking man.
20 Birthday wishes to a hardworking man
Follow your dreams, be persistent. We believe in you and we love you very much.
With each passing year, I see you developing professionally. We are very proud of you and rest assured that we will always support you and be by your side.
You are the most hardworking person in this world, you work hard every day so that the whole family can live well. We are very grateful to you and on your special day, we want to wish you to be still persistent, caring, and loving. Happy birthday from the whole family.
Happy birthday to the most persistent father. You have been giving your best every day for more than ten years. We appreciate this very much and are glad to have you by our side. We hope that today you will enjoy the wonderful day. We love you!
On this day I will wish you only one thing – more days off. You are the most hardworking person I know and from now on I wish you more rest and more money. Be healthy, happy, and very loved. Happy Birthday!
Happy Birthday! At least on this day, indulge in complete rest and good times with your family. You deserve it, after all these days of hard work.
Wishing you good health, happiness, and success. To me, you are a true inspiration, you pursue your dreams and never give up. You are a real hero. Happy Birthday.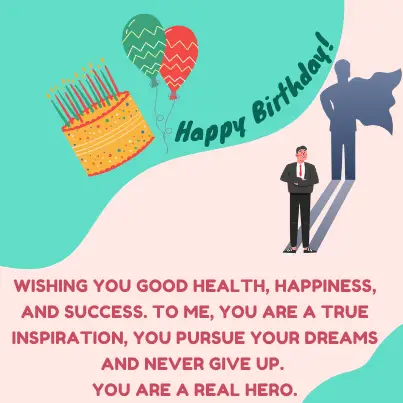 8. Happy birthday, my friend. I wish you less work and more money in your bank account. May your hard work over the years be rewarded with more peace and rest. Enjoy every moment!
9. Let Asia seem narrow to you,
let there be no corner of Europe that you haven't seen,
let every your step in America be in a different place,
let you explore every coast in Africa,
you deserve it after many years of hard work.
10. There is no other more hardworking person than you. I admire you very much, you are a real inspiration for me. Be healthy, successful and do what makes you happy.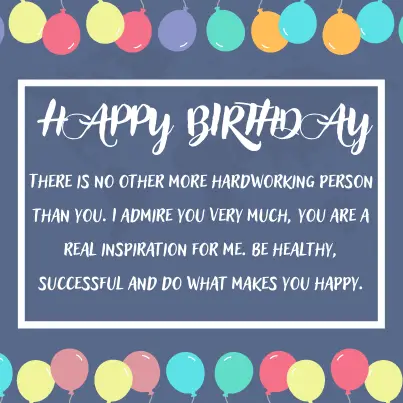 11. Happy Birthday to you! I wish you more peace and more time with your family. More wonderful and funny moments with them. Be still ambitious, but don't forget to enjoy the little things in life.
12. Happy birthday to the most stubborn man in the world. Let the smile on your face shine every day and be happy at every moment of your life. Do what you love the most and you will never have to work.
13. Happy birthday to the most persistent, most ambitious, and hardworking person in the world. Be still dedicated to everything you do.
14. May everything you do be successful, may there be a spark in your eyes at everything you do. Happy Birthday!
15. May your every endeavor bring you much joy, be passion and excited to everything you do and God will reward you for your efforts. Happy Birthday!
16. Let the success always be around you and never get rid of it. I believe in you. I wish you a happy and memorable birthday.
17. I wish you to conquer many more peaks and most of all to have someone to share your successes with! Happy Birthday!
18. On this day I wish you to always be the best you can be, never stop evolving and challenging yourself and continue to be an inspiration to others.
19. Happy birthday to my beloved man. I wish you many years filled with happiness, love, travels and success in work.
20. I wish you strength, will and desire to make all your dreams come true.
Closing Thoughts
Work takes up much of our lives, and millions of people spend much of their lives working. And when we know someone who gives his best in his work, we must tell him that he is our hero and on his birthday he deserves to be praised.