Say "Happy Over the Hill Birthday!" to those embracing the journey of aging. Write clever and fun birthday messages for their milestone birthdays with these unique quotes and wishes.
Is there someone special in your life crossing the threshold into a new decade? It could be your spouse, best friend, sibling, uncle, aunt, mother, father, or even colleague. You want this amazing individual to know how celebrated they are on their big day and you want to inscribe them an unforgettable message.
Writing a witty and fitting birthday wish doesn't have to be a challenge. Writing from the heart and with a touch of humor can usually strike the right chord. Or, you could use a funny and heartwarming quote to express your good wishes.
If you're searching for ideas on what to write in an 'Over the Hill' birthday card, you're in luck. We've got a collection of clever, unique, and amusing birthday quotes for those special folks embracing their 50s, 60s, 70s, and 80s.
Whether it's for a birthday card, a text message, or spoken in person, you can share your celebratory sentiment with those special people in an array of ways. Check out this list of 'Over the Hill' birthday messages to share.
Over the Hill 40th Birthday
1. Life starts at 40, but so does arthritis and the tendency to tell the same story three times to the same person. Happy Birthday!
2. Welcome to the 'fun' side of the hill, where bedtime is before 9 pm and breakfast is at 5 am. Happy 40th!
3. Aging is like wine; it gets better with time. But today, you're just 'over the hill.' Happy 40th!
4. Congratulations on your 40th Birthday! From now on, 'taking it easy' isn't a suggestion—it's a requirement.
5. Happy 40th Birthday! Don't worry about the hill. It's not so big, and the view is great!
6. Happy 40th! Remember, you're not getting older, you're just becoming a classic.
7. You're 40 and fabulous! But keep your strength for blowing the candles, you'll need it!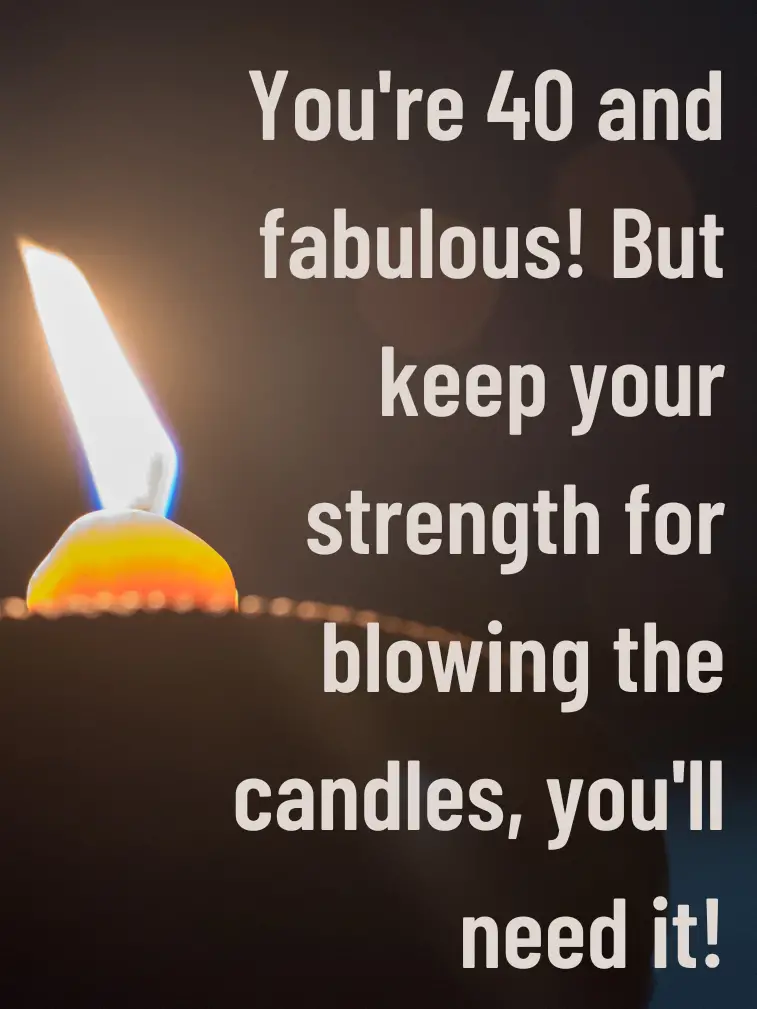 8. The secret to staying young is to lie about your age. Quick, let's cut the cake before the fire department gets here!
9. Over the hill? More like over the mountain. Don't worry, downhill is always the fun part! Happy 40th!
10. Congratulations! You've reached 40 and earned your 'over the hill' badge. Wear it proudly!
11. Aging is like being increasingly penalized for a crime you haven't committed. Welcome to the 'over the hill' club. Happy 40th!
12. 40 is when you finally get your head together and your body has other ideas. Enjoy the ride over the hill! Happy Birthday!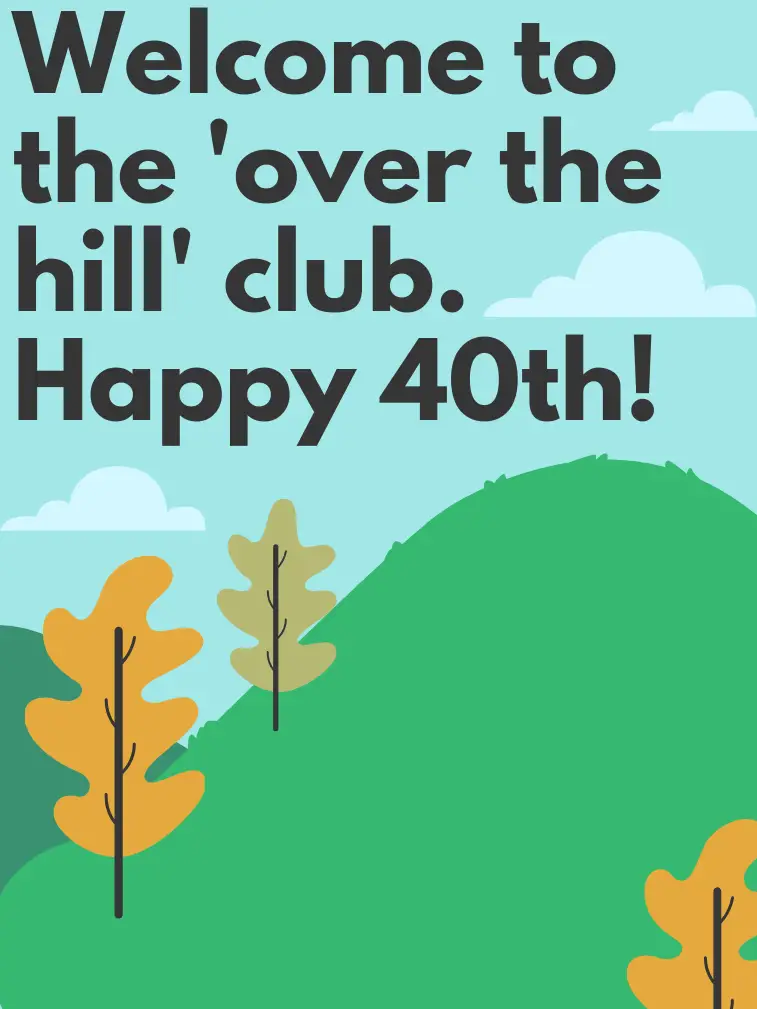 Over the Hill 50th Birthday
13. You know you're 50 when your back goes out more often than you do. Welcome to life over the hill. Happy 50th Birthday!
14. They say the first 50 years of childhood are the hardest. Congratulations on surviving them! Happy 'over the hill' birthday!
15. Happy 50th! You're not over the hill, you're just on the back nine.
16. Don't panic, you're only half a century old! That's 50 years of being awesome. Welcome to the over the hill gang!
17. 50 years of accumulation and it's just stuff, but the memories are priceless. Welcome to the world beyond the hill. Happy Birthday!
18. 50? I demand a recount! Welcome to life on the other side of the hill. Happy Birthday!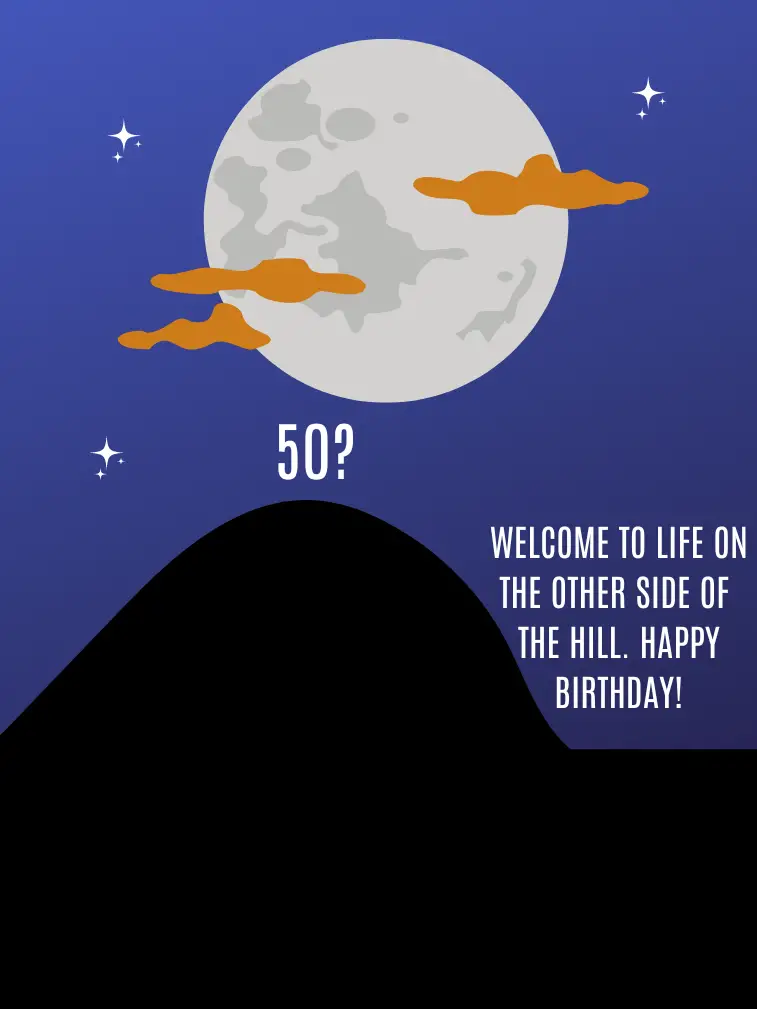 19. Congratulations on reaching the 'grumpy old age' stage. Don't worry, it's all downhill from here. Happy 50th Birthday!
20. Turning 50 is like turning a corner… and everything falls down! Welcome to 'over the hill'! Happy Birthday!
21. Being over the hill at 50 isn't so bad when you consider the alternative. Happy 50th Birthday!
22. Remember, 50 is just the natural number following 49 and preceding 51. Or as we call it, the first year of your downhill journey. Happy Birthday!
23. Happy 50th Birthday! Congrats on reaching the peak. Let the downhill journey begin!
24. At 50, everything starts to turn to gold – like your teeth, your heart, and your credit card! Welcome to life over the hill!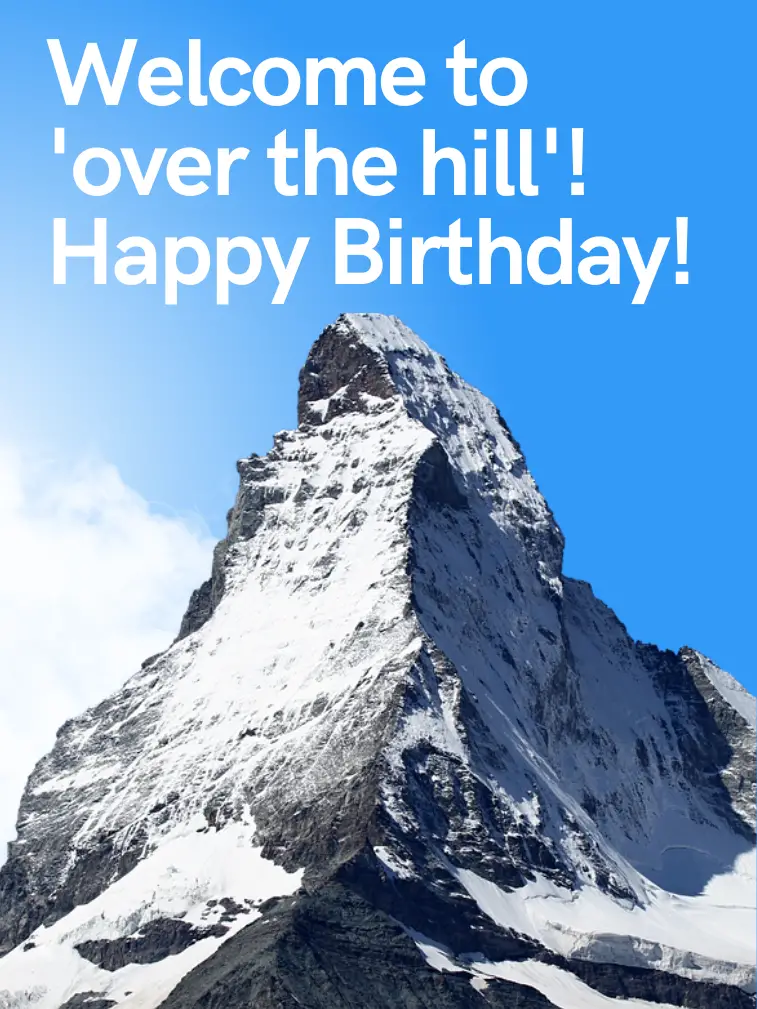 Over the Hill 60th Birthday
25. Who said 60 was a hill? I think it's a mountain I'm just about to conquer!
26. Six decades of raising hell, and I've still got it. Bring it on, 60!
27. 60 is just a number… a big, big number. But who's counting?
28. Turned my can-dos into can-dids. Welcome to the sexy sixties!
29. Can't teach an old dog new tricks? Watch me. 60 and still slaying.
30. They said I'm over the hill. Didn't know the view would be this good!
31. Living proof that 'Old is Gold'… or at least, 'Old is very, very Silver'.
32. 60 and fabulous. Middle age is so last decade.
33. Six decades in, and I still got more spark than a firework!
34. 60? More like 6-oh wow!
35. I told life to give me lemons… because at 60, I've finally perfected my lemonade recipe.
36. Cheers to 60 years of not acting my age!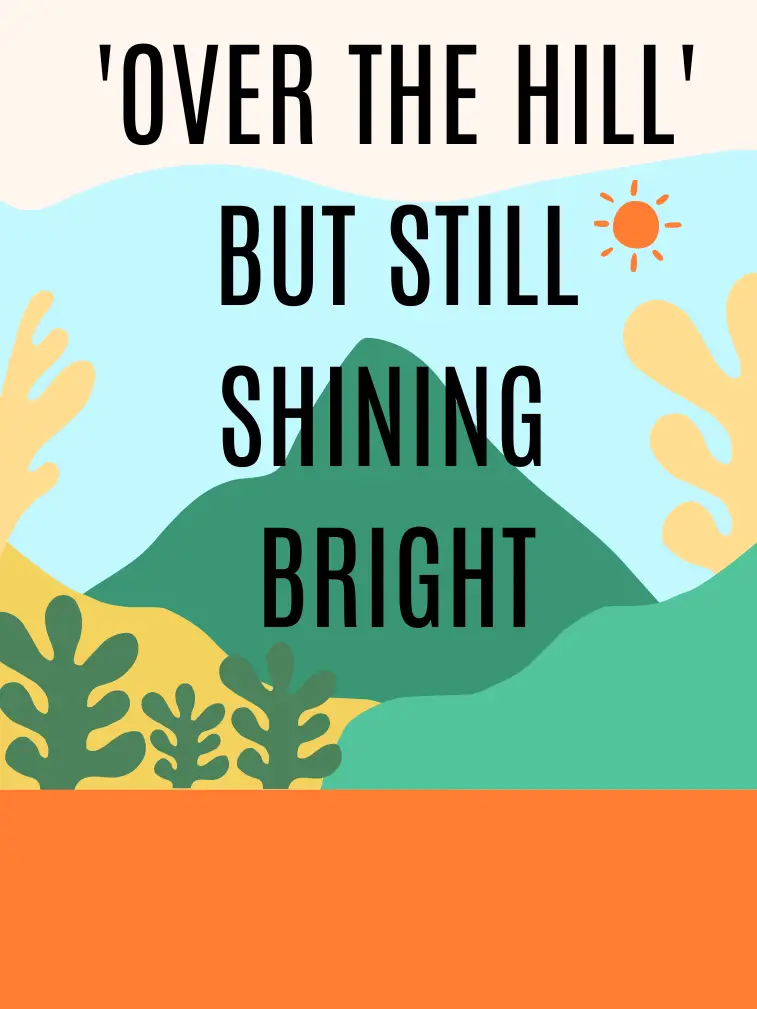 Over the Hill 70th Birthday
37. 70 years young and still not over the hill, I'm too busy climbing mountains!
38. Taking 'age is just a number' to a whole new level… The level is 70.
39. Turning 70 and feeling grape! Who knew the wine years would be this good?
40. 70? I demand a recount!
41. Welcome to the super seventies, where every day is a weekend!
42. 70 and still got it… I just can't remember where I put it.
43. People say I'm 70. I say I'm 18 with 52 years of experience.
44. They told me I'm over the hill. I guess they didn't notice I'm on a roller coaster.
45. Here's to being 70 years bold, not old!
46. I'm not 70, I'm a classic. They don't make 'em like this anymore.
47. 70 is the new… what was I saying again?
48. 70 years wiser, but who's counting?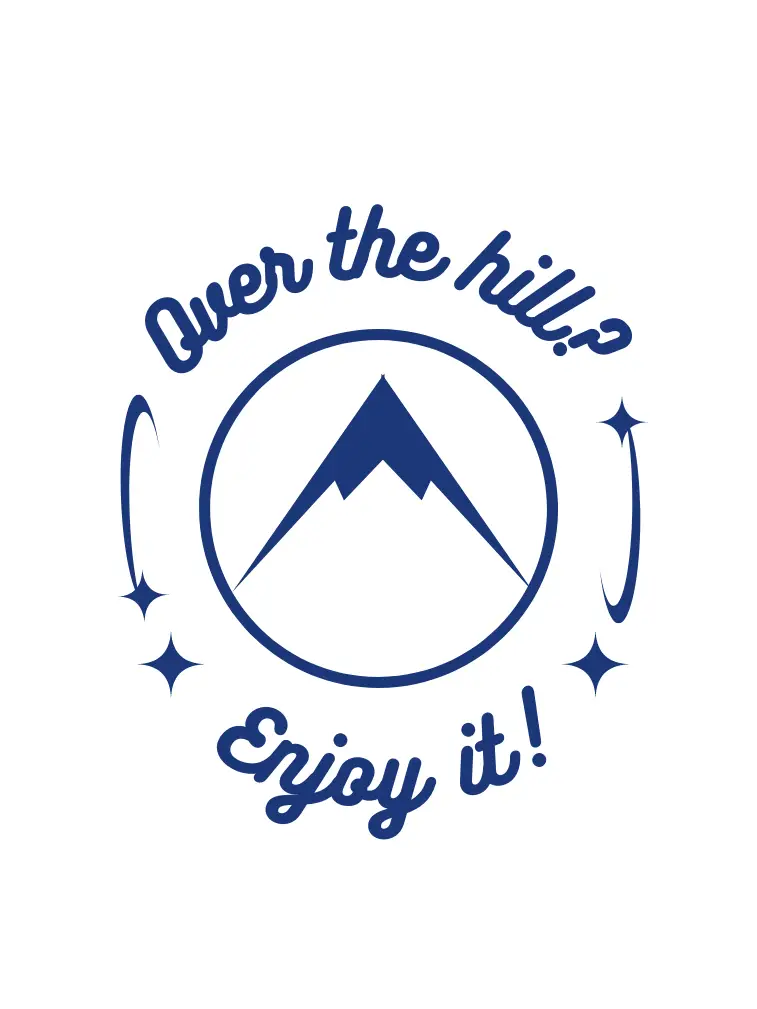 If you still haven't found the perfect wish check out these unique 40 birthday messages for old men.