Do you know someone who will soon turn the wonderful age of 26? Some young person who has soon graduated from university or has started their family life. In this article, you will find the best wish for your good friend, sister, brother, daughter, etc.
Short Happy 26th Birthday Wishes
1. Happy 26th birthday! You are my treasure, you are my happiness, and you are the most wonderful person I know!
---
2. Happy birthday to the most wonderful person I know! I hope this 26th birthday is the most exciting, glamorous, and romantic one you've ever had.
---
3. Your friendship means so much to me. Thank you for being there and being so supportive. Happy 26th birthday, my dear friend.
---
4. Enjoy every day of this wonderful age – 26!
---
5. At 26 or 62 it doesn't matter, what's important is to always stay energetic, positive, and with a sense of humor! Happy birthday!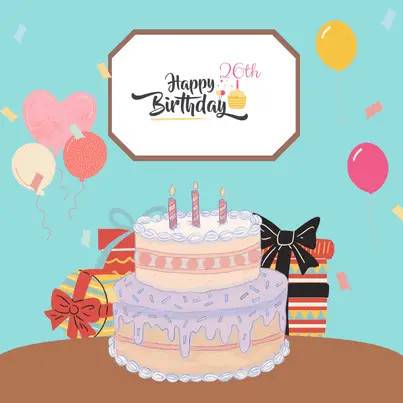 6. Happy birthday, beauty! I wish you love, happiness, and good health and to be blessed by God's grace.
---
7. Happy birthday to one young 26 years old lady who knows how to run a business!
---
8. Your presence is one of the best gifts I could ever hope to receive. Thank you for everything and I hope you have the best birthday ever!
---
9. Because it's your 26th birthday, I'll wish you 26th times a happier year than the previous one.
---
10. Every year you get more beautiful and charming! Happy birthday my princess!
Funny Happy 26th Birthday Messages
11. Happy birthday to the person who is always there to take my picture.
---
12. You have 4 more years before you change the first digit of your years, so enjoy every moment!
---
13. Happy birthday to the only person I would trust to drive my car. 😃
---
14. 62… oops, 26. Happy birthday to the most wonderful person from the TikTok and Youtube generation.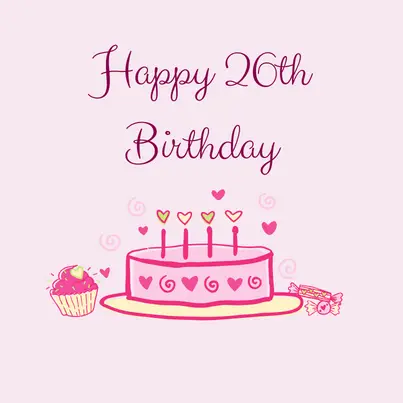 15. Congratulations on getting closer 30. 😃
---
16. You have 4 more years to make the Forbes 30 under 30 list.
---
17. It's like it was yesterday when we wanted to be 21 so we could buy alcohol…
---
18. I wish that as you grow older, your wealth will increase manifold. And do not forget who wished it for you!
---
19. You are the most famous person born on this date that I know. So I raise a toast to my star!
---
10. Soon there won't be space for all the candles on the cake. So enjoy while there still is.
---
21. You're the only person I'm happy for when it's his birthday (after mine, of course).
---
22. Be glad you're not turning 62. 😃Happy Birthday!
---
23. I never would have guessed you were turning 26. I always thought you were older than me. 😃
---
24. Every year you get more beautiful or just improve your Photoshop skills. 😃
---
25. At 26 with no kids? I think it's party time.
Special Happy 26th Birthday Wishes
26. Thank you for 26 years of making my life wonderful, my dear daughter! Without you, I would always feel emptiness in my life. Thank you for making me such a wonderful person and every day I make sure I am the luckiest woman to have you in my life.
---
27. You are always by my side and I feel I can do nothing without you. We are the best team and I wish it could last forever. Happy birthday my sweet friend. Enjoy your 26th birthday!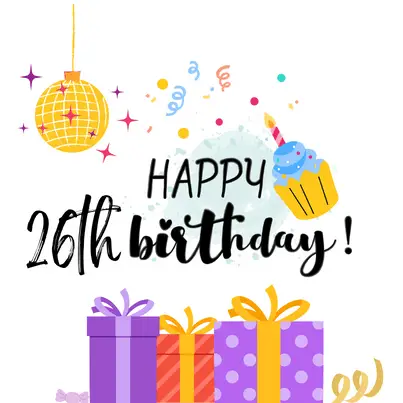 28. You are always there for me when I have good and sometimes bad moods (and they are not rare at all 😃). For which I am eternally grateful! I am really blessed to have a friend like you. ❤️
---
29. Today is your birthday and I want you to have a fabulous day. You're such a great person. Please stay happy and motivated for the future!
---
30. I am the luckiest girl to have a friend like you. You complete me and understand me the best out of all the people around me. I love you and wish you a magical birthday!
---
31. To my dear daughter, I am so grateful that you've been a part of my life for 26 years. I would feel an emptiness in my heart without you. You make me such an incredible person every day and I hope that you know how much you're loved and cherished.
---
32. I hope you will be delighted today and every day. Remember, I will always be by your side and you can count on me to do the hard work of drinking the wine. Happy birthday, dear and enjoy your day.
---
33. Happy 26th birthday dear friend! I wish you with all my heart to be healthy, happy, loved, appreciated, respected, and always smiling.
---
34. Today is the birthday of the most radiant person I know. I want to wish you that the smile never leaves your face and that you always pass all difficulties with ease.
---
35. Happy birthday to the strongest person I know. You went through so much hardship in the past months but never gave up. I can't describe how much I want you to be happy. You deserve it so much!