If you have an aunt, then you are really lucky! They are always there when you need them, will treat you well, and most importantly won't scold you like your parents would do. Whether you see your aunt often or not, be sure to honor her on her birthday. So you don't have to wonder what to come up with, we have prepared unique pictures to delight her on her birthday.
Happy Birthday Aunt Images
1. Happy birthday, dear aunt! Let only good things happen in your life because you deserve it!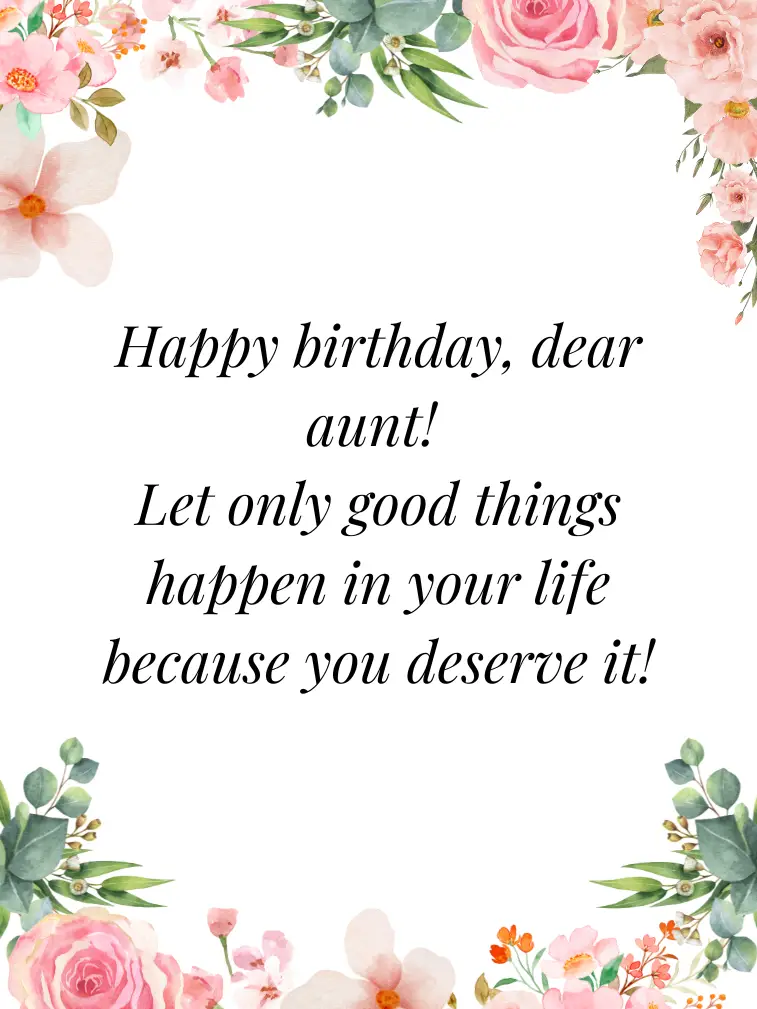 ---
2. Wishing the most amazing aunt a very happy birthday! You bring so much warmth and love into our lives. Enjoy your special day!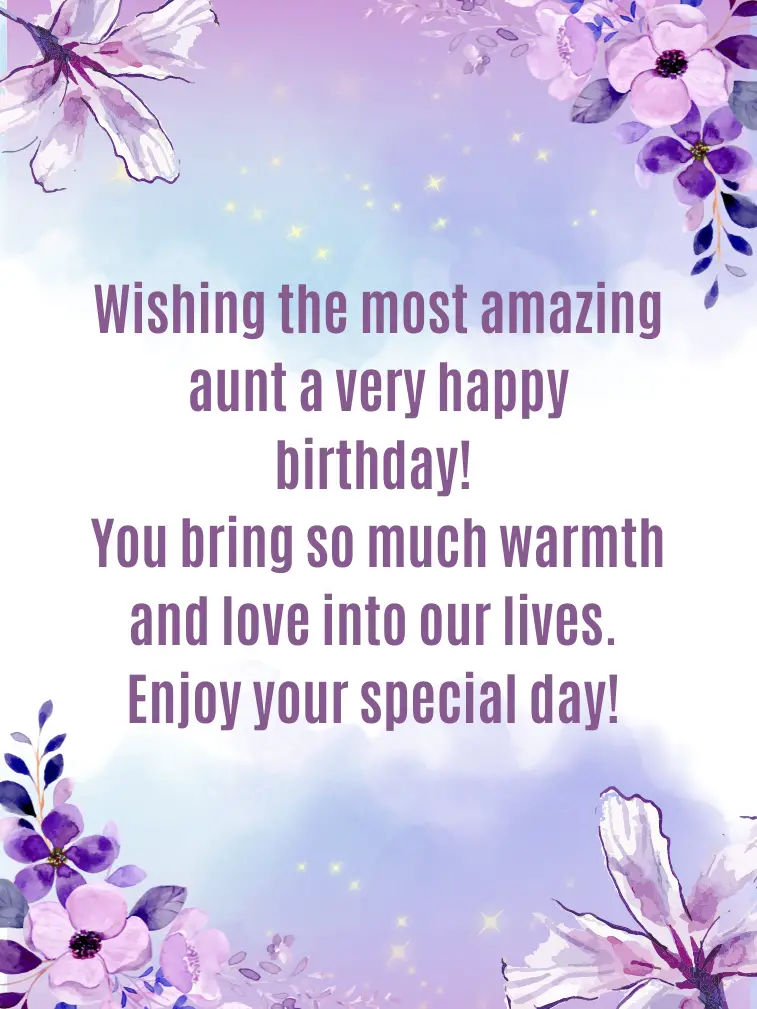 ---
3. Happy birthday to the coolest aunt in the world! You have a way of making everyone feel special. Have an incredible day!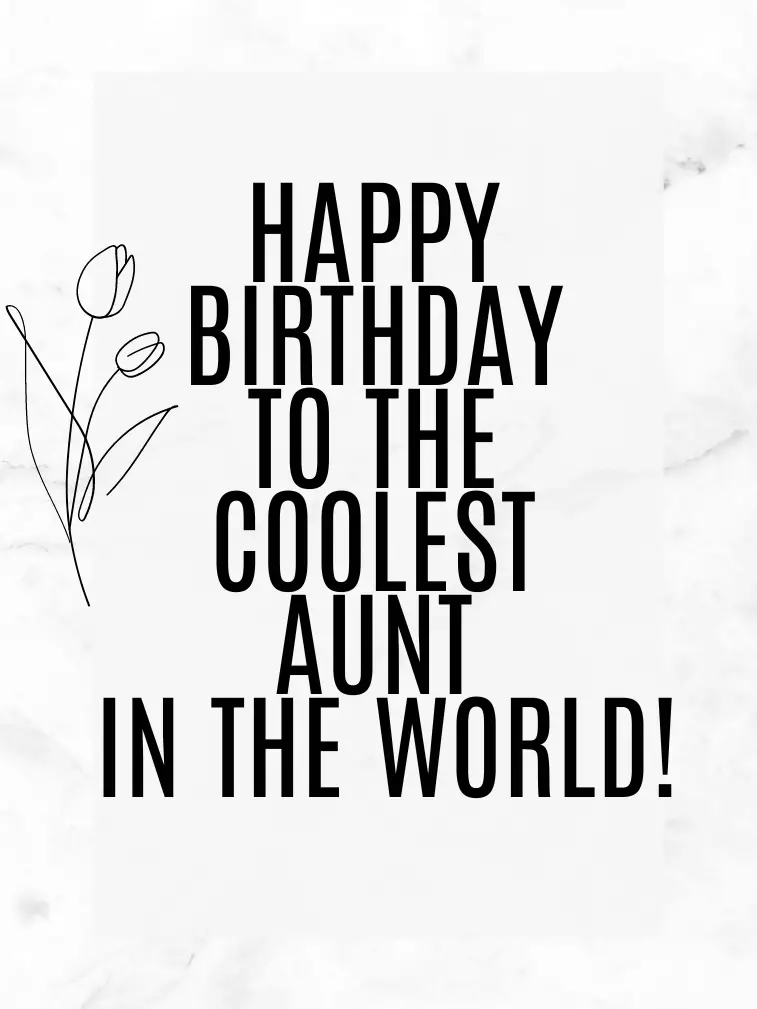 ---
4. Sending you heartfelt birthday wishes, dear aunt! May this year bring you endless blessings, love, and success!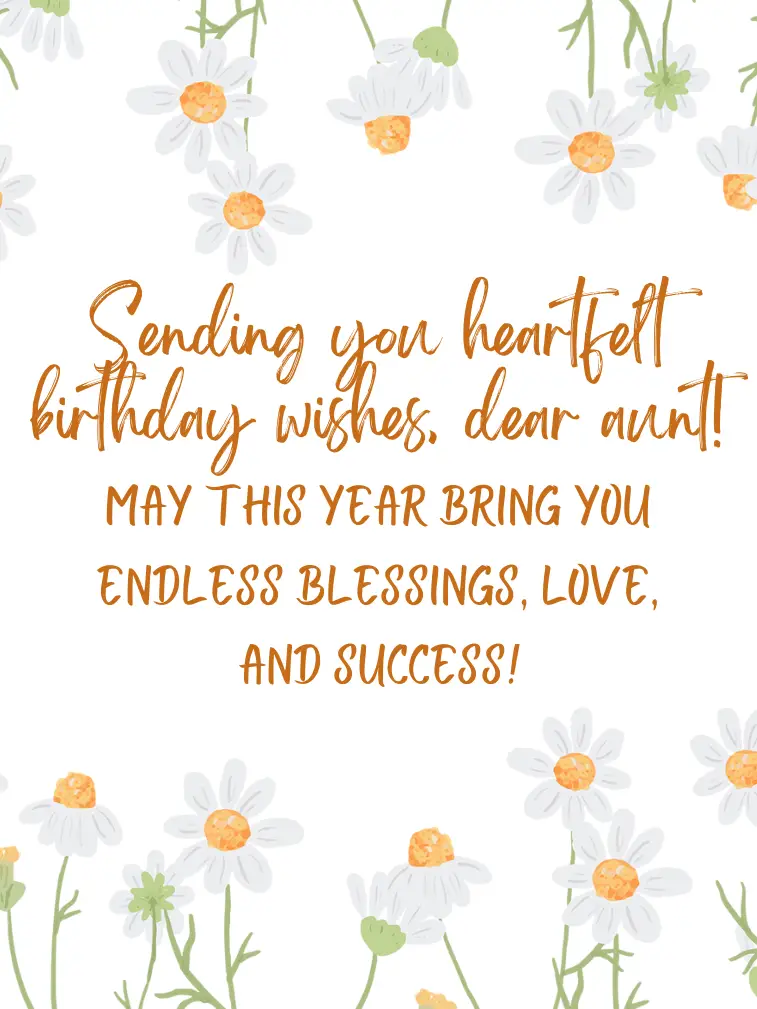 ---
5. Happy birthday, Auntie! Your kindness, wisdom, and love are truly inspiring. May your day be as wonderful as you are!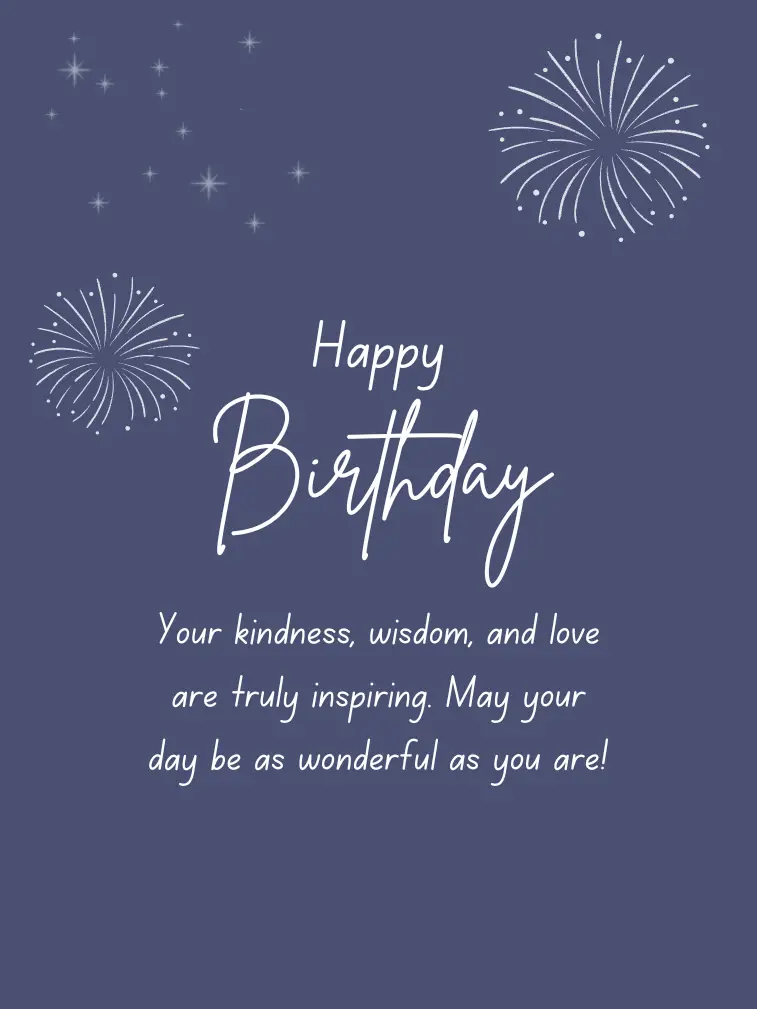 ---
6. To my beloved aunt, on your special day, I want to express my gratitude for always being there for me. No matter what, I'll always know I can count on you! So I want to sincerely thank you for everything and wish you an amazing birthday!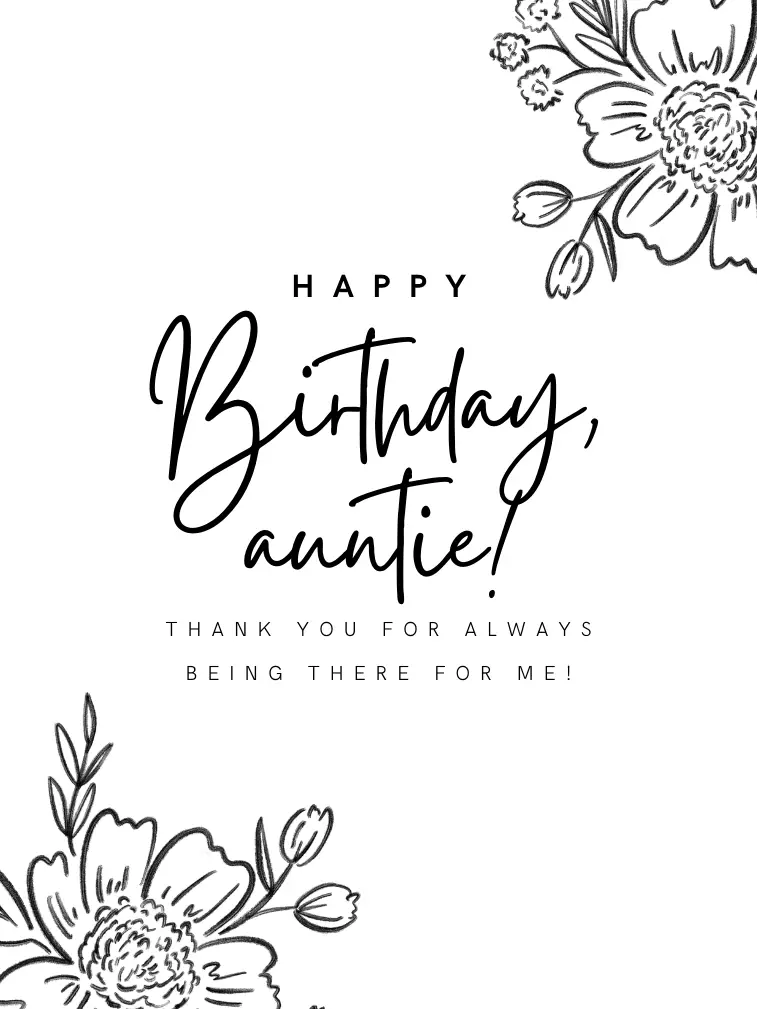 ---
7. Wishing a very happy birthday to the aunt who makes every family gathering unforgettable! I wish your smile never leaves your face and that we only have good occasions to get together.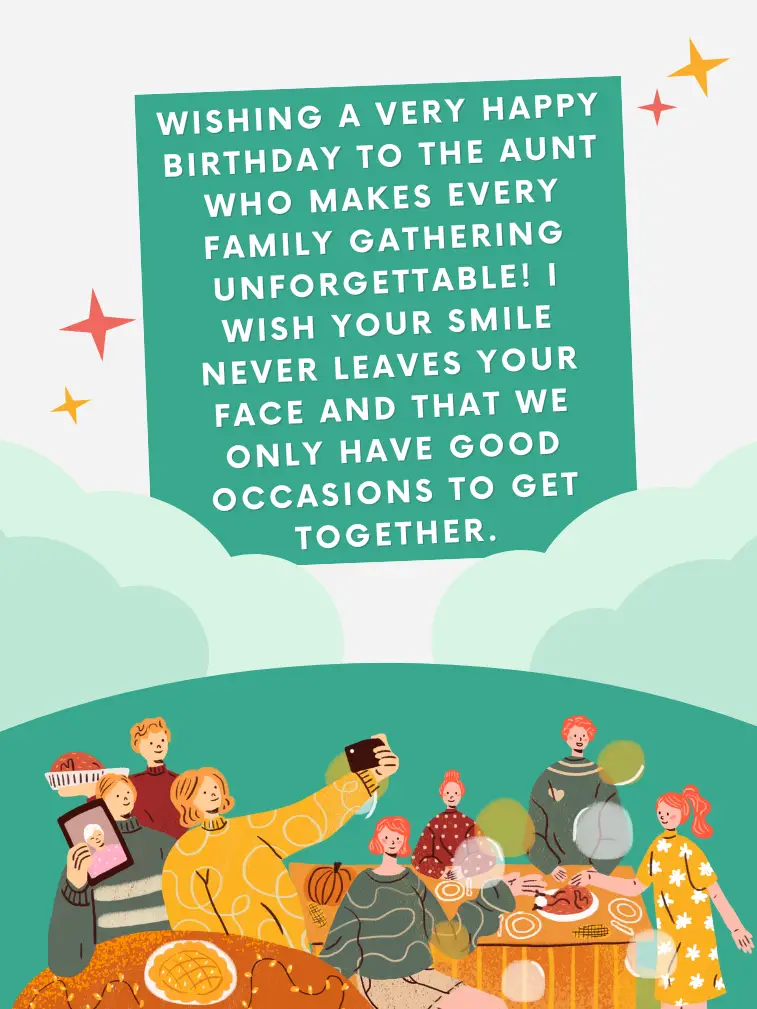 ---
8. Happy birthday, dear aunt! Your love and support have meant the world to me. Wishing you the happiest of birthdays and a successful year ahead.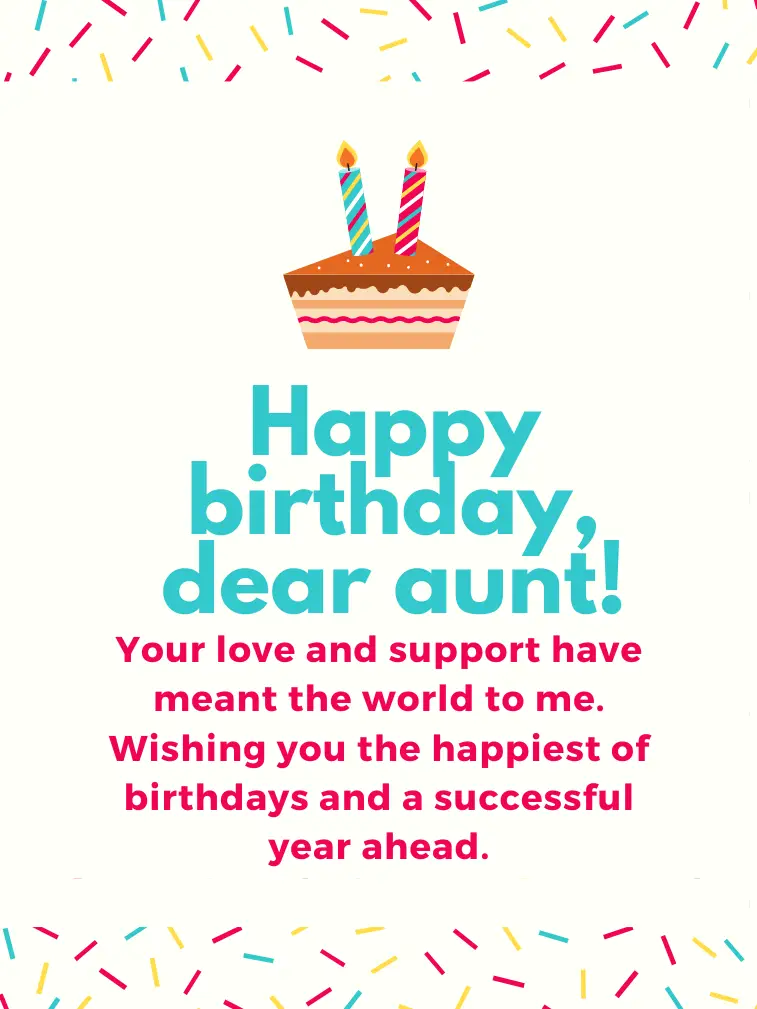 ---
9. Sending warm birthday wishes to the aunt who has a heart of gold. Thank you for being so gracious, for helping me when I ask you, and for always managing to have a smile on your face despite the difficulties. May there be only peace, prosperity, and love in your life!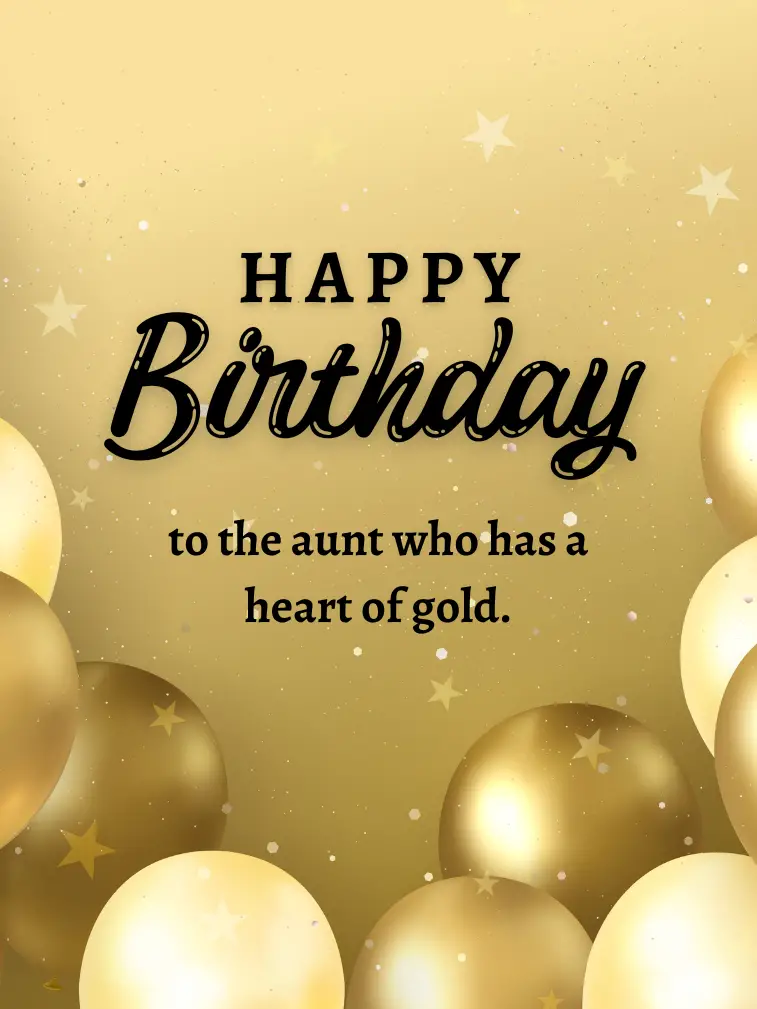 ---
10. Happy birthday to the most fabulous aunt ever! Your zest for life and positive energy are truly inspiring. I couldn't have dreamed of a cooler aunt. I hope your lust for life never fades and that you always have fun!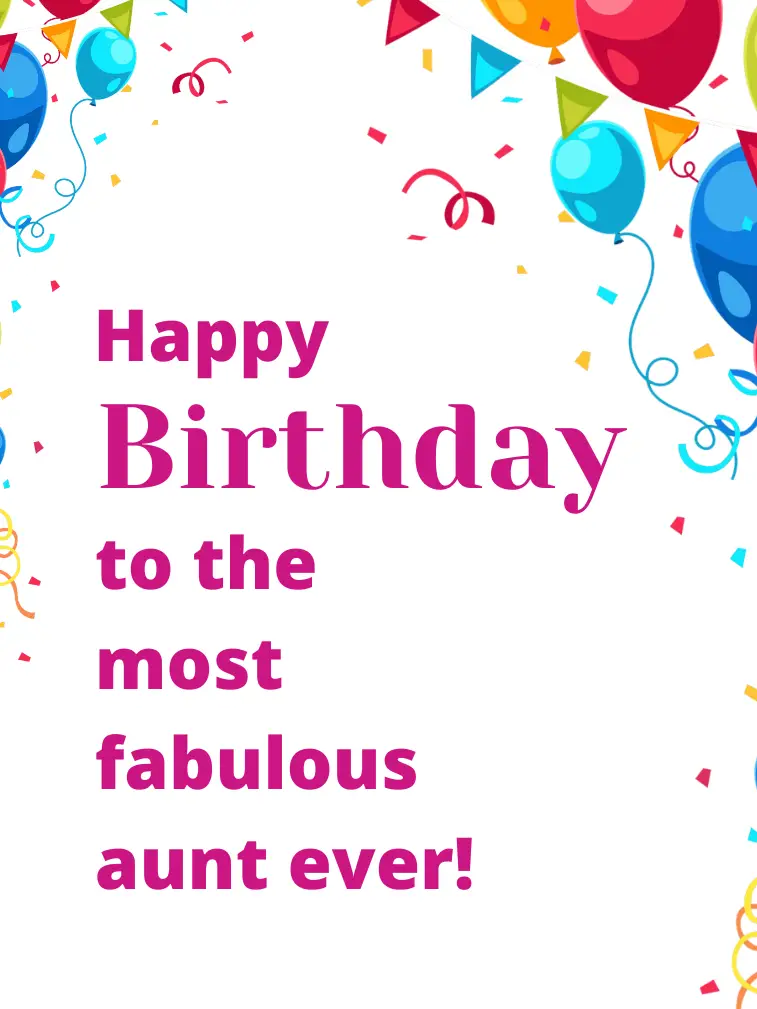 ---
11. To the aunt who has a heart of gold, a smile that brightens our days, and a hug that can chase away any sorrow—happy birthday! May this day bring you immense joy and remind you of how loved you truly are.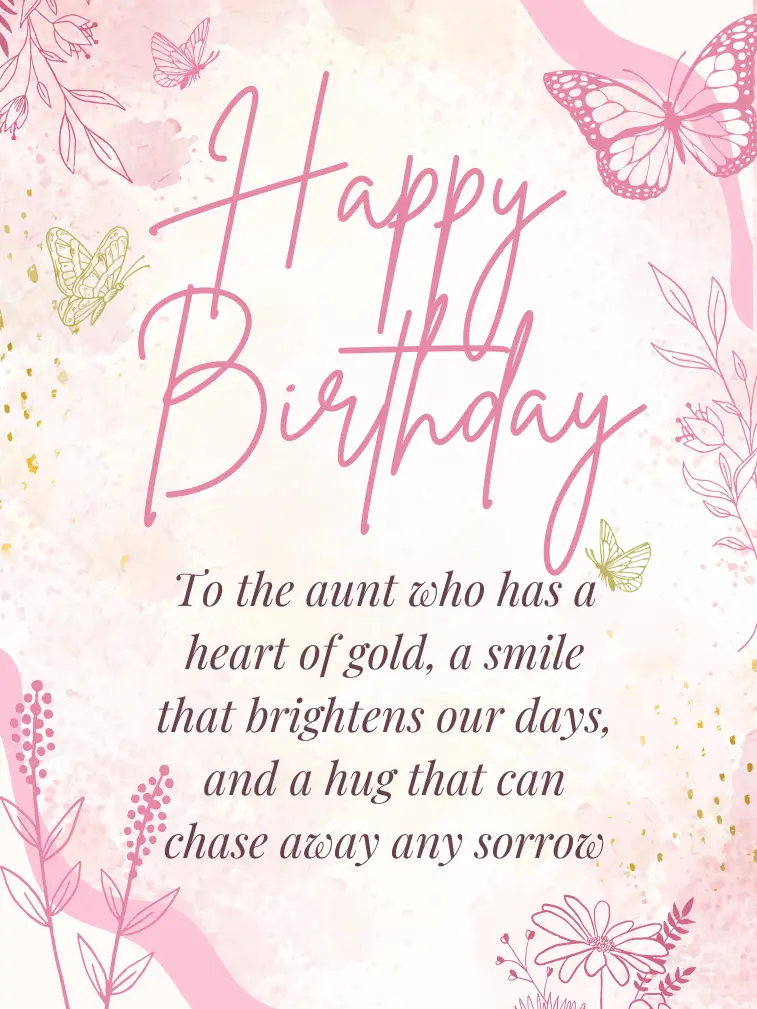 ---
12. Sending oceans of love and countless hugs your way, dear Aunt, as you celebrate another year of being amazing. May this birthday be a reflection of all the happiness you bring to others.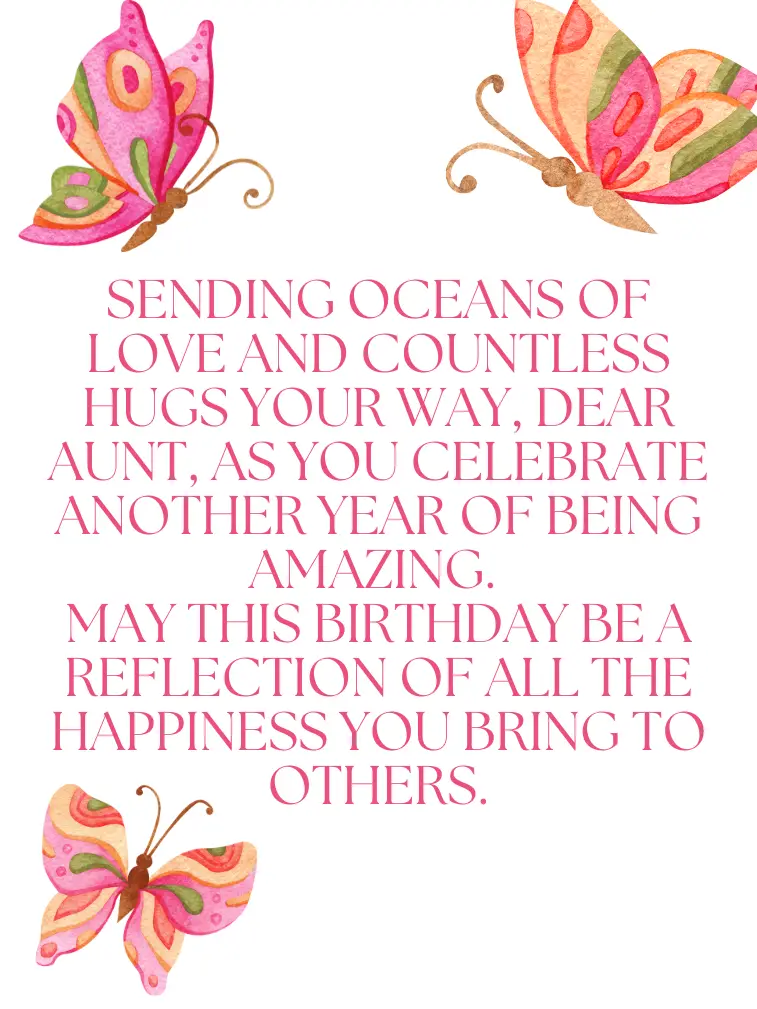 ---
13. Happy birthday to the aunt who has the incredible ability to make everything better with just a few kind words and a warm embrace. Your presence in our lives is a true blessing.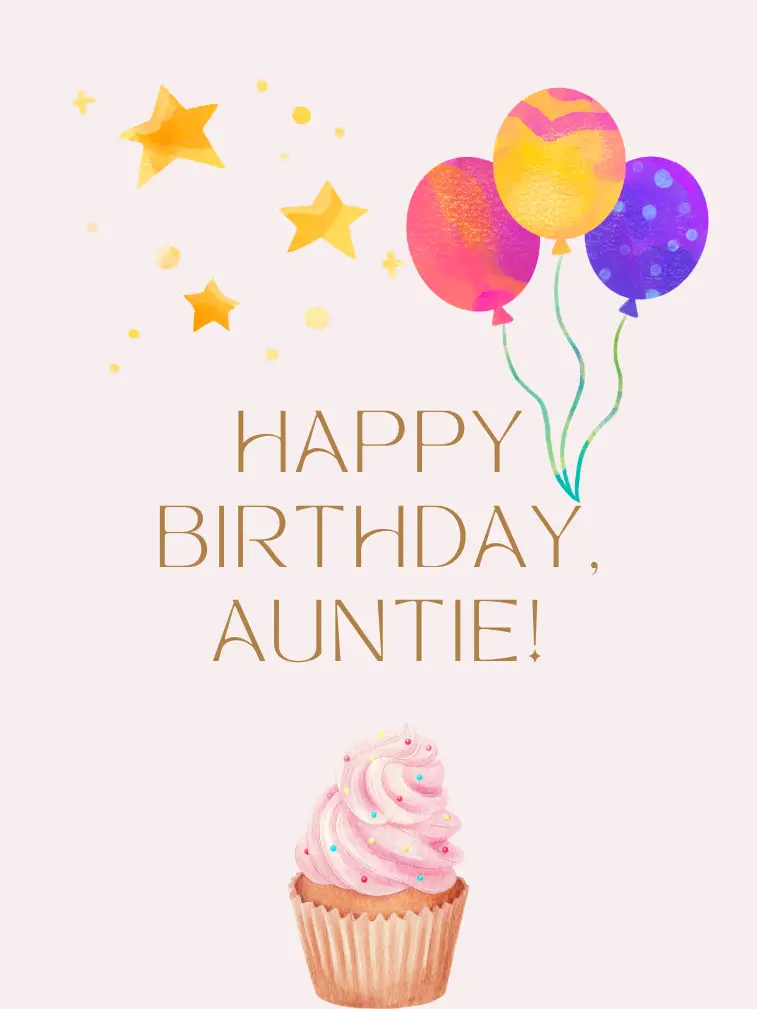 ---
14. Today, we honor the remarkable woman who has showered us with love and kindness. Auntie, your gentle spirit and compassionate heart have touched so many lives. May this birthday be as beautiful as you are.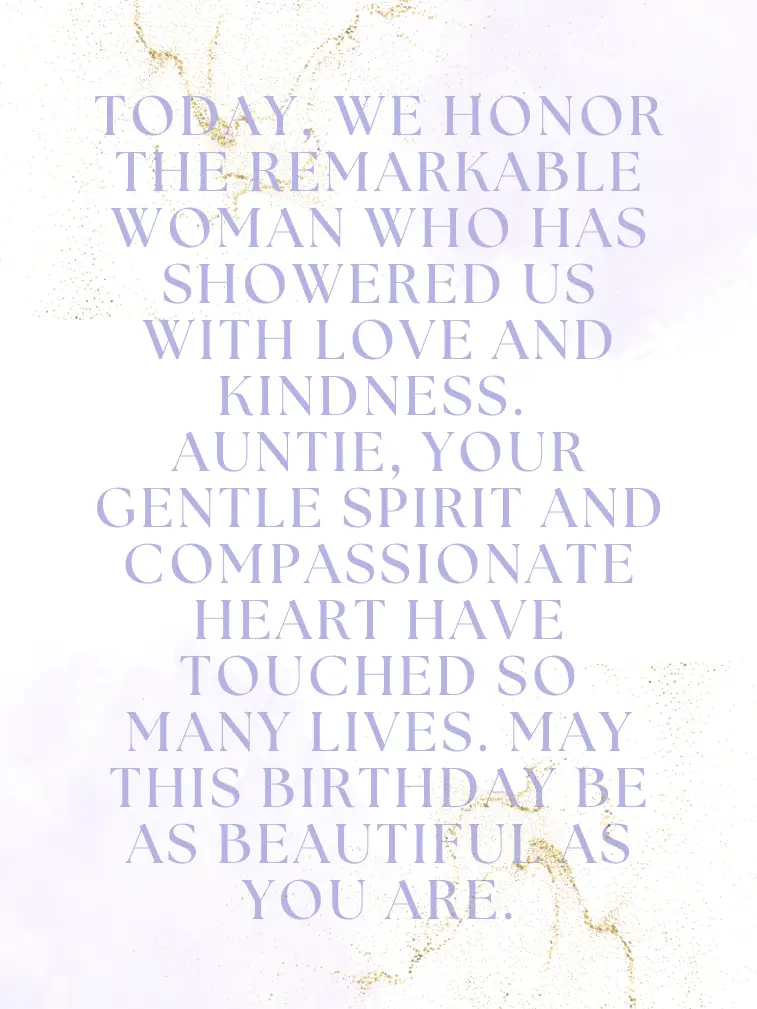 ---
15. Although we don't have the chance to spend time together every day, whenever we do, it's always a blast! Cheers to countless more exciting adventures and unforgettable moments in the years ahead. Wishing you a very happy birthday, dear Aunt!
---
16. I admit it – you're the funnier one than you and Mom! Cheers to the coolest and most smiling aunt. You light up the room every time you walk in and make us all laugh our hearts out! Thank you for everything!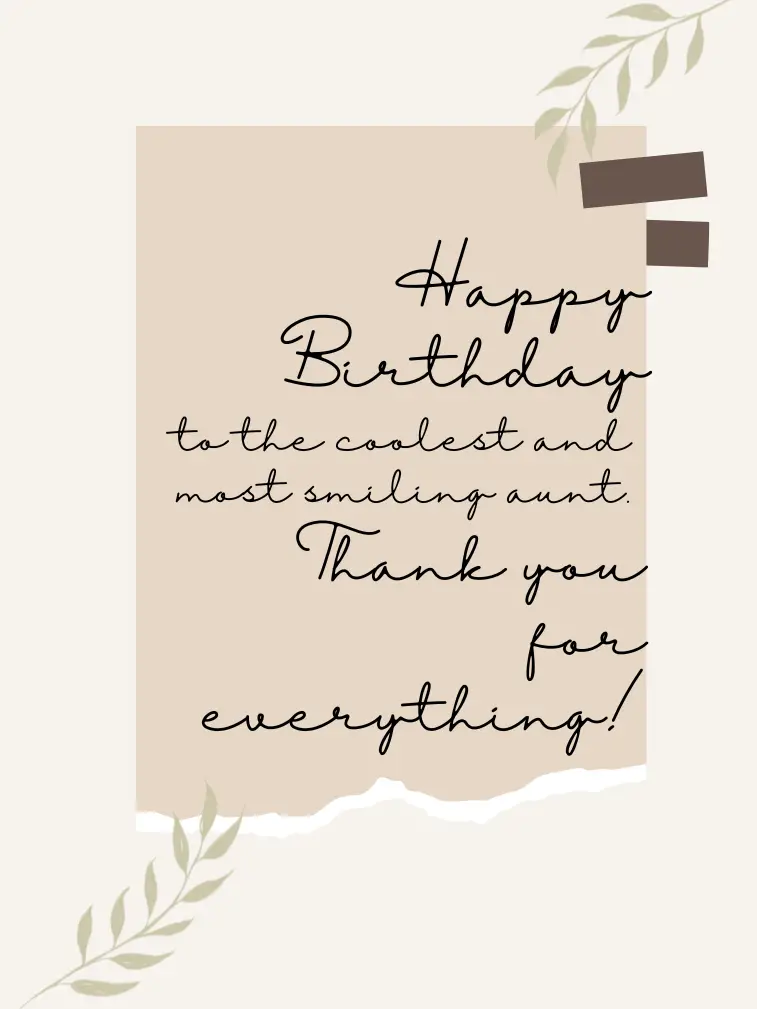 ---
17. Guess who it is – getting prettier and kinder every year? Of course, it's my favorite aunt! Enjoy your birthday and don't forget to leave a piece of cake for me!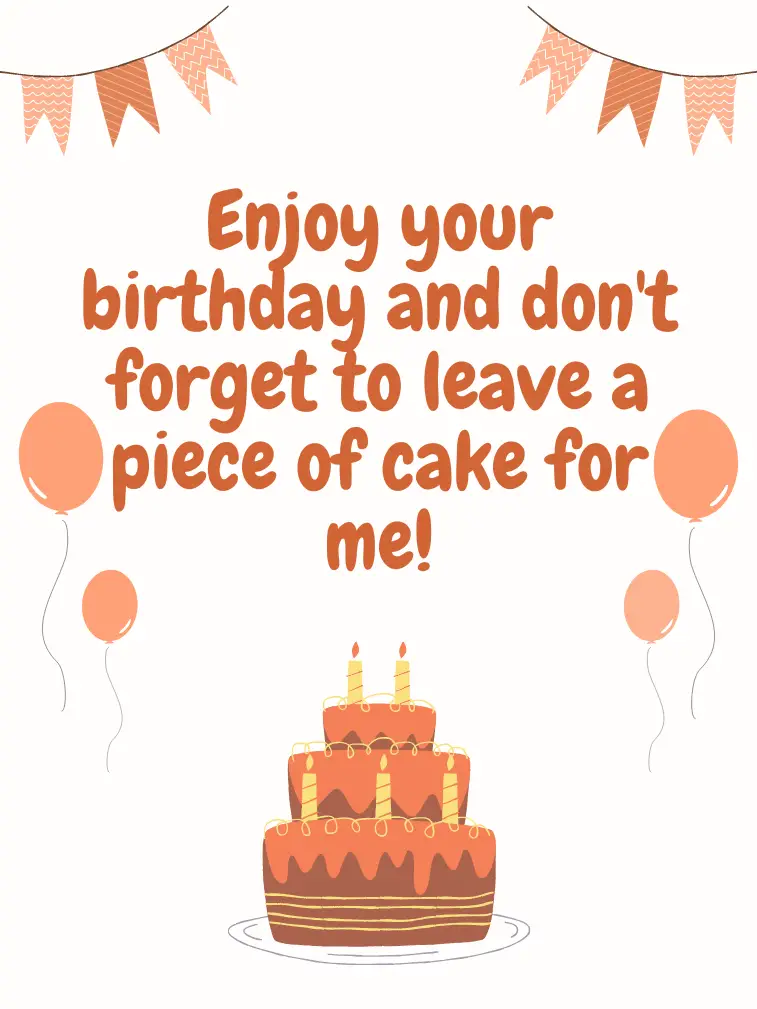 Funny Birthday Wishes for Aunt (+Images)
18. Happy birthday to the aunt who still thinks she's 21! Don't worry, we won't reveal your real age… unless you try to out-dance us at the party!
---
19. Auntie, you're like a fine wine – you keep getting better with age! Just remember to share some of that wisdom (and wine) with your favorite niece/nephew.
---
20. Happy birthday to the aunt who never fails to bring the party! Just make sure you don't break a hip while doing the electric slide. We still need you to teach us those moves!
---
21. Auntie, you're proof that age is just a number – a really, really big number! Keep rocking those wrinkles like a boss. Happy birthday!
---
22. They say wisdom comes with age, Auntie. So, by now, you should be the wisest person in the family. Just kidding! We all know you're just pretending. Happy birthday, you silly aunt!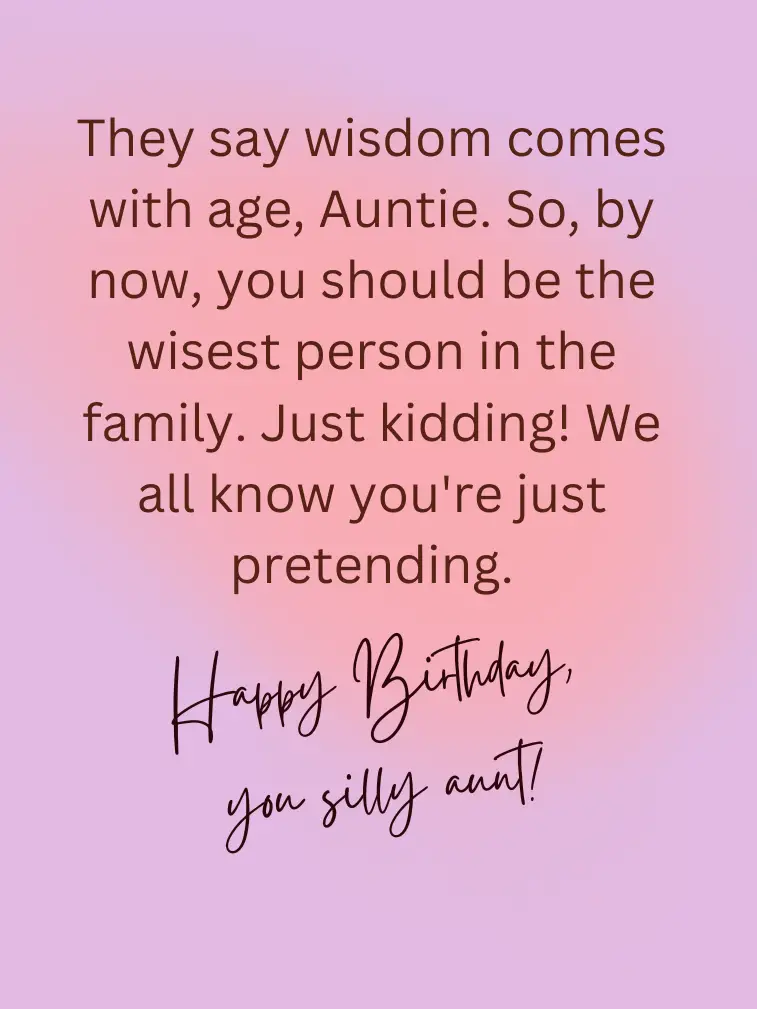 23. Happy birthday, Aunt! May your wrinkles be as few as the candles on your cake… but let's face it, that's not happening. Enjoy your day anyway!
---
24. Auntie, on your special day, I wanted to remind you that you're not getting older – you're just increasing in value, like a vintage collectible. So, let's celebrate your priceless awesomeness!
---
25. Birthdays are like boomerangs – they keep coming back, no matter how hard we try to avoid them! But don't worry, Auntie, you still look fabulous. Happy birthday!
---
26. Auntie, you're like the funniest comedian I know – except you don't get paid for it. I guess we're all just lucky to have a free source of laughter in our lives. Happy birthday, you hilarious aunt!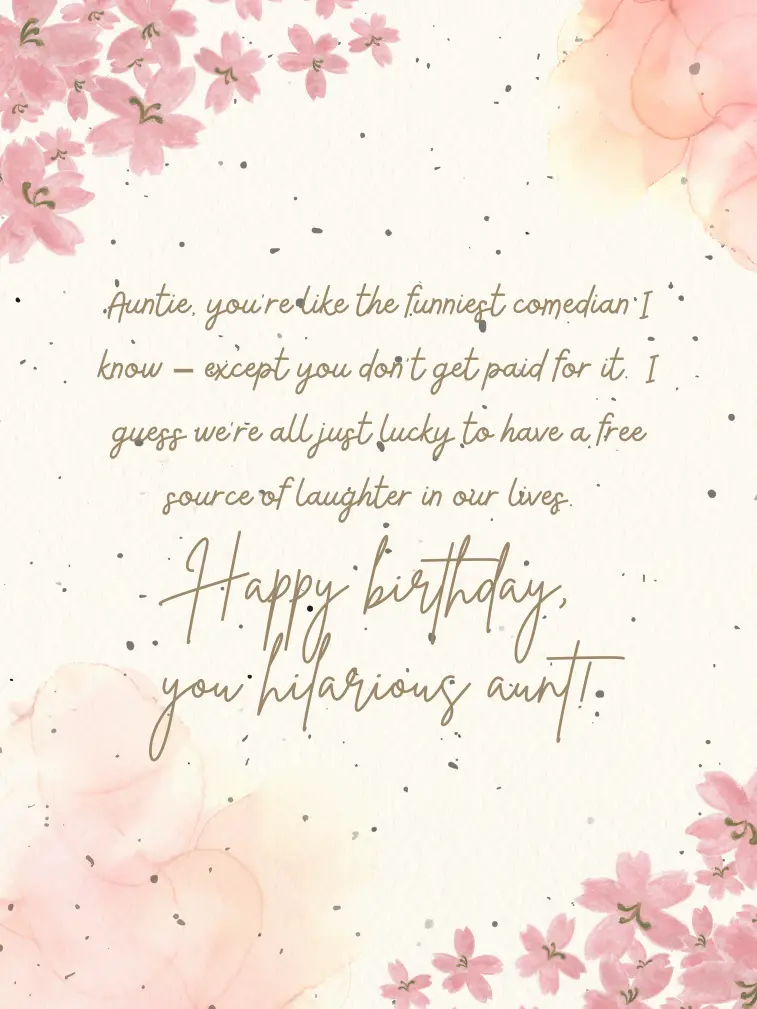 ---
27. Happy birthday to the aunt who's forever young at heart… and forever in denial about her actual age! Don't worry, we won't tell anyone… for the right price, of course. Enjoy your special day!
If you have an uncle instead of an aunt, then these birthday wishes will be perfect for you!