In recent years, the lives of many people have changed. We had to spend more time at home, work from home and etc. We had to forget about travel and many other things. It was certainly not a pleasant moment for anyone.
Ever since the Covid-19 pandemic came into our lives, our daily lives have changed completely. In this regard, birthdays have also changed. We had to celebrate from home, online, or only with the people closest to us. The desire for health and a faster transition to our old lives was increasingly heard in people's wishes.
In this post, you will find 20 of the best birthday wishes that you can send during the Covid-19 pandemic.


Birthday wishes during Covid-19 pandemic
In these difficult times, I learned that the most important thing in life is health. On this important day for you, I wish you to be healthy and all your desires be my wishes.
These two years have changed our whole life, but let's forget about all this on this day and enjoy the beautiful moments like your birthday. Be happy, be smiling, be filled with love, because only love will save the world.
With or without covid-19, let's forget about all this today and enjoy your birthday. I sincerely wish you to be healthy, happy and your days to be filled with smiles.
Happy Birthday! I wish you and your family good health. Have fun to the fullest, because if there's one thing we've learned the last two years, it's that time is a precious gift.
May all your days be filled with happiness, you deserve it! I know the last few years have been really difficult during the pandemic, but we have to keep looking at life through rose-tinted glasses. Happy birthday, darling.
Chill, Netflix, workout, candles… I wish you every day to be wonderful, to enjoy every moment, life is in the little things.
The last few months we had to be isolated, so I wish you now to have countless new journeys and see new exciting places.
Happy birthday! I wish you to be healthy, to be very happy, successful, and loved. Even in these lonely days of a pandemic, you can call me and charge yourself with a cheerful mood.
I wish you from the bottom of my heart to be healthy, happy, successful, I hope that soon we will completely forget about the covid-19 pandemic and that everything will continue as it was before. Happy birthday!
We went through a lot of difficulties, but on your B-day let's break away from everything and just have fun. I wish you only wonderful moments for you and your family.Cheers!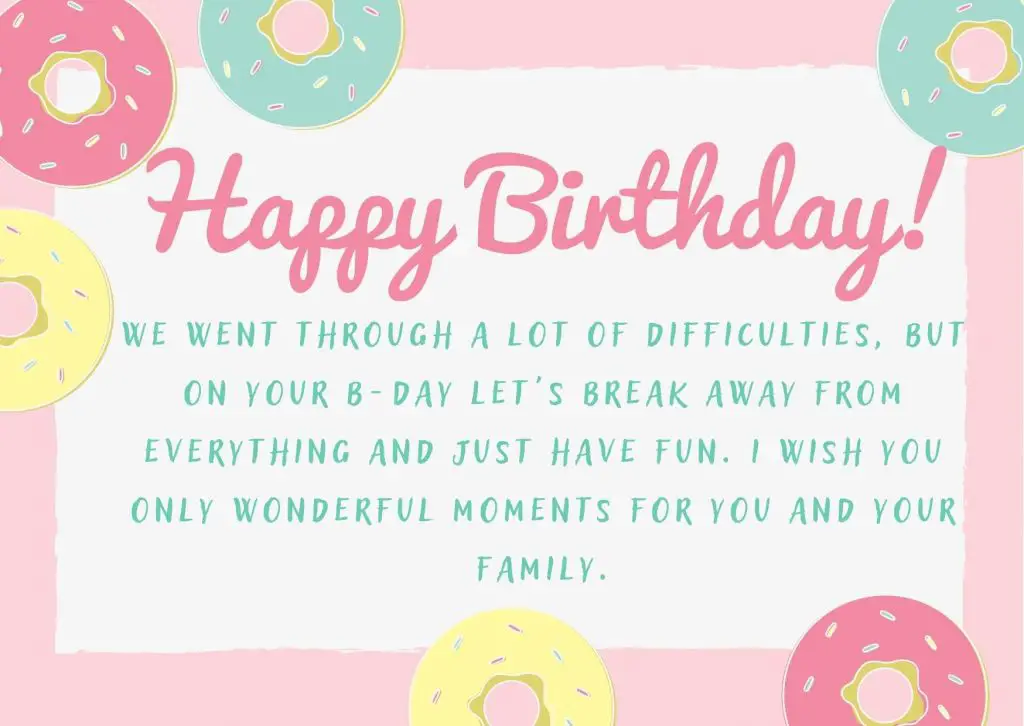 11. Happy birthday. I wish you only journeys, journeys, journeys, I know how much you love to travel the world, and let's give freedom to your dreams after the covid-19 pandemic.
12. I wish you to visit many new exciting places, to meet interesting people and mysterious cultures, to feel the real-life because after the covid-19 pandemic we realized how important freedom is. I send you many hugs!
13. Happy birthday to the most wonderful person in the world! I know what you've been through the last few months, and I can say that you're a real hero to me. Be radiant, loving and persistent, go boldly forward. You are a real inspiration for all of us!
14. Happy birthday to the most beautiful wife and mother. You have been and will always be by my side. You supported me and made me smile every day, despite the hard months. Be healthy, blessed, and still caring and loving to the whole family. We love you so much!
15. Special wishes for a lot of health from me! Let's keep the love and beautiful moments with our loved ones in these difficult times. Let us welcome the sunrise every day with a cup of coffee and a smile. Let us be at peace with ourselves. Happy Birthday.
16.Happy birthday, colleague. I wish you good health, happiness, professional success. We haven't been able to see each other live last year, but I'm sure there will be days when we'll have our coffee together again. Until then, I send you a lot of virtual hugs.
17. Happy birthday. The virtual world has separated us, but you know you can always call me for a beer. I wish you only success, forward and upward. Hope to see you soon. Cheers!
18. Happy birthday, colleague. As in the past months, we communicated virtually, so now I send you a virtual wish for health, luck and love. May God bless you and your family.
19. Happy birthday to you. Wine, candles, warm evenings, watching an interesting movie… I wish you only quiet days even in these difficult times.
20. Happy birthday, my friend. I wish you good health, love, cheerful mood from morning to night. Of course, I would be happy if I could wish it to you personally, but since we are in a pandemic, I can only virtually send you thousands of kisses and hugs.
Closing thoughts
There is no person who is not familiar with covid-19. The pandemic spread all over the world and everyone had to survive. Even in such an epidemic environment, life goes on and a birthday remains an event to be celebrated.